The long waited, weighted, gathering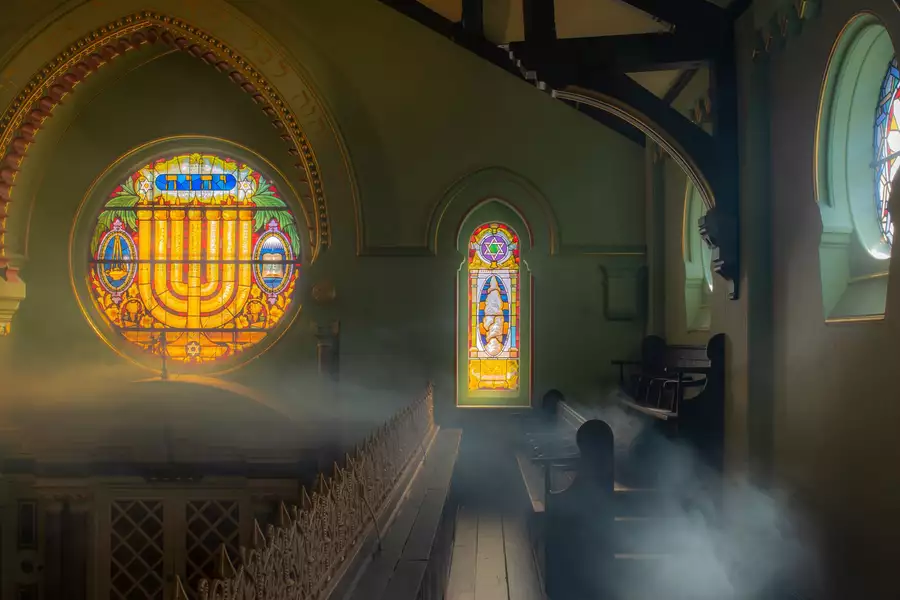 2 Jul - 3 Oct 2021
Manchester Jewish Museum
Tickets
Adult £6, Under 16's £4, £5 Concessions,
Continues at Manchester Jewish Museum until 3 October
Accessibility features available for this event: Wheelchair Access
Turner Prize-winning artist Laure Prouvost's MIF21 installation continues at Manchester Jewish Museum until 3 October
Cheetham Hill was once a hub for Manchester's Jewish community – and the beautiful Spanish & Portuguese Synagogue, built in 1874, was one of the landmarks at its heart. The synagogue eventually found a second life as this enthralling and beautiful museum. And now, in the Ladies' Gallery of this treasured Victorian building, Prouvost resurrects the voices, stories and lives of those who once gathered here with an immersive installation featuring film, sound art and textiles – created with the museum's very own women's textiles group.
Reopening the museum following a two-year, £6m redevelopment, which has restored the former synagogue and added a major new extension, The long waited, weighted, gathering is a playful yet powerful journey into the story of Manchester's Jewish community – and a tribute to the deep-rooted diversity that continues to define our city.
Credits
Laure Prouvost, Studio Prouvost and Grandma's friends
Teri Romkey, hilly hills manager of the 4th floor
Studio Prouvost, bird's eye view floor managers and Manchester Jewish Museum's Women's Textiles Group
Commissioned by Manchester International Festival and Manchester Jewish Museum. Produced by Manchester Jewish Museum.
Image: Lee Baxter.
Access Information
The long waited, weighted, gathering takes place at Manchester Jewish Museum, a combination of a Grade II listed synagogue and a contemporary museum building. There is step-free access to all areas of the venue via ramp and lift, but there is limited seating in the exhibition spaces. Visit this page for detailed information about this venue and to plan your visit.
A hearing induction loop is available in parts of the venue – but please note that it doesn't extend to the Ladies' Gallery, where the installation is located.
We welcome specific access enquiries: please email us at access@mif.co.uk