Aviva Studios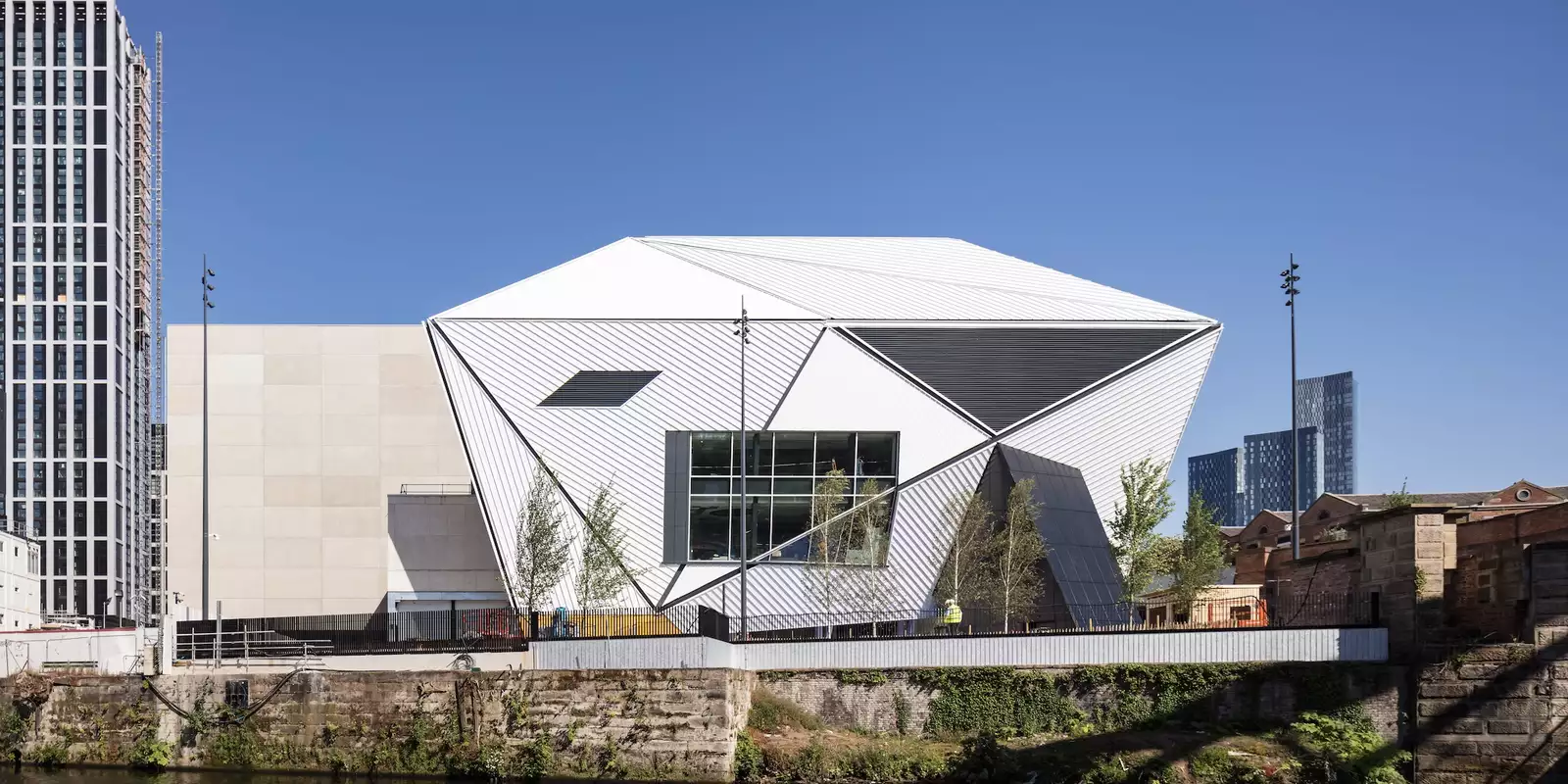 About Aviva Studios
Aviva Studios, the home of Factory International, is a landmark new cultural space for Manchester and the world.
Built with flexibility in mind, the design of the building is led by Ellen van Loon of the world-leading practice Office for Metropolitan Architecture (OMA). The multi-use space can adapt to host any kind of set-up — from intimate theatre shows and intricate exhibitions, to huge multimedia performances and warehouse-scale gigs fit for the greatest artists of our time. Its development is led by Manchester City Council, with backing from HM Government and Arts Council England.
Photo: Pawel Paniczko
Visit us
Want to know how to get here, what to expect, how to book tickets or who to ask for a little extra help? Go to our Visit page for all of our travel and access information.
Design
Aviva Studio's design is led by Ellen van Loon of the world-leading practice Office for Metropolitan Architecture (OMA). Like many Manchester firsts before now, it's their first major public building in the UK.
The design of the building is based around ultra-flexible spaces that adapt to host any kind of set up – allowing artists to make ambitious, never-seen-before work on a huge scale. And meaning that you can catch the best in new dance, theatre, music, visual arts and performances all year-round.
The 13,350 square metre building includes the Warehouse – a 21m high space with capacity for up to 5,000 people standing, which can also be divided by a movable, full-height acoustic wall. There's also the Hall with a flexible stage which can house an audience of up to 1,600 seated or 2,000 standing, as well as other spaces to explore inside and out. The Warehouse and the Hall can also work together – allowing the stage to run deeper into the building.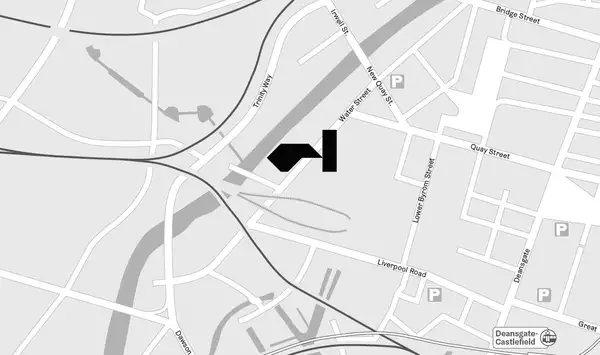 Location
You'll find Aviva Studios in the centre of Manchester along the River Irwell, forming part of the city's buzzing St. John's Quarter redevelopment.
The site is part of the Castlefield Conservation Area, a place rich with industrial and cultural heritage. Located alongside the world's oldest surviving passenger railway station and world's first railway goods warehouse which form part of our neighbours' the Science and Industry Museum's site – and breathing new life into the site of the former Granada TV Studios. A hub for culture, creativity and digital innovation, we reckon we're in good company.
The full address of the venue is Aviva Studios, Water Street, Manchester, M3 4JQ and what3words is chop.feeds.chase.
Key Milestones
November 2015
OMA selected as winner of the international competition to design the building. The project marks OMA's first major public building in the UK.
8 July 2017
Ground-breaking Ceremony with performance by Laurie Anderson for Manchester International Festival.
July 2021
Deborah Warner's installation Arcadia takes place within the construction site of the building as part of Manchester International Festival.
June 2023
Aviva is announced as naming rights partner to the building, to be known as Aviva Studios
June 2023
The venue presents its first events for MIF23, enabling visitors to preview the building
October 2023
Official opening of the venue with our blockbuster world premiere of Free Your Mind.
Environmental Sustainability
On a path towards zero-carbon activity by 2028, we're working with industry partners to test and pilot innovative sustainability technology at Aviva Studios.
The building fabric, which is used for sound insulation, also reduces the amount of energy needed for heating, while high-performance glazing reduces the amount of energy required for cooling. The fresh-air ventilation system closely monitors the air quality in the building to adapt depending on how many people are in the building, minimising energy consumption and maintaining comfort for each size of event. Waste heat is also recovered.