Venue hire
Whether you're looking for a spot for a product launch, brand activation, fashion event or a location for filming or broadcast – Aviva Studios is a venue like no other.
WE'RE A BIT DIFFERENT

Aviva Studios is a global destination for arts, music and culture - and an event venue like no other.

Borne out of Manchester International Festival, at Aviva Studios, collaborate with the very best event, production and technical teams to bring your vision to life.

Our spaces are without limits. From product launches and brand activations to fashion shows, gigs and public events, do something a bit different here.

In the heart of Manchester's new and vibrant neighbourhood of St John's, there's no better place to put on a proper show.

And if you want to make a lasting difference – to people, communities or the planet – join us and invent a better tomorrow together.

To discuss a bespoke package for your event email us at events@factoryinternational.org.

If you're looking to book for a gig or concert, email music@factoryinternational.org.

Download our brochure
We're shapeshifters
At Aviva Studios, explore the art of the possible.
With up to 13,200m2 of flexible indoor and outdoor space and room for up to 5,000 people, our spaces are without limits.
Four unique, flexible spaces are available for you to use in your own way. These can be hired individually or in combination to create large-scale, impactful events, with flexibility throughout.
The Hall provides a beautiful theatre and concert space, centred on flexibility. Its tiered seating can accommodate up to 1,500 people, and has the option to be removed altogether, with wheelchair access on all levels. The supersized stage between the Hall and the Warehouse connects each space, so you can take your event to the next level.
The Warehouse is a space to make an impact. Taller than four double-decker buses and longer than a passenger jet, it's capable of holding audiences of up to 5,000. It's a blank canvas, equipped with a retractable wall to the Hall, a universal technical grid, anchor points across the walls, a proscenium door and direct truck access. The only limit to this space is your imagination.
With south-facing views to the River Irwell, River Square is a truly unique outdoor events space. 2,100m2 of outdoor space make it ideal for hosting pop-up brand activations, experiential marketing campaigns, live music or markets. Supplementing River Square, the Undercroft runs below Factory International, creating a covered external space with WiFI and enabling activities to take place year-round.
Weaving our space together is a network of social areas, including a ground-floor foyer under the arch of the Hall and Warehouse and a physical link to the adjacent Science and Industry Museum.
In the heart of the city

Aviva Studios sits at the heart of Manchester, a proud global city with a distinct local feel. 

A city that never stands still, with its rich history of 'firsts' and ever-expanding diverse cultural offer. 

Located on the River Irwell in the city's new St John's neighbourhood, we are a place to gather, meet and innovate. 

And you'll find us easily. Our range of transport links include train and tram, bike, bus and car - connecting you to all that the region has to offer and beyond.
Creativity Runs Through Our Veins
Be supported and inspired by Factory International's world-class creative community.
When you hire any of our spaces, our in-house event, technical and production teams will be on hand to help seamlessly bring your vision to life.
Our technical expertise means you can think big; whether it's innovative tech, lighting or sound – or even transmitting your event around the world – we'll help you get creative.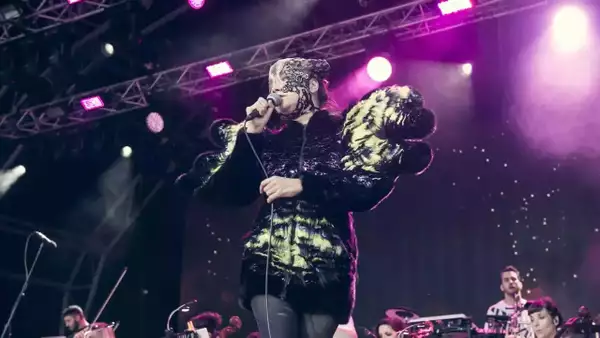 Let's put on a proper show
If you're looking for a location to wow your audiences, this is the place. Our team can work on a bespoke package for you, including:
CHANGE THE WORLD AT FACTORY INTERNATIONAL
If you share our commitment to diversity, community, sustainability or the future of the arts, then join us and invent a better tomorrow together.
Our Factory Academy makes creative skills and opportunities accessible to local people from all backgrounds, and by working with us you'll be directly supporting its programmes. Find out more here.