Volunteer
Do you want to be a part of bringing culture to life across the city?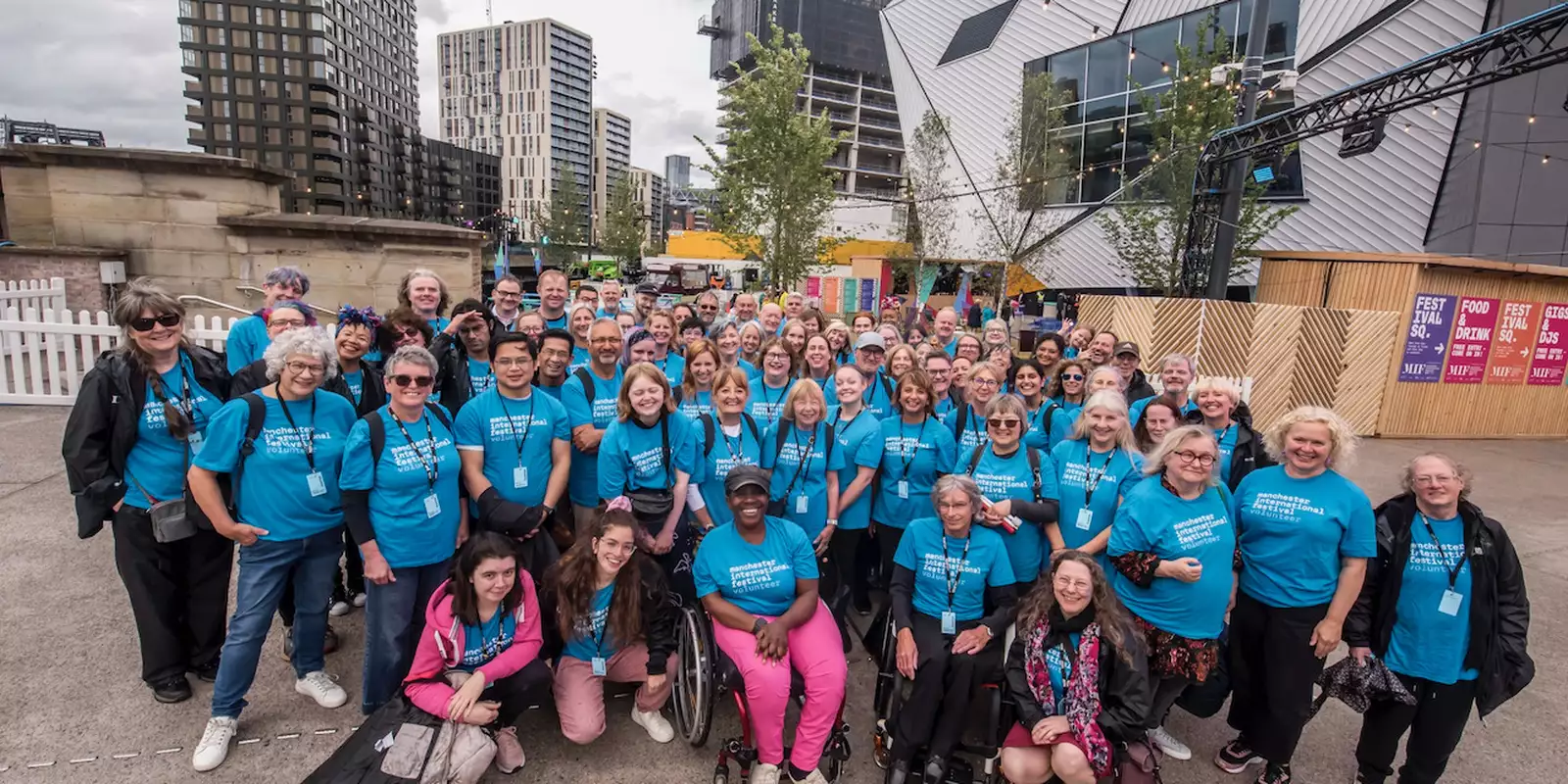 VOLUNTEERING WITH FACTORY INTERNATIONAL & AVIVA STUDIOS
Over 9 Festivals and now in our venue Aviva Studios, our awesome team of volunteers bring energy and enthusiasm to a wide variety of roles, from helping behind the scenes to greeting the public at our events.
Volunteer with us to get involved in incredible Factory International events, as we welcome the first visitors to our brand-new venue, Aviva Studios.
Whether you love art, music and culture, or you just want to try something new, we're looking for Mancunians of all kinds to join the team. Our volunteers are at the heart of what we do and get involved in everything from supporting shows behind the scenes, to being the face of the venue.
Volunteering is fun, varied and flexible enough to fit around other commitments. It's a great way to pick up new skills and make unexpected connections.
WHY VOLUNTEER?
Lots to do. From visual art exhibitions to music gigs, theatre shows to talks and workshops – there are a wide range of events, and you can do something different every time you volunteer.
Join a supportive community. OK, we're biased, but Factory International volunteers are the best! Be part of a diverse and caring team of people coming together to put on incredible events.
Learn something new. Volunteering can be a great way to pick up skills and lead to new opportunities.
It's flexible. Our volunteer shifts take place in the daytimes and evenings, weekdays and weekends – and we have programmes to suit different kinds of availability.
WHAT YOU COULD BE INVOLVED IN
Be the face of the venue. Our volunteer team makes our welcome to audiences extra special. Whether it's greeting the public or helping us to steward a one-of-a-kind event, show or gig, you'll be right in the middle of the action.
Get involved behind the scenes. It takes a lot of people to keep our venue moving! We'll be looking for volunteers to support the teams that look after artists, participants, and our wider events.
Lay the groundwork. We often have opportunities for volunteers to drop in for a few hours to test out our artists' ideas, or get stuck in to preparing a show before it opens to the public. It's a great way to get a sneak peak of the Festival.
Expect the unexpected. There are always new kinds of volunteering roles and weird and wonderful project to be involved in.
How it all works
Want to volunteer with us? There's a simple three- step process:
Step one: apply. Submit a short and simple application using our online volunteer portal. What you tell us about yourself will help us build a team with different interests and availability, and one that reflects the rich diversity in our city and the world at large. There are no wrong answers (we promise)!
Step two: Talk to the team. A member of the volunteer team will book in a chat with shortlisted applicants. This is a chance for us to get to know you, and for you to decide if volunteering is right for you.
Step three: get ready. All volunteers attend an induction session where you'll learn more about the programme, and receive all the training you need for your volunteer role. You'll then be ready to get stuck into volunteering with us.
good to know
Volunteering with us is open to everyone aged 18 and over who lives in Greater Manchester. (Not yet 18? Check out the range of other ways to get involved)
We reimburse travel and subsistence expenses in line with our expenses policy.
We supply Festival clothing for your shifts, including a t-shirt and a waterproof coat.
We'll provide all the training you need for your role, so no previous experience is required.
This opportunity mainly involves volunteering at Aviva Studios, but some opportunities may take place at venues across the city– between October 2023 and February 2024.