Factory Academy
Developing the next generation of technicians, producers and arts professionals.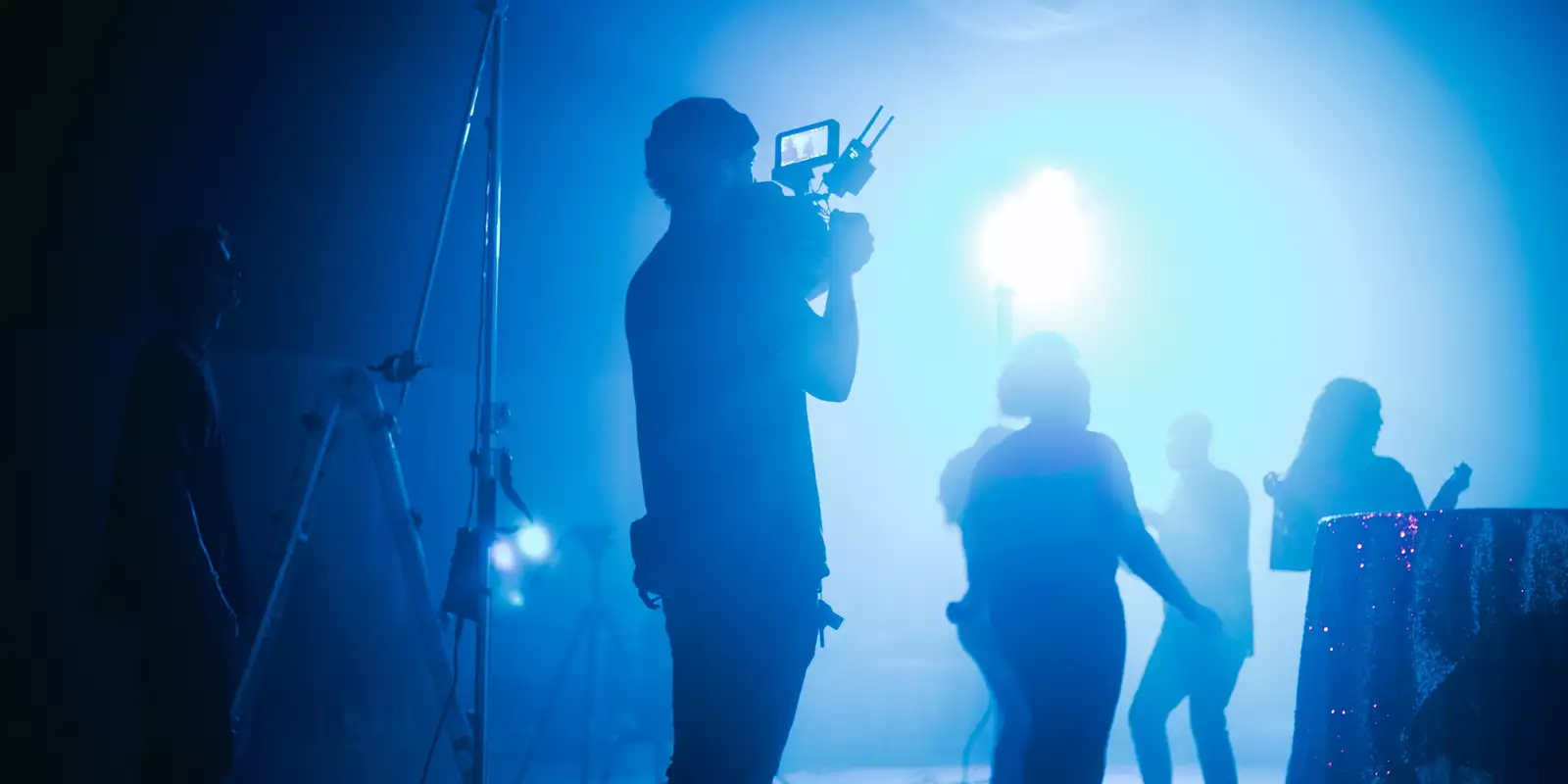 Break through
Factory Academy's free training programmes nurture the technicians, producers and arts professionals of the future – from Gen X to Z. You could be among them.
Factory Academy launched in 2018 to deliver training for people looking to start new careers with the aim of diversifying the workforce in the creative and cultural industries.
Current courses
See what courses are coming up here and apply now.
Course Summaries
Get to know a few of our greatest hits. From taking your first step towards a career in the creative industries or growing your current skillset, here are some of the courses that can help you realise your potential.
Learn the skills employers need in 15 days.
On this three-week course you will:
Learn what goes on behind the scenes at a major creative organisation.
Develop self-confidence, resilience, leadership and other essential transferable skills.
Complete a creative project set by an industry professional
Participants are also guaranteed an interview for a paid role in a creative organisation on successful completion of the course.
What our students say:
"The main aspect of the Academy I liked was that it allowed me to think about myself and what I have to offer in a way I have never done before; identifying what my core skills are and how to apply them in the creative industries. Also, the opportunity to meet so many great, like-minded people and connect with them on a professional and deeper level."
Arthur Berry, BBC Radio Five Live trainee, Manchester
"In all my years of education working with presentations, I've never been taught to handle them as well as I have during this course. Not only that, it's given me greater confidence in myself, my work and my skills. The extra drive I need to achieve my goals."
Sophie Bell, Floor Runner, ITV Studios, Manchester
"Factory Academy gave me a push to aim high and value myself. This course has also taught me a great deal about leadership and shown me that I have the skills and drive to be a good leader. I'm really grateful to have been a part of it."
Ronan Jamil Smith, Marketing Consultant, Cover People, Manchester
You can read more case studies from Future 15 alumni here.
Learn how to make a plan and execute it – on time, on budget, on point.
Project management is critical to the success of any creative endeavour. This six-week blended learning course will teach you how to define, develop and deliver a brief.
Expert tutors will cover all the key tools and skills, illustrated with real-life examples by guest speakers from across the creative industries.
Upon completion of the course you will have the opportunity to pitch your idea to an industry leader.
Course benefits:
Identify the major components of any project.
Define your vision and what you want to achieve.
Learn how to make the 'business case' for your project and find out what funders look for in successful applications
What our students say:
'It's raised my game so much. I feel able to manage a creative project in detail, from a business perspective. I've learnt how to plan in maximum detail and to map out a process professionally."
Jyothi Kuna, Festival Director, Altrincham Arts Festival
"Factory Academy has helped me to build a bridge between my creative practice and the industry, by teaching me how to take a project from concept through to outcome."
Olivia, Office Assistant at Factory International
"The sheer amount of detail is terrific. The way we're able to put the theory into practice means learning the programme is much more enjoyable and the stakes feel real."
Fraser Milward, Project Manager, Dig Media UK, Manchester
Develop essential skills with Manchester's top creative companies and cultural organisations.
Gain an accredited qualification in areas such as broadcast & film production and content creation
These free eight-week programmes:
Blend classroom training with online learning, industry guest speakers, field trips and self-directed study.
Boost your practical skills and employability.
Improve your critical thinking ability and other aspects of personal development.
Take part in masterclasses delivered by industry professionals from creative or cultural organisations
Challenge you to complete projects set by key industry figures, based on real-life scenarios.
"Having the opportunity to create content and, most importantly, be on a film set has helped open new doors in the industry and has brought me closer to what I want to do."
Ackeel Blake. Freelance Creative, Manchester
"I completed the Broadcast & Film Training Academy and got a BTEC out of it, was selected for a placement and then they invited me back. I'm now working full-time. There was nothing else that I had on my resume that could even get me close to a job like this."
Daniel Goodchild, Technical Media and Coding Trainee at Toasted Productions, Manchester
"This programme showed me that anything is possible when you are given an opportunity and purpose, even when you are really bogged down in life".
Beau Fildes, Freelance Creative, Manchester
Monthly sessions on must-know topics.
These drop-in sessions, exclusively for people who have complete a Factory Academy programme, focus on a popular topic or question. It could be anything from building your personal brand and getting better at networking, to acing your job application.
Free to attend either in person or online.
Learn what it takes to work as a Producer and build the foundations for a career in the industry.
As an Apprentice Producer you will work alongside the Factory International production team across a variety of creative venues in Manchester, including Factory International. Through a mixture of practical, digital and venue-based learning, you'll gain a host of skills and contacts to help you on your career path.
There are 10 opportunities for a 12 month paid apprenticeship available, and applications will open Spring 2023.
2 Apprentice Producers from the cohort will be offered full-time employment with us at Factory International and will work within the production team to bring some of the first works to our new word-class arts space.
In partnership with Power Up agency.
FREQUENTLY ASKED QUESTIONS
Eligibility varies from course to course and is detailed in the 'Who can apply?' section on each course page. If you are living in Greater Manchester and either unemployed or earning less than £20,888 then get in touch.
And if you can't see something for your age group right now, watch this space as we'll have you covered with future opportunities.
No previous experience or degree is required. All you need is an interest in the creative industries and the will to develop and learn new skills.
We are especially keen to hear from those who are underrepresented in our sector and especially applicants from low-income households.
These courses are fully funded. That's right, they are free.
It depends on the course. For example, those who completed the Broadcast & Production programme were awarded a BTEC Introductory Award in Digital Media.
Factory International are committed to safeguarding and protecting the people that use our facilities, engage in our activities and events, creating a setting where everyone feels welcome and safe. Where roles, or other paid opportunities such as Factory Academy courses, are subject to a safer recruitment process this will include scrutiny of employment or training history (where relevant), robust referencing and may include a check on criminal record history if the role involves contact with children, young people or adults at risk. This is in line with our DBS & Ex-Offenders Policy and the Rehabilitation of Offenders Act 1974.
Sign-Up ↓ Sign-Up ↓ Sign-Up 
FIND OUT ABOUT COURSES AND OPPORTUNITIES
Sign-up to our newsletter where you'll hear about the latest Factory Academy opportunities.
Read our privacy policy
Are you an employer?

Calling all companies and agencies in the creative industries… Can you offer skills and training opportunities to our young people at Factory International? If the answer is yes, please contact academy@factoryinternational.org.
The bigger picture in Greater Manchester
Back in 2019, we promised to put opportunities for local people at the heart of Factory International. School and college leavers, those who are not in education or employment, or on Universal Credit.
Potentially, thousands of you over the next few years.
The Greater Manchester Cultural Skills Consortium was born, a partnership between us and the following organisations:
Hallé, HOME, The Lowry, Manchester Metropolitan University, Octagon Theatre Bolton, Oldham Coliseum Theatre, Palace Theatre & Opera House, Royal Exchange Theatre, Royal Northern College of Music, Science & Industry Museum, Walk the Plank, Access Creative College, National Creative College Industries (NCCI) and Z-Arts.
We are committed to:
Offering more skills training in our region.
Ensuring our learning programme keeps pace with the industry.
Opening up the creative and cultural sectors to more underrepresented communities.