Looking Forward to Tomorrow - Equality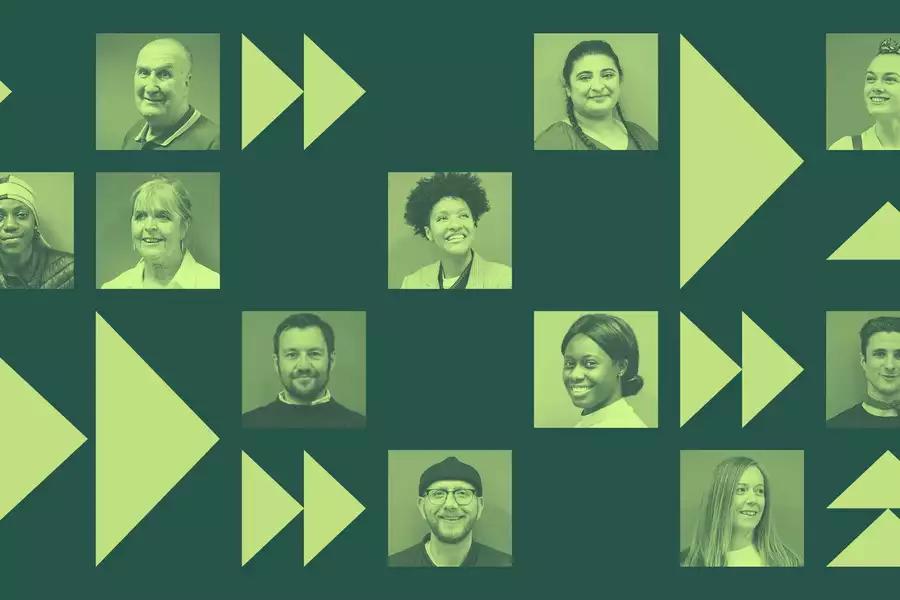 10 Jul 2021
Exchange Auditorium, Manchester Central
Activists, artists, campaigners, key workers and the people of Greater Manchester hosted two days of talk and action at MIF21
A year ago under lockdown, a group of Greater Manchester residents aged 16 to 70 came together for the first time to share their hopes, thoughts and ideas about the future. Hosted by Contact and MIF, the group continued to meet and discuss the important issues of today. And then at MIF21, they invited us to join them and their guests – artists, activists, key workers, campaigners and others – for two days of conversation and debate about two topics they think are key to our future: equality and the environment.
Equality
The seed planted by Black Lives Matter has grown into wider conversations about how Black experience intersects and connects with other equalities. From gender to healthcare, class to disability, what does equality mean in 2021 – and how can we bring about the change we want and need to see?
Featuring writers Lemn Sissay and Keisha Thompson; campaigners Cecilia Goodwin and Lady Phyll; Filmmaker/photographer Ngozi 'Goz' Ugochukwu; filmmaker Junior Akinola; dancer-choreographer Yandass Ndlovu; musicians Tee O and Dorcàs Sebuyange; Paralympian Kadeena Cox; healthcare professionals Dr Dev Devapriya, Estephanie Dunn, Zuzanna Kouamba and Naomi Yeboah; plus Aurelia Magazine and Brap.
Workshops included…
Aurelia Round Table A round-table discussion on equality in our city with Kya Buller & Amelia Ellis of Aurelia Magazine
Black Joy A film discussion with artists Tee O Brown, Dorcas Seybuyange and Xana, hosted by Yandass Ndlovu
Blackness Is Not Bleak A creative writing workshop hosted by spoken word artists Dorcas Seb and Blue Saint
Have a Word A facilitated safe space for open and accessible conversations with the people of Greater Manchester – and beyond
Let's Talk About Race A workshop and learning space about 'race' and racism with brap
Meet the guest contributors
Junior Akinola, a Manchester native, became the youngest ever Chair of a major performing arts venue in UK history in October 2020 when he was appointed Chair of Contact at the age of 28. He also works at the BBC as an Assistant Content Producer, where he has led successful diversity initiatives and reverse-mentored the Director of the Arts. As a writer, he has been commissioned to create an audio drama titled Homecoming, which will be available on BBC Sounds later this year.
Kya Buller is the Founder & Editor-in-Chief of Aurelia Magazine. A Mancunian writer, editor and host, she is passionate about storytelling and bringing marginalised voices to the fore. 
Kadeena Cox MBE is a British para-athletics and para-cycling athlete whose record includes gold, silver and bronze medals at the Paralympic Games 2016 in Rio de Janeiro.
Dr Devapriya Dev is a Consultant General & Respiratory Physician at Royal Bolton Hospital who has been on the frontline of the COVID-19 crisis. He has also been a prominent member and leader in the Indian community in Manchester for nearly 20 years. He is the Chair of Nrityakunj, a South Asian cultural organisation in Manchester, and Global Governor (UK) for the American College of Chest Physicians.
Estephanie Dunn trained as a general nurse and worked in a range of clinical settings before moving into nurse education at Northumbria University. She returned to clinical practice as a lecturer–practitioner in child health, then moved into general management as senior nurse/business manager for children's services, and general manager for a citywide adult learning disability service. After working as a Director of Nursing within a primary care trust, she joined the Royal College of Nursing in 2010 as Operational Manager for the Northern Region, and took up the post of Regional Director for the North West Region in 2014.
Amelia Ellis is the Assistant Editor of Aurelia Magazine. A Manchester-based writer, editor and filmmaker, her work explores contemporary issues and centres innovative, compelling and underreported stories. 
Cecilia Goodwin is a criminal defence solicitor specialising in serious and complex crime. She qualified as a solicitor in 2008, and shortly after attained her qualification as a higher rights advocate. She works on a daily basis with those appearing before the criminal courts, and she recently appeared in the BAFTA Award-winning BBC documentary Defending Digga D, which followed her and her client as he attempted to navigate the music world with a criminal behaviour order. Cecilia undertakes charity work and is a trustee for the Stop & Search Legal Project, which provides education to young people in respect of their rights during stop-and-search procedures.
Zuzanna Kouamba is a final-year student midwife who will be starting her job as a newly qualified midwife in September. She was born in Poland but has been raised in Manchester.
Yandass Ndvolu is a MIF21 Creative Fellow, the Founder of I M Pact collective and the Movement Director for Bloody Elle, now on at the Royal Exchange Theatre, where she previously worked on Macbeth and Jubilee. She has previously performed in MIF commissions Alphabus, WOZA, Icaria and FlexN Manchester, and has also appeared in Elevate (Boy Blue), See Me After (PUSH), Platform (PUSH) and FlexN Young Identity (Contact). For I M Pact Productions, her work includes All I Want for Christmas (collaboration with the Royal Exchange Theatre) and Let's Go (Contact), and work for Manchester Opera House, HOME, The Lowry, Portico Library, Antony Burgess Foundation, Royal Exchange Theatre, Queer Contact and others.
Diane Rutherford is brap's Learning and Development Lead. Having previously worked in higher education in the UK and Canada, Diane now leads on brap's learning portfolio, which includes topics such as the law, biases and working with diverse teams. Diane is a qualified teacher and as such her work engages schools and university sectors in understanding the application of teaching and learning and its impact on students. She has also led on a number of youth projects, such as working with young people to tackle the stigma associated with mental health, and supporting students to challenge universities on equalities issues. Diane is trained in process work and is a skilled facilitator who incorporates many methods and learning styles to enable full engagement in support of learning. She is a member of the NHS Leadership Faculty and currently delivers the Stepping Up programme to BME colleagues in the health sector.
Blue Saint is a Congolese and British rapper, singer-songwriter, spoken word poet, actor, producer and designer. He has developed an eclectic musical style that draws on a range of influences and genres, often combining and blending elements of hip-hop, R&B and electronic music. Blue Saint's work incorporates a range of political, social, philosophical and cultural references, with themes usually centred around social injustices. He was the winner of the Poetry Society's SLAMbassadors Award at 14, a MOBO BeMOBO Award nominee at the age of 15 and winner of Merseyrail Sound Station 2014, a prize celebrating breaking new talent in the Liverpool music scene, at the age of 20. Blue Saint has received various other accolades and achievements for his music, community work and activism, and was included in Liverpool Echo's 30 Under 30 list of 'the young people changing the face of Liverpool in 2020'.
Dorcas Sebuyange is a Congolese multi-disciplinary artist specialising in drama, music and poetry. She is currently on BBC iPlayer with her piece called Buttercup. Her previous credits include Living Newspaper Edition 6 (Royal Court), Big Up! (Theatre-Rites & 20 Stories High) and Black Men Walking (Eclipse Theatre). As a musician, she has supported line-ups including UK artists Akala, Lady Leshurr, Sway and Lowkey. She has also worked with the BBC, Writing on the Wall, the International Slavery Museum, Savera UK and more in her time as spoken word artist.
Google the name 'Lemn Sissay' and all the returning hits will be about him because there is only one Lemn Sissay in the world. Lemn Sissay is a BAFTA-nominated award-winning writer, international poet, performer, playwright, artist and broadcaster. He has read on stage throughout the world: from the Library of Congress in the United States to the University of Addis Ababa, from Singapore to Sri Lanka, from Bangalore to Dubai, from Bali to Greenland AND Wigan Library. He was awarded an OBE for services to literature and charity by the Queen. Along with Chimamanda Ngozi Adichie and Margaret Atwood, he won a PEN Pinter Prize in 2019. He is Chancellor of the University of Manchester and an Honorary Doctor from the Universities of Huddersfield, Manchester, Kent and Brunei. He is Dr Dr Dr Dr Lemn Sissay. He was the first poet commissioned to write for the London Olympics and poet of the FA Cup.
Joy Warmington is the CEO of brap, where she is engaged in the development of many of brap's training and development programmes. Joy's area of expertise is leadership and organisational development, and she applies this lens to the work that brap does with boards and leadership teams. Her background is in anti-discriminatory practice and application, and her expertise has been sought after and recognised on numerous occasions by the Department of Health, the Cabinet Office, the Department of Education and the Care Quality Commission, to name a few. As a lifelong learner, Joy has an MSc in Organisational Development & Learning, a Certificate in Education PGCE, a Postgraduate Diploma in Multicultural Education and a Certificate in Process Work (from the Deep Democracy Institute, Oregon). Joy is a member of the NHS Leadership Faculty and currently delivers on a range of inclusive leadership programmes, including the delivery of Stepping Up programme to BME colleagues in the health sector. As a qualified teacher with years of experience, Joy knows how to design and deliver learning in ways that are innovative, fun and effective. She also has qualifications in bias, coaching, counselling, leadership and mediation.
Ngozi Ugochukwu is a photographer, filmmaker and performer, which has seen her act and do stand-up/sit-down comedy. Her work has been shown at HOME, Disability Arts Online, at a British Council conference in Hong Kong, and at DaDaFest International. Ngozi trained as a video editor and went to film school in Cuba where she produced, directed and edited an award-winning documentary about her travels and experience in Havana. Her more recent film, My Life: Mae's Guide to Autism, can be seen on BBC iPlayer.
Xana is a freestyle live loop musician, sound artist, vibrational sound designer, archival audio producer, audio researcher and theatre-maker who deconstructs words to make improvisational performances, and composes scores for spaces with orchestral noise and thicc bass. Xana blends Caribbean magical realism and Afrofuturism in their live sets as a channel to burn down and build anew, inventing new streams of sonic layering and inviting people to be a part of making protest music. Xana is the instigator of SoulCase collective, a sound research, inventors and music-archive label for Black African and Caribbean people who invent new forms of musical creation.
Naomi Yeboah is a community learning disability nurse, actor, writer and producer. When she is not working in central Manchester with adults with learning disabilities, she is cultivating creative masterpieces.
Credits
Created by Yatie Aziz, Allan Cameron, Michael D'Ambra, Vincent Dugdale, Carmen Fyfe Paulo, Jake Howarth, Shada Iqbal, Olivia Lee, Margarette Lee-Chapman, Breb Lynch, Josef Minta, Louise Minta, Nicola Moss, Ayanda Ndlovu, Victoria Ofovbe, Lucy Porte, David Shanahan, Heidi Taylor-Wood, Faith Yianni
Commissioned by Manchester International Festival. Produced by Manchester International Festival and Contact. Supported by The Paul Hamlyn Foundation as part of MIF's year-round engagement programme working with communities across Manchester.
Image: Helen Davison.