Looking forward to Tomorrow - Environment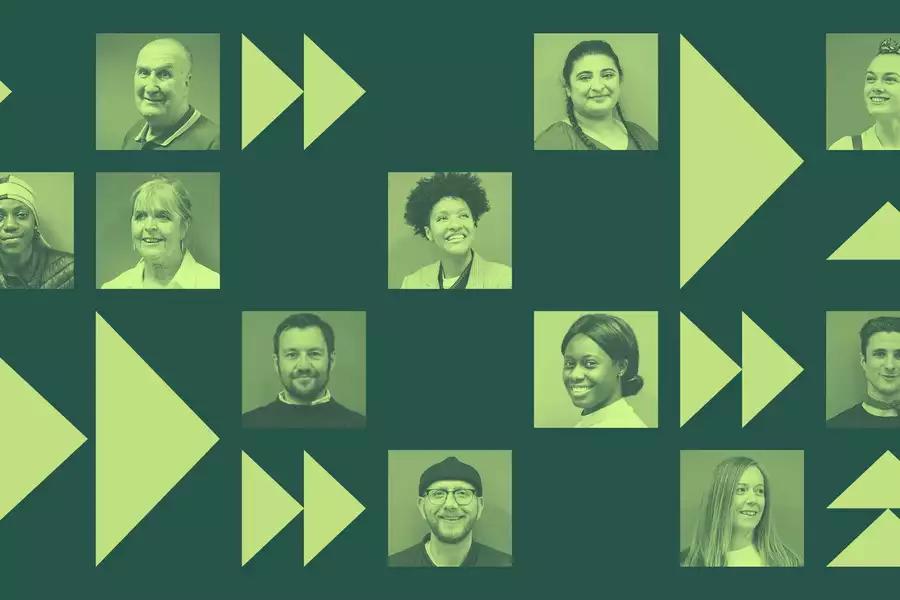 17 Jul 2021
Exchange Auditorium, Manchester Central
Activists, artists, campaigners, key workers and the people of Greater Manchester hosted two days of talk and action at MIF21
A year ago under lockdown, a group of Greater Manchester residents aged 16 to 70 came together for the first time to share their hopes, thoughts and ideas about the future. Hosted by Contact and MIF, the group continued to meet and discuss the important issues of today. And then at MIF21, they invited us to join them and their guests – artists, activists, key workers, campaigners and others – for two days of conversation and debate about two topics they think are key to our future: equality and the environment.
Environment
As climate change reshapes our planet, how could we each live more sustainably? How can we remake our local environment while living as global citizens, taking ownership of how our actions play out around the world? And how should we build together on the environmental benefits of lockdown?
Featuring sustainability professionals Feimatta Conteh and Martin Krobath; academics Dr Sarah Mander and Dr Patsy Perry; campaigners Debby & Dominion Adegbile, Dr Mya-Rose Craig, Kareem Dayes, Lewis Nelson, Mitzi Jonelle Tan and Genesis Whitlock; writer Keisha Thompson; psychotherapist Beth Collier; plus Cracking Good Food, Ergon Theatre and Plastic Shed.
Workshops included…
Climate Activism A film discussion with young climate activists Debby and Dominion Adegbile (Nigeria), Genesis Whitlock (Antigua/USA) and Mitzi Jonelle Tan (Philippines) hosted by Emma Greenwood, Youth MP at Bury Council
Climate Change: The Role of the Individual A new theatre piece created by Robin Lyons, Noé Sébert and Sam Black of Ergon Theatre
Have a Word A facilitated safe space for open and accessible conversations with the people of Greater Manchester – and beyond
Low-Carbon Cook-Off A cooking demonstration and discussion celebrating low-carbon eating, hosted by Rob Tomlinson & Sam Sin of Cracking Good Food
Plastic Shed Workshop A workshop exploring how you can turn plastic into useful new things, hosted by Caitlin Marie Atherton, Camilla Reghenzi and Rachel Lewis of Plastic Shed
Meet the guest contributors
Adegbile Dominion Ayoponinuoluwa is a 16-year-old, Grade 12 student of Multigrace College, Nigeria who became an ocean and climate activist after participating in the Heirs To Our Oceans Summit for Empowerment Action and Leadership (H2OO SEAL) in California, USA, in June 2019. Her passion is speaking out for the environment and campaigning for ocean life protection.
Sam Black is an actor, theatre-maker and member of Ergon Theatre who, just before the pandemic, made his West End debut in the Olivier Award-winning production of Cyrano de Bergerac, starring alongside James McAvoy and directed by Jamie Lloyd. During the first lockdown, Sam starred alongside his wonderful Granny Cynthia in Ergon's audio piece The Lost Summer, which he co-wrote and which is available to listen to on Ergon's website.
Beth Collier is a nature allied psychotherapist and ethnographer who teaches natural history and woodland living skills, and whose work explores relationships with people and with nature. Beth has a particular interest in supporting people of colour in finding our place in UK natural settings, and works to create opportunities for the representation of black leadership in nature. In 2013, Beth founded Wild in the City, an organisation supporting the well-being of urban residents: offering experiences in woodland living skills, natural history and ecotherapy, and using the skills of our ancestors to nurture a deeper connection with the natural world and a sense of belonging to communities past and present.
Feimatta Conteh is MIF's Environmental Sustainability Manager and a trustee of Invisible Dust and Artsadmin. She has worked across sustainability, technology development, digital culture and the arts for over 15 years, for organisations including the London School of Economics, the Arcola Theatre, Arcola Energy and FutureEverything. Feimatta is also deeply involved with an educational children's camping charity – she enjoys building communities and helping young people interact with nature.
Cracking Good Food is a not-for-profit social enterprise that launched in 2010 with the aim of encouraging and supporting more people to cook affordable, seasonal and nutritious homemade food from scratch. Driven by the belief that everyone deserves good food, Cracking Good Food works collaboratively with others to eradicate food poverty and increase food sustainability: encouraging and teaching individuals and groups how to source and cook affordable, healthy and tasty food while minimising both food waste and environmental impact. During the pandemic, they have harnessed over 12,000 volunteer hours to cook and distribute over 90,000 meals for people in need of support across Greater Manchester using ingredients intercepted from food waste. Today's session leaders are Rob Tomlinson, an expert bread maker and organic produce enthusiast who leads many of Cracking Good Food's community cooking sessions, and Sam Sin, an expert in modern Chinese cookery who has been an integral part of setting up and managing Cracking Good Food's COVID-19 Emergency Food Response project.
Dr Mya-Rose Craig is a prominent 19-year-old British Bangladeshi birder, conservationist and environmentalist. She is committed to conservation, such as stopping biodiversity loss and saving our planet through halting climate change, while respecting indigenous peoples and highlighting global climate justice as it intersects with climate change action, and focusing her attention on change from governmental and huge global corporations. She writes the Birdgirl blog, gives talks (having spoken on a shared stage with Greta Thunberg), writes articles and appears on TV and radio. For her work as Founder and President of Black2Nature, which she set up aged 13, she is the youngest British person to be awarded an honorary Doctorate of Science (at age 17) for her work fighting for equal access to nature and for ethnic diversity in the environmental sector. In September 2020, she visited the Arctic with Greenpeace, highlighting the second lowest sea ice minimum and doing the most northerly youth strike ever.
Kareem Dayes is a passionate and creative community organiser and social entrepreneur with 8+ years' experience of building grassroots community-led organisations, fundraising, project management, working with young people, educating, public speaking and community engagement, dedicated to building people power for positive social change. Kareem is also a musician, composer, producer and cellist who believes that music has the power to heal and change perception and ultimately change the world – and that we need these tools now as we urgently need new stories that will pave the way for a new world to emerge.
Ergon Theatre makes performance-based work about the climate crisis and futures, heavily influenced by scientific fact and research. They are supported artists at M6 Theatre, part of The Lowry's 'Class of 20' and proud members of the Manchester Arts Sustainability Team (MAST). They are currently working with Contact on Ergon: The Wicked Problem, a new production that examines climate justice and equity in a not-too-distant-future Britain. During the lockdown, Ergon produced audio work for The Lowry and Contact, which can be listened to for free on the Ergon website.
Emma Greenwood is a 17-year-old youth voice and climate activist. She is the current Youth MP for Bury, where she works to try and ensure young people's voices are heard in politics; and a member of Youth Strike 4 Climate Manchester and Fridays For Future Digital, where she works with other young people around the world to push for climate justice.
Martin Grobath is the current Climate Action Lead at Groundwork Greater Manchester, leading the organisation's community engagement around climate change. Martin is deeply rooted in social movements, and has worked in policy, education and campaigning around climate change and climate justice throughout Europe for the past 10 years.
Robin Lyons is an actor, theatre-maker and sound designer who has previously performed at and worked with organisations including the BBC, M6 Theatre, HOME and Contact. Robin won the Best Performance award at the Manchester Culture Awards for his contribution to Louise Wallwein's play Hidden, which gave a platform to the issue of early-onset dementia. A member of Ergon Theatre, Robin believes in his bones that the arts have a huge role to play in the fight against the climate crisis.
Dr Sarah Mander is a Reader in Energy & Climate Policy at the Tyndall Centre for Climate Research at the University of Manchester. She has an academic interest in social responses to low-carbon technologies and a strong belief that the numerous innovative projects led by grassroots organisations are key to fighting the climate crisis. Her research integrates public and stakeholder perspectives with technical and modelling assessments to understand low-carbon technologies and social responses to them. She is passionate about climate change engagement and innovative in her approach, working with artists to reach diverse audiences in new ways rather than trying to change the world one conversation at a time.
Adegbile Deborah Morayoninuoluwa is a 13-year-old, Grade 10 student of Multigrace College, Nigeria who became a climate activist after participating in the Heirs To Our Oceans Summit for Empowerment Action and Leadership (H2OO SEAL) in California, USA, in June 2019. Her passion is campaigning against air and plastic pollution, and she engages in environmental activities including beach clean-ups, tree planting and recycling drives in her community.
Lewis Nelson is the Manchester Youth Champion for Climate Action, working in the Manchester Climate Change Agency, and is also a local councillor. Lewis is currently supporting the Manchester Climate Change Youth Board to launch their manifesto. Lewis is passionate about young people's voices on the climate action agenda and has a background in supporting young people on a 1-1 basis, and in creating platforms for young people to make their mark.
Dr Patsy Perry is a Reader in Fashion Marketing at the Manchester Fashion Institute at Manchester Metropolitan University. An experienced educator, researcher and published author of academic journal articles and textbook chapters, she has a PhD in Corporate Social Responsibility in fashion supply chains and is often featured in the print and broadcast media for her expertise in fashion supply chains and sustainability.
Plastic Shed was created to provide more opportunities for people from different backgrounds to work together in a meaningful way, with the aim of supporting them to reuse plastic waste and turn it into new useful things. Rachel Lewis(Founder & Co-Director), Camilla Reghenzi and Caitlin Marie Atherton (also Co-Directors of the Community Benefit Society) are working to unite and build more resilient communities around Stockport and Greater Manchester, providing educational and creative recycling workshops where people can safely play together, experiment and learn about plastics. Plastic Shed believes that creativity is a way of approaching the world that can improve our mental wellbeing and open our mind to new ideas. In the knowledge that there can be lots of barriers to living a sustainable lifestyle, they aim to share our knowledge, skills, tools and equipment to make it more accessible for people to join the fight against plastic waste – helping to create a more equal and sustainable society.
Noé Sébert is a French actor, theatre-maker, spoken word artist and member of Ergon Theatre who has worked with organisations including Sky and Apple TV. Just before the pandemic, he performed his poem There is a place that nobody knows, about mental health and education, to the House of Commons. This was also featured as part of the BBC's Upload festival.
Mitzi Jonelle Tan is a full-time climate justice activist based in Metro Manila, Philippines. She is the convenor and international spokesperson of Youth Advocates for Climate Action Philippines (YACAP), the Fridays For Future (FFF) of the Philippines, and is also an organiser with FFF International and FFF MAPA (Most Affected Peoples and Areas), making sure that voices from the Global South are heard, amplified, and given space.
Keisha Thompson is a Manchester-based writer, performance artist and producer. She is Senior Manager of Children, Young People & Learning at Arts Council England, Chair of radical arts funding body Future's Venture Foundation, a MOBO x London Theatre Consortium Fellow, a member of the Greater Manchester Cultural & Heritage Group and recipient of the Arts Foundation Theatre Makers Award 2021. She is currently working with Eclipse Theatre, York Theatre Royal and Pilot Theatre to stage a new play, The Bell Curves, and with Fuel Theatre and Alan Lane (Slung Low) to create a new children's show, Izzy, BOSSS & Fractal. In 2020, she released Ephemera, a mini-album made in collaboration with Tom 'Werkha' Leah and featuring cellist Abel Selaocoe, and finished touring award-winning solo show Man on the Moon. She has supported artists such as Kae Tempest, Hollie McNish, the Last Poets, Saul Williams and Amiri Baraka, and her work has been presented at venues such as Tate Modern, Blue Dot Festival and the British Council Showcase in Edinburgh.
Genesis Whitlock is a climate justice activist from Antigua & Barbuda who currently works as a Taskforce Coordinator for Re-Earth Initiative, and is also working to grow grassroots organizations like Climate Justice Antigua and Escazu Caribbean.
Credits
Created by Yatie Aziz, Allan Cameron, Michael D'Ambra, Vincent Dugdale, Carmen Fyfe Paulo, Jake Howarth, Shada Iqbal, Olivia Lee, Margarette Lee-Chapman, Breb Lynch, Josef Minta, Louise Minta, Nicola Moss, Ayanda Ndlovu, Victoria Ofovbe, Lucy Porte, David Shanahan, Heidi Taylor-Wood, Faith Yianni
Commissioned by Manchester International Festival. Produced by Manchester International Festival and Contact. Supported by The Paul Hamlyn Foundation as part of MIF's year-round engagement programme working with communities across Manchester.
Image: Helen Davison.