Inside Out: This is Manchester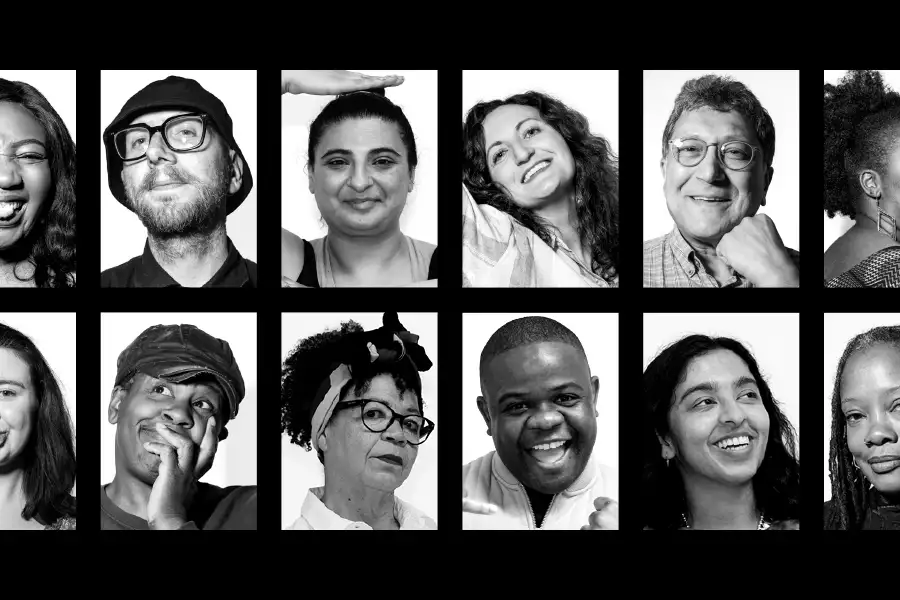 11 - 19 Nov 2023
Aviva Studios, Water Street, Manchester, M3 4JQ
Tickets
FREE, no ticket required
Accessibility features available for this event: Audio Description Wheelchair Access
Celebrate the faces who make Manchester with these larger-than-life portraits of the best of us – taken by local photographers Ngozi Ugochukwu, Rebecca Lupton, The Mancorialist and Audrey Albert
'I love Manchester and I feel welcome here. This building is ours and I'm claiming it for our city.'
When we think about Aviva Studios opening, that's what we want to shout from the rooftops. We want to put the people of Greater Manchester front and centre – to say this is a place that belongs to us, right from the very start.
That's why we nominated over 200 of the greatest Greater Mancunians to have their portrait taken and then be proudly displayed at Aviva Studios during The Welcome. Blown up in black and white, we can't think of a more visually arresting way to say we're welcome here – and you are too.
It's not your standard photography display. Photographs will cover the floor of the Undercroft at the entrance to Aviva Studios – our playful way of inviting you in and letting you get up close and personal with the portraits.
From our youngest (5!) to oldest (90!), everyone photographed is someone who radiates love for our city. Community members from Greater Manchester nominated by other residents. They all got the chance to meet and make connections over a series of photoshoots and engagement days – forging a bond we hope they'll share for a lifetime.
Inside Out is a global art platform created by French artist JR. Over the past decade more than 500,000 people have taken part in an Inside Out project in over 152 countries and territories. Each project helps communities make a statement by displaying large-scale black and white portraits in public spaces.
For The Welcome, our project is all about celebrating belonging, pride and the people who make Manchester.
Images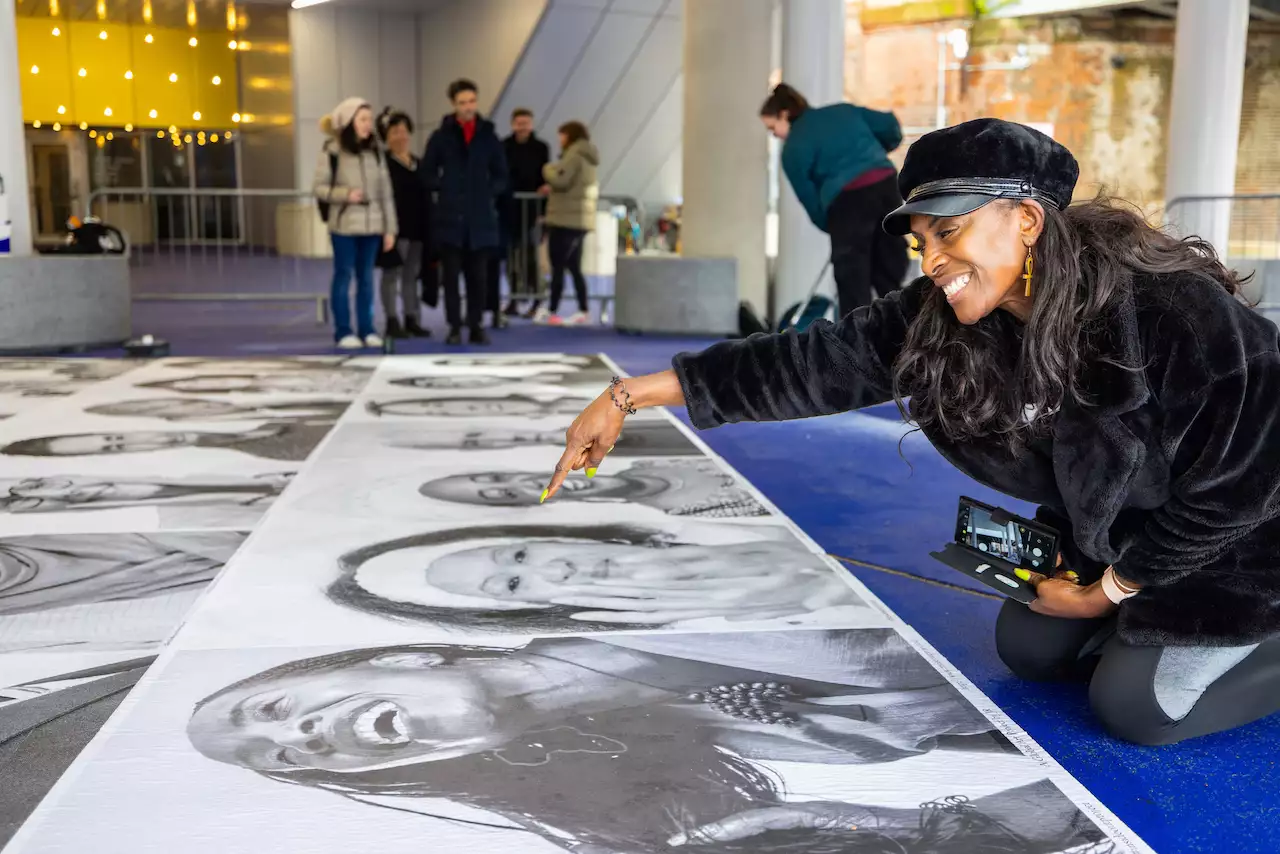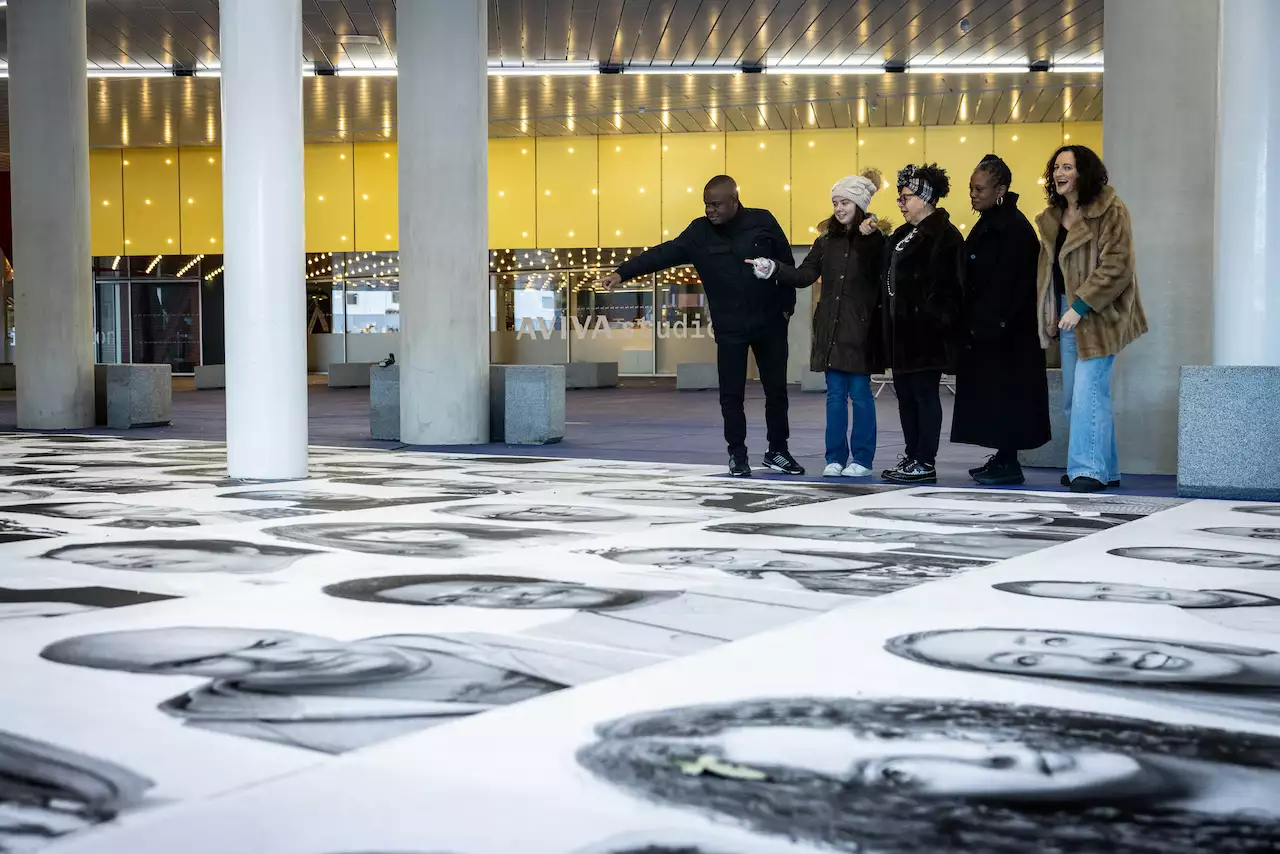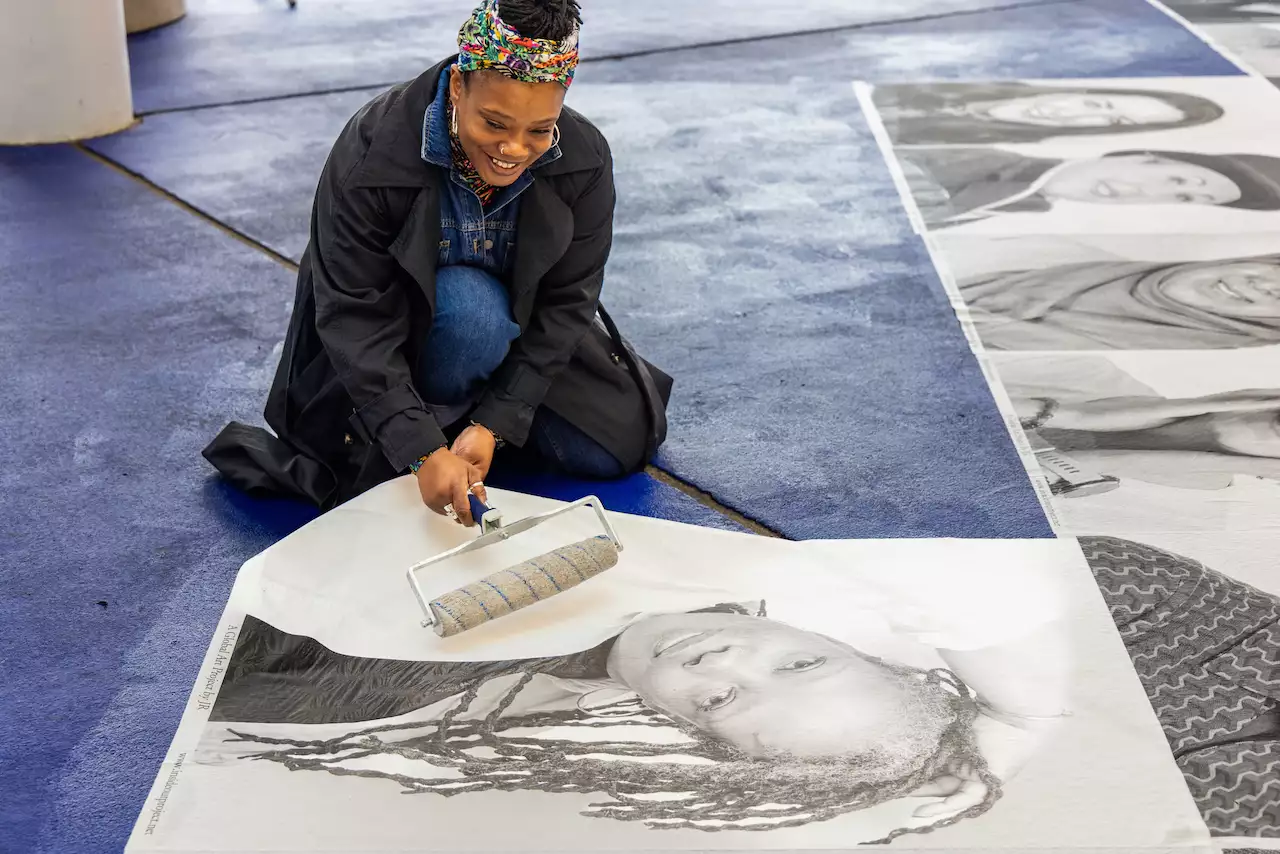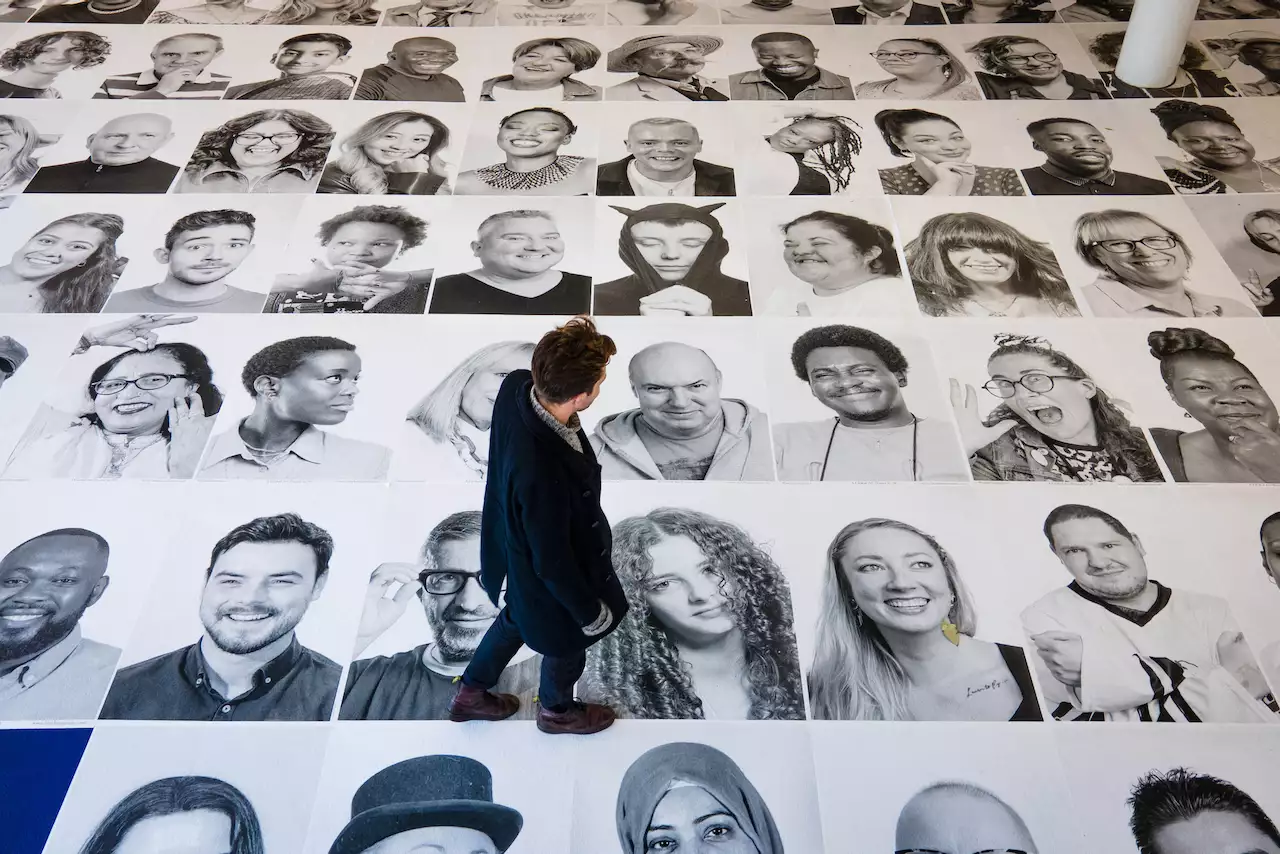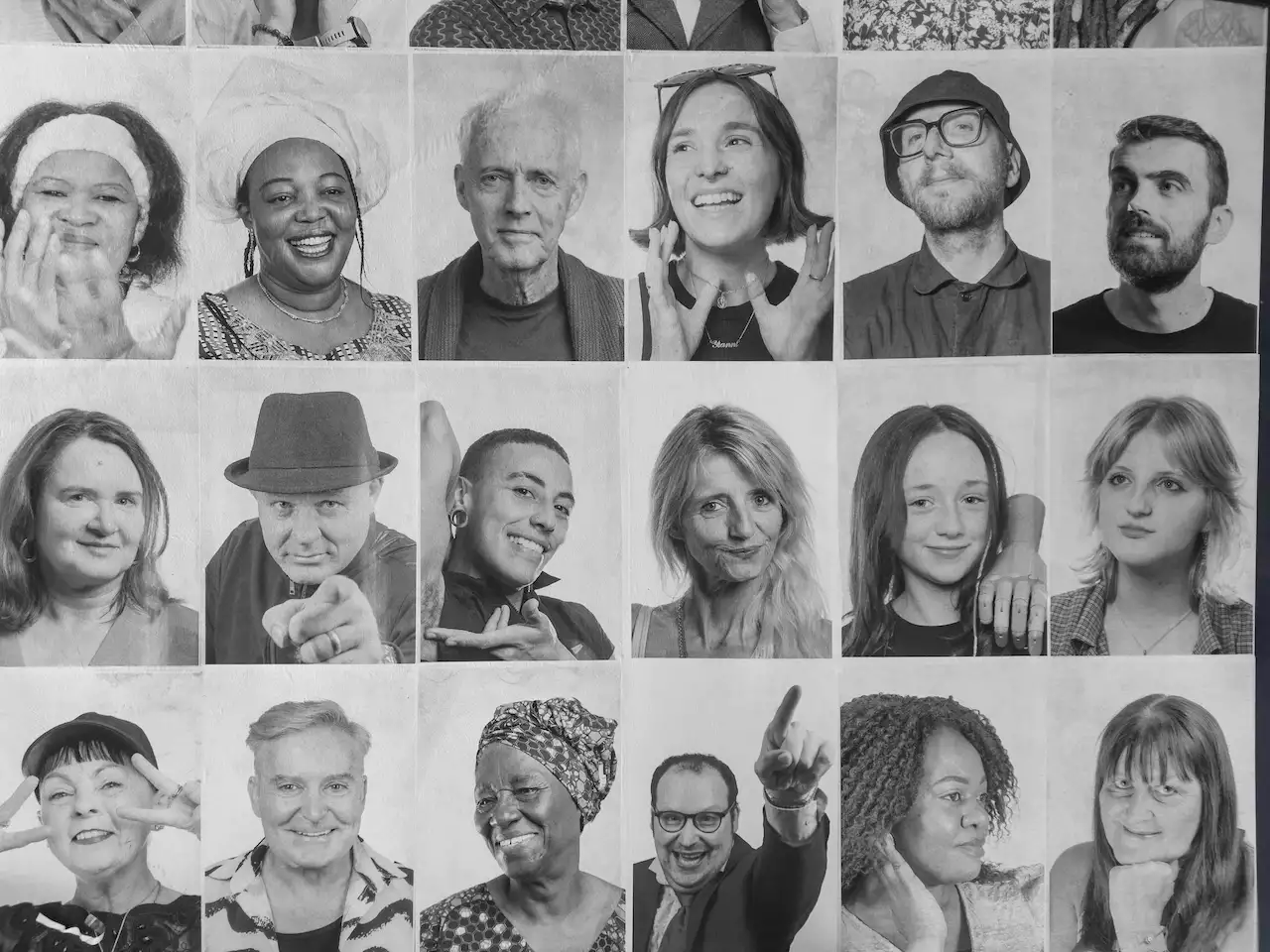 One of the amazing things about this project is how it shows the true range of people who identify Greater Manchester as their home. It is these people in all their wonderful difference who make this city and region such an exciting place to live. Seeing these people come together and be captured as they truly are in a way which feels authentic to them has been a truly beautiful experience.

The idea of hundreds of lovely Mancunians smiling out in welcome on the front of the most iconic cultural "people's" building this city has created in recent times is stunning. Like a salute from Mancunians to the world. Local friendly faces kindly inviting the world to our city.

Through the JR project we were invited to welcome real local people who we considered change makers in our communities to have their portraits taken. The JR project gives me a chance to celebrate those people who make even the tiniest difference to the biggest difference that makes Greater Manchester a welcoming and an even better place to live!
CREATED BY THE PEOPLE OF GREATER MANCHESTER
The Welcome is a series of events celebrating the opening of Aviva Studios, curated by the Factory Assembly. Representing a cross-section of the people of Greater Manchester, we're calling the shots with a programme that brings together the best in circus, street culture, music, food, art and more.
Access information
We're a new purpose-built cultural space in the heart of Manchester. The approach to Aviva Studios is flat, with smooth concrete flooring.
The entrance to our building is through double glass doors. There are automatic doors at both entrances and these are also staffed when the building is open to the public.
Once inside, there is step-free access to all areas of the venue. Lifts to the Warehouse are located through the glass doors beside the city entrance. Lift and escalator access to the Hall is located next to the river entrance, just beyond the brick arches.
You will first arrive into the Social, a large public space where there are a range of seats (including those with arms), a bar and toilets (including accessible toilets and a Changing Places facility).
The bars in the Social and Hall Foyer have lowered accessible service points, and induction loops for hearing-aid users.
There are accessible toilets on all public levels of our building.
Accessible toilets are located inside the main toilets space in the brick arches of the Social.
Here you'll find a mixture of accessible cubicles with left- or right-hand transfer, as well as ambulant accessible cubicles with grab rails. This is also where you can find our Changing Places facility. The toilets in the brick arches of the Social are gender neutral, so you can use facilities in any of the three arches.
There are additional accessible toilets in located in both Hall Foyers, at stalls and circle level.
You do not need a key to use the accessible toilets at Aviva Studios.
Assistance dogs are welcome at Aviva Studios, and we can provide mats and water bowls on request, just ask a host when you arrive. We can also take care of your assistance dog if you are attending a ticketed event and do not want to take your dog into the performance space. If you're bringing an assistance dog to this event and would like us to make arrangements to care for them, you're welcome to let us know by contacting access@factoryinternational.org or calling our access phone number: 0161 817 4531 (phone lines are open 10am to 5pm, Monday to Friday)
This project is visually-led and has no audio, so there is no captioning for this work.
This project is visually-led and has no audio, so there is no BSL interpretation for this work.
You will be able to explore Inside Out: This is Manchester at your own pace and take breaks as you need to.
Travel information
Aviva Studios can be approached along Water Street (coming from Quay Street) or along Liverpool Road (coming from Deansgate or Castlefield).
Free bus services stop at all city-centre stations, and near to Aviva Studios along Deansgate, Bridge St and Quay St. Buses on these free routes are wheelchair accessible. For full details of the free bus routes, please visit the TfGM website.
There is a car park approximately 0.6 miles from Aviva Studios at Water Street Car Park, New Elm Rd, Manchester, M3 4JH.
There is also a NCP car park (Manchester Spinningfields) approximately 0.5 miles away from Aviva Studios at Spinningfields, New Quay Street, Manchester, M3 3BE. It has 35 accessible bays.
There are a small number of Blue Badge spaces along Water St and Quay St. Otherwise head towards Liverpool Road, Great John St and Lower Byrom St – close to our neighbours, the Science and Industry Museum where there are a small number of additional Blue Badge spaces.
For a list of other parking bays available in the area, visit Manchester City Council website.
Become A Member
Experience extraordinary, all year round by becoming a Member. It's just £45 for 12 months of benefits including priority booking, discounts, offers and much more. Are you in?