Factory Settings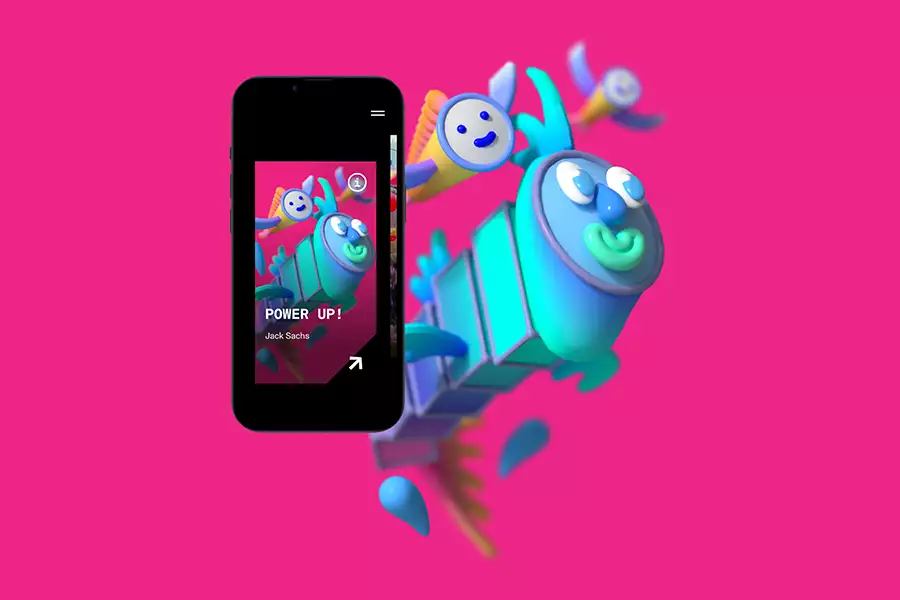 To experience our site-specific artwork, head down to Aviva Studios – we're open 10am – 11pm, Tuesday to Sunday. Though we're closed on Mondays, you can still download the Factory Settings app and select the explore anywhere option.
Switch on and step into Factory Settings
Factory Settings allows you to access a whole new dimension to Aviva Studios through inventive and playful virtual experiences.
Choose a particular lens and inhabit experiences crafted by artists, playing with both the setting and the imagination, and the interplay between physical and virtual elements.
Accessed via a free AR app, these interactive encounters provide fresh perspectives on our productions, encourage exploration of the building – and invite you to become part of the work.
Jack Sachs: Power Up!
3D artist and illustrator Jack Sachs is the second artist to animate our new home – just in time for The Welcome, our spectacular series of events and performances celebrating the opening of Aviva Studios. Known for his colourful and cartoonish characters, Jack has made work for the likes of Nike, Spotify and Vice.
For Factory Settings, he's created Power Up! – a vibrant world of weird and wonderful digital creatures who need your help exploring Aviva Studios. You can play with friends or explore alone, and customise each of the artworks.
Ready to explore? Download Factory Settings app for iPhone here and Android here, or pop down to Aviva Studios and scan a QR code to download Factory Settings for free – and see the world differently through your screen.
Gareth Pugh: FacSimulate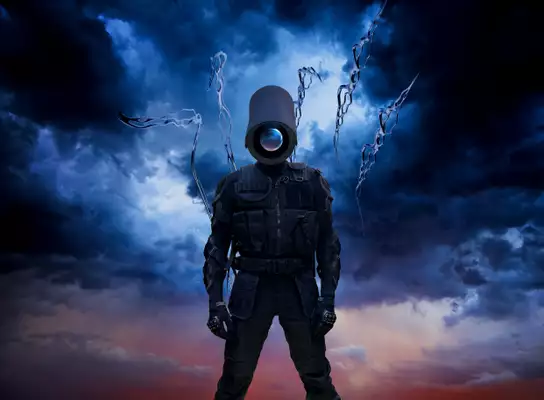 Marking the launch of Factory Settings, iconic British fashion designer Gareth Pugh joins forces with digital artist Natalie Liu and Berlin-based creative studio NEEEU on a series of new Snapchat filters.
FacSimulate coincided with the opening of Free Your Mind – offering a first look at the aesthetic that defined the costumes which Pugh designed, while paying homage to the visual world created by the Wachowski sisters in 1999.
Featuring state-of-the-art visual effects, FacSimulate invites you to step into a brave new world. Try on liquid metal skin, shoot a self-portrait augmented by otherworldly digital ghosting or watch a towering 720ft AR character loom ominously over the Aviva Studios building in Manchester.
Drawing on the themes of The Matrix, Pugh's designs raise questions about the body in a digital world – from the clothes we wear to how we move through simulated space. Free Your Mind asks in a world where humans are enslaved by algorithms – can we break free? And do we even want to? With FacSimulate, Pugh and NEEEU play with these questions and the tech that underpins them – the addictive allure of social media and the visual magic of AR.
Play
Factory Settings is available to download and play for free.
Credits
FacSimulate
Artist Gareth Pugh
App Development and Technical Direction NEEEU
Power Up!
Artist Jack Sachs
App Development and Technical Direction NEEEU
Commissioned and produced by Factory International
Access information
Please note that our changing places facility is temporarily out of action – we are working to rectify this as quickly as possible, and we're really sorry for any inconvenience caused.
If you're spending the day in the St. John's Area, there is a changing places facility on Level 1 at the Science and Industry Museum on Liverpool Road.
There are accessible toilets on all public levels of Aviva Studios.
A mixture of wheelchair accessible toilets with right- or left-hand transfer as well as ambulant accessible cubicles with grab rails are located in the brick arches in the Social, through the big silver doors. There is also a Changing Places facility in the middle arch.
There are additional accessible toilets in both Hall Foyers.
You do not need a key to use the accessible toilets.
Aviva Studios is a new purpose-built cultural space in the heart of Manchester. The entrance to our building is through double glass doors at either the city or river entrance. There are automatic doors at both entrances, and these are staffed during the day, and at evening events.
Once inside, there is step-free access to all areas of the venue – with lift access to our Warehouse space and lift and escalator access to the Hall.
Whether you are coming from the Liverpool Road or Quay St side of the building, you will arrive into the Social, a large public space where there are a range of seats (including those with arms and without), a bar and toilets (including accessible toilets and a Changing Places facility).
The bars in the Social and Hall Foyer have lowered accessible service points.
We have a small number of wheelchairs and some foldable stools available to borrow during your visit – please ask one of our hosts if you would like to use these.
You're welcome to bring your assistance dog if you are visiting Aviva Studios to explore the artwork in Factory Settings. We can provide dog mats and bowls if you need them – please ask one of our hosts for these.
There is some written information in the app. If you would prefer to hear this read out, you can turn on text-to-speech.
If you already have any accessibility settings enabled on your mobile device, the Factory Settings app will automatically use these for you.
If you would like to see what to expect before using the app, you can watch a video of the experience beforehand.
You may feel some dizziness or vertigo when you look up from using the app, or look back at the real world. Take care and sit down if you need to!
One of the experiences you can choose in the app is an audio description of the experience created Mind's Eye.
Getting here
Aviva Studios can be approached along Water Street (coming from Quay Street) or along Liverpool Road (coming from Deansgate or Castlefield).
Free bus services stop at all city-centre stations, and near to Aviva Studios along Deansgate, Bridge St and Quay St. Buses on these free routes are wheelchair accessible. For full details of the free bus routes, please visit the TfGM website.
There is a car park approximately 0.6 miles from Aviva Studios at Water Street Car Park, New Elm Rd, Manchester, M3 4JH.
There is also a NCP car park (Manchester Spinningfields) approximately 0.5 miles away from Aviva Studios at Spinningfields, New Quay Street, Manchester, M3 3BE. It has 35 accessible bays.
There are a small number of Blue Badge spaces along Water St and Quay St. Otherwise head towards Liverpool Road, Great John St and Lower Byrom St – close to our neighbours, the Science and Industry Museum where there are a small number of additional Blue Badge spaces.
For a list of other parking bays available in the area, visit Manchester City Council website.
Become a Member
Experience extraordinary, all year round by becoming a Factory International Member. It's just £45 for 12 months of benefits including priority booking, discounts, offers and much more. Are you in?