All Right. Good Night.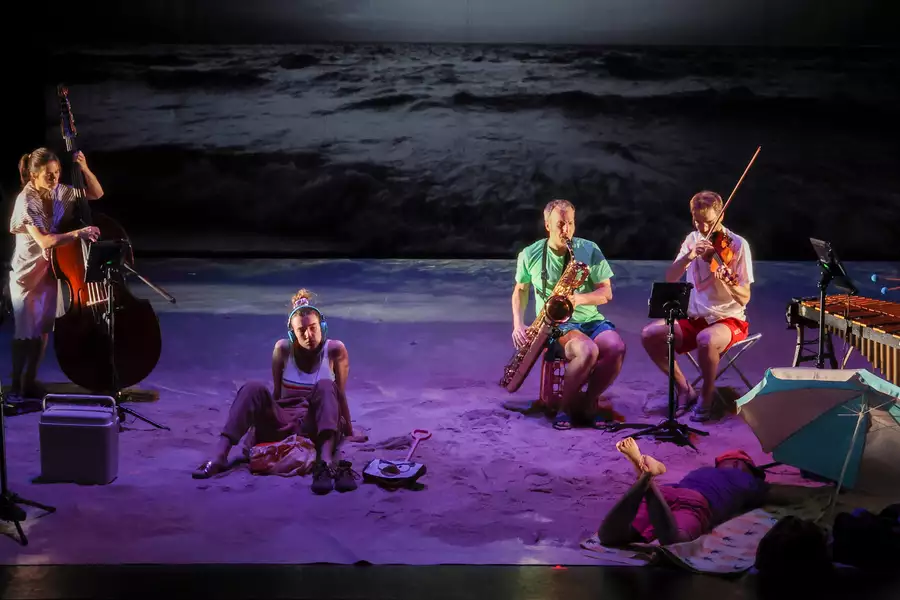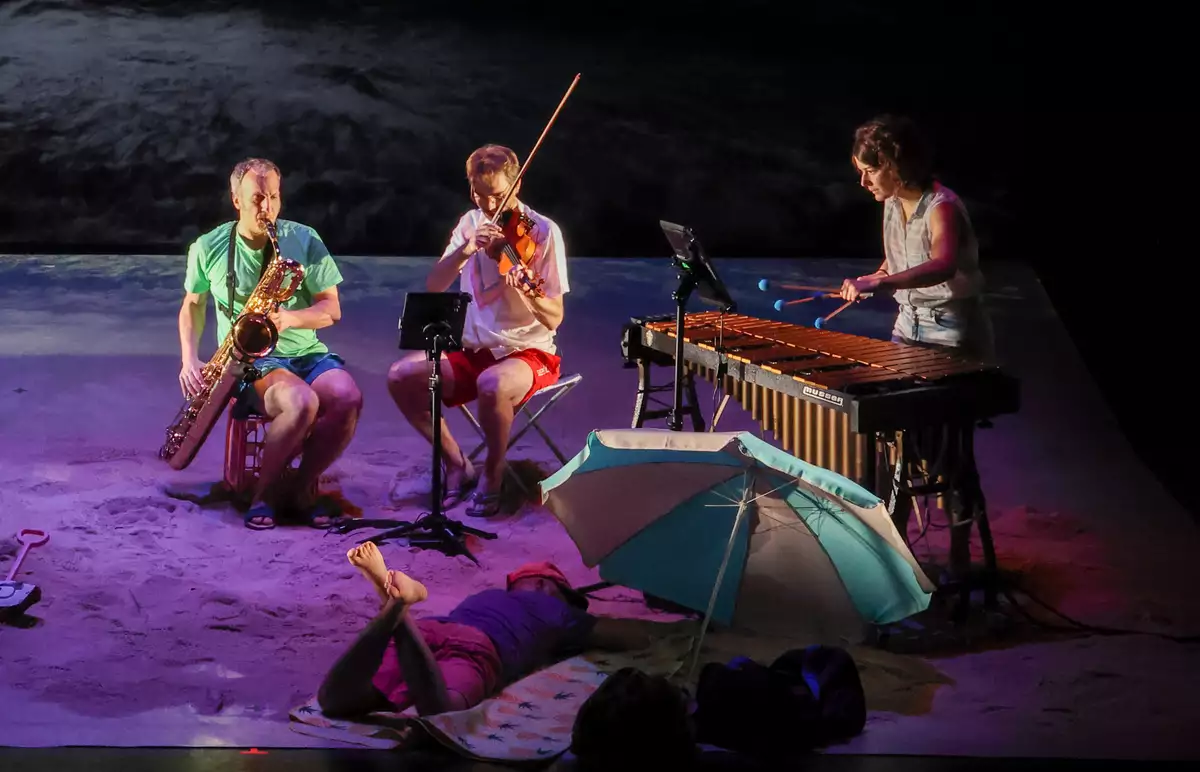 6 - 8 Jul 2023
Theatre 1, HOME, 2 Tony Wilson Place, Manchester M15 4FN
Tickets
Standard Tickets £28
Affordable Tickets £10 & £14
Running time: 140 minutes.

Accessibility features available for this event: Captioning Audio Description BSL Interpreting Wheelchair Access Assistive Hearing
The sudden disappearance of Malaysia Airlines Flight MH370 and the slow loss of a father to dementia entwined and entangled in this meditative performance from Rimini Protokoll.
'Something so large, so heavy, can't just disappear from our world. So we think.'
In All right. Good night. one of the biggest mysteries in the history of modern travel merged with a personal story from Helgard Haug, director and co-founder of the award-winning German theatre group Rimini Protokoll.
On 8 March 2014, a flight carrying 227 passengers and 12 crew members took off from Kuala Lumpur, heading towards Beijing. For 39 minutes and 13 seconds, everything was routine – you could go as far as saying unspectacular. Then the plane disappeared from radar. The supposedly last radio message from the cockpit: 'All right. Good night.' To this day, no one can explain how an airplane can disappear without a trace.
Shortly after the plane's disappearance, Haug's father began to get muddled up – posting his grandson four almost identical birthday cards. Fast forward a year later and no card arrived at all – the birthday forgotten. At some point, this forgetfulness was given a name and became a disease: dementia.
Weaving personal tragedy with catastrophe at large, All right. Good night. was a meditation on disappearance, loss and how to deal with uncertainty.
A captivating new performance from Berlin-based Rimini Protokoll, one of Europe's leading contemporary theatre groups – and the team behind MIF19's visionary Utopolis.
Performed live with a haunting contemporary score from Barbara Morgenstern and arranger Davor Vincze, this poignant production made its UK premiere at MIF23.
Image: Merlin Nadj-Torma
Extraordinary show about dementia and a disappearing plane

A virtuosic, deeply moving production where micro and macro stories of loss and contact criss-cross like passing planes

An extraordinary meditation on loss and grief and survival
Credits
By Helgard Haug with music by Barbara Morgenstern
A production of Rimini Apparat in co-production with HAU Hebbel am Ufer (Berlin), Volkstheater Wien, Factory International for Manchester International Festival, Künstlerhaus Mousonturm, PACT Zollverein.
Performing rights: schaefersphilippen Theater and Medien GbR
Music rights: Barbara Morgenstern © Maobeat Musikverlag/Budde Music Publishing GmbH
Access Information
The event took place at HOME, Theatre 1. The full address of the venue is HOME, Tony Wilson Place, First Street, Manchester M15 4FN
What3words is:
each.shall.limbs.
All the spaces at HOME including the Gallery and Theatres are wheelchair accessible, with step free access available. Theatre 1 has 3 wheelchair spaces, which are in the stalls on the ground floor.
An audio described performance of All right. Good night. took place on Friday 7 July at 7:30pm with a touch tour beforehand at 6pm. There was no need to book for the touch tour, people were invited to make themselves known to the box office team who guided them on where to go.
You can reserve an assistance dog space by contacting access@homemcr.org or by calling HOME's box office on 0161 200 1500, or by dropping into the venue.
A captioned performance of All right. Good night. took place on Friday 7 July at 7:30pm.
BSL interpretation of All Right. Good Night was provided by Janet Guest on Saturday 8 July at 7:30pm.
There was no relaxed performance planned for this event.
HOME has audio induction loop systems at the Box Office and in the cinemas and theatres. Sennheiser infra-red amplification is available in HOME's theatres. Visitors can request a headset or receiver for these services from the Box Office.
All right. Good night. used a significant amount of written text to help tell its story. 
The written sections were projected for the audience to read, and these sections were not vocalised by the performers. 
Further information about accessibility can be found on website
Travel Information
The 256 bus from Piccadilly Gardens stops on Medlock Street. The bus stops are located 50m and 150m from HOME's entrance. Buses on the 256 route are wheelchair accessible and have low floor access.
You can also use the free bus services that stop at all city-centre stations. Route 3 stops near HOME on Whitworth Street West from 7:30pm except on Sundays. Buses on these free routes are wheelchair accessible. For full details of the free bus routes, please visit the TfGM website.
There are 40 bike parking spaces at venue. Additional racks are installed in the area surrounding First Street.
The Q-Park First Street multistorey carpark also has 28 accessible parking spaces. This car park is located across from HOME on Tony Wilson Place at First Street. The car park entrance is approximately 30m from HOME's entrance, facing the pedestrian public square, Tony Wilson Place. HOME customers can scan their Q-Park ticket at the HOME box office to gain a 25% parking discount. Please note that Blue Badges are not valid for free parking in the Q-Park.
For a list of other parking bays available in the area, visit Manchester City Council website.
Blue Badge holders can park on Whitworth Street West close to the open railway arch labelled Jack Rosenthal Street (approximately 100m from HOME's entrance). Once parked, follow the pedestrian-only Jack Rosenthal Street to the right to find HOME's entrance.
The closest car drop-off point is approximately 100m from HOME's entrance – located on Whitworth St West at the open railway arch labelled Jack Rosenthal Street. This is next to Belvoir Lettings and leading through to Starbucks. Once dropped off, follow the pedestrian-only Jack Rosenthal Street to the right to find HOME's entrance.