An introduction to Yayoi Kusama
Allow us to introduce you to one of the best loved artists in the world: Yayoi Kusama. From polka dots to performance art, and pumpkins to mirrored rooms, Kusama's vision and determination have made her a cultural phenomenon. Here's everything you need to know.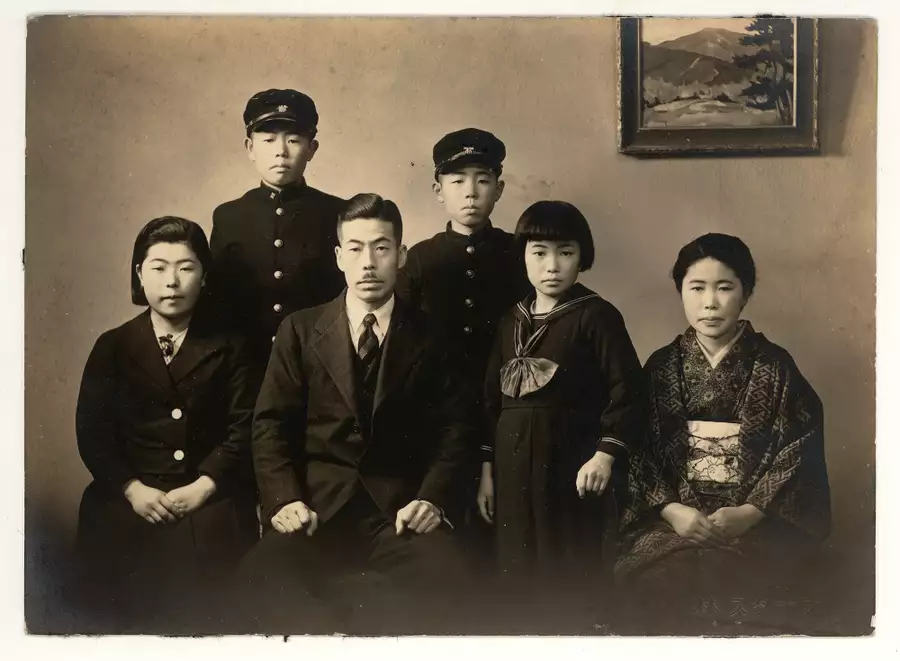 Her early years
Yayoi Kusama was born in 1929 in Matsumoto, a mountainous region in central Japan. Growing up on a plant nursery and seed farm, Kusama developed an interest in drawing and art from an early age inspired by her love of nature.
Kusama grew up during the Pacific War and was recruited to work in a parachute factory at the age of 15. Her family were socially conservative and had no intention of letting their daughter become an artist. Her mother even told a young Kusama she could become a collector if she liked art so much, but not an artist. [i] These experiences contributed to her experience with mental ill-heath and strong sense of being an outsider.
Despite this, Kusama continued to draw and paint, using art as a means of coping with the war and her unhappy childhood. She even used materials she found around the house when she couldn't afford to buy art supplies, or when her mother tore up her drawings. [ii]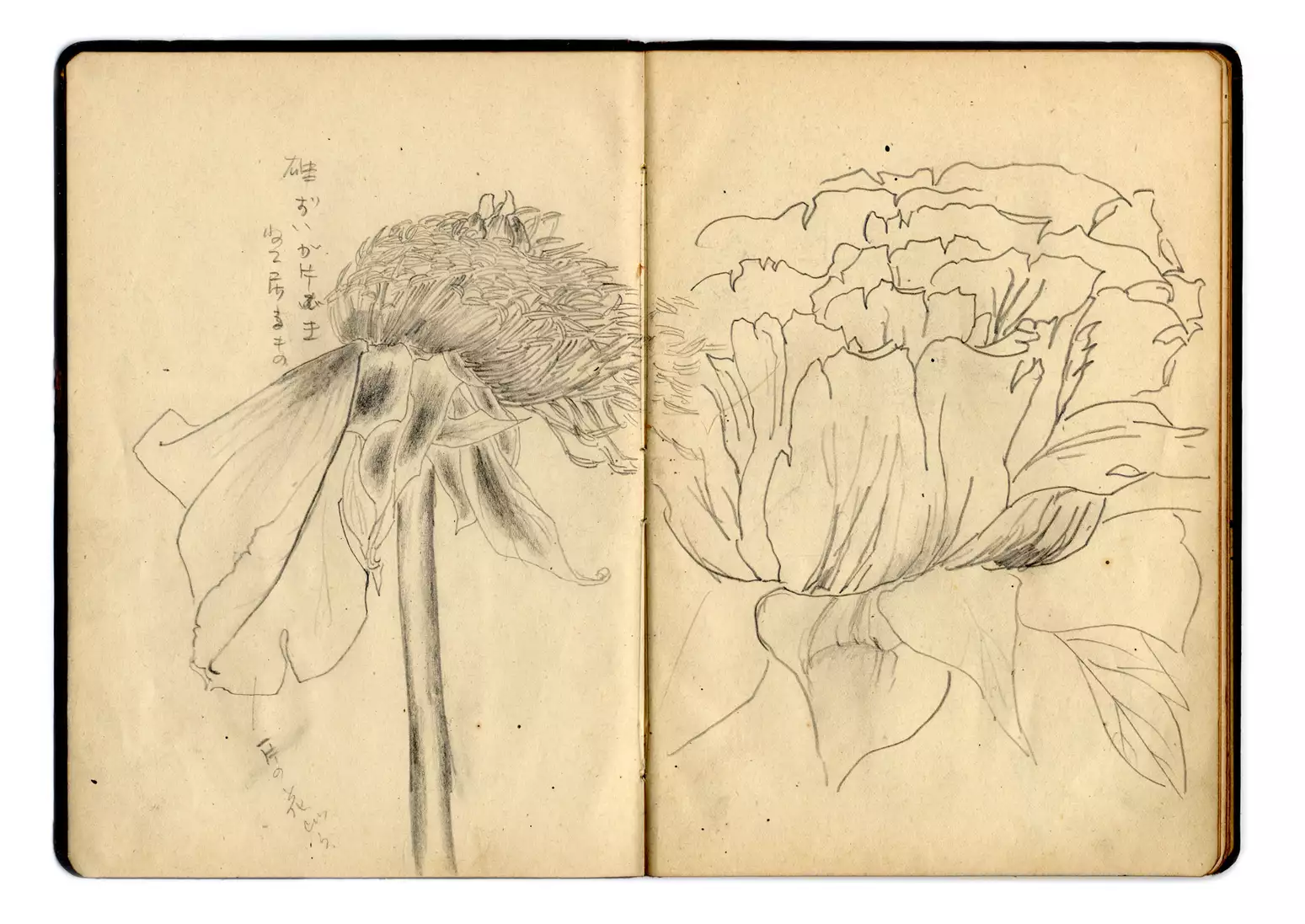 Forging her own path
In 1948, after the end of the Second World War, Kusama convinced her parents to let her go to Kyoto to study painting. There, she became frustrated by her teachers' conventional approaches and the lack of individual thinking promoted by her school, instead teaching herself oil painting. [iii]
Going her own way, she began experimenting with abstract painting – covering canvases with the polka dots that would become a trademark of her work. Kusama began to make a name for herself this way; her first solo exhibition took place in her hometown of Matsumoto in 1952 and she had two further solo exhibitions in Tokyo, the centre of the Japanese art scene, in 1953 and 1954.
But instead of moving to the capital, Kusama set her sights further afield. In 1955, before even setting foot on US soil, she took part in her first exhibition in the States: a group showing organised by the Brooklyn Museum. This laid the groundwork for her move to the US.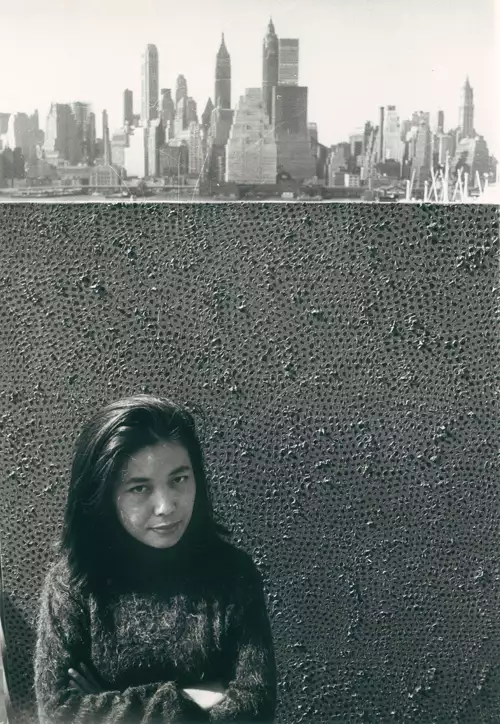 Moving to New York
Kusama has written about New York having a huge influence on her life. After holding her first US solo exhibition in Seattle, Kusama moved to New York in the summer of 1958. The city was the heart of the avant-garde scene and she immersed herself in the psychedelic counterculture. In her early days, she struggled to get by – living on scraps, fashioning a bed out of a door frame and painting all night to stay warm. [iv]
Despite the tough conditions she found herself in, her work flourished on all fronts. Bigger, bolder, taking on different forms – and revolutionising the Western-centric, male-dominated art scene. Her 'dots obsession' became central to her practice. By the late 1960s, she was as well known in America as Andy Warhol.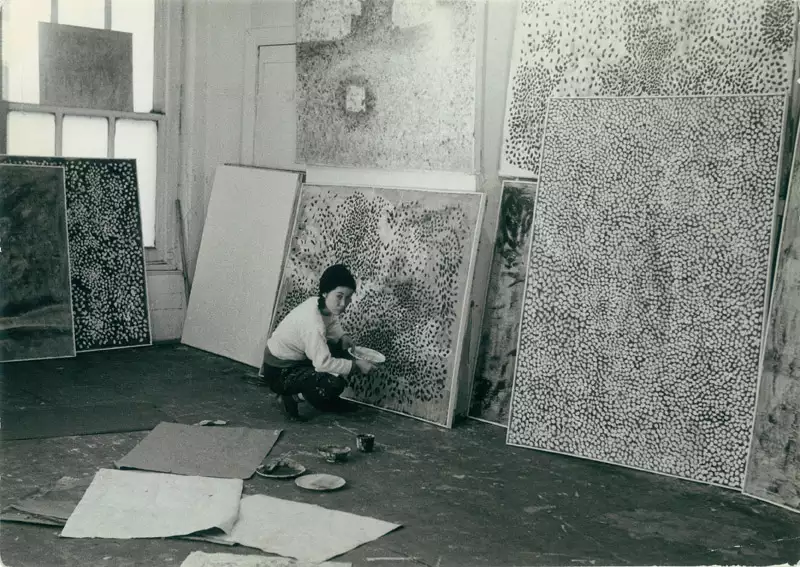 Developing her style
In 1959, Kusama had her first solo exhibitions in New York and Boston. At both shows, she debuted huge black and white paintings made up of tiny, repeated arcs covering huge canvases – some up to 33 feet long. These Infinity Nets got her noticed. Critics were taken with the vast scale of her work and the small, repetitive, almost hypnotic details that made up these mammoth canvases. No-one was doing anything like Kusama.
In fact, some art historians argue that her contemporaries took inspiration from her work. Andy Warhol became famous for using repetition in his prints and paintings – but Kusama had exhibited repeated prints long before Warhol. Claes Oldenburg became known for his soft sculptures, but Kusama had already debuted her own some months prior in the summer of 1962. [v]
Like the pop artists she associated with, Kusama was savvy in taking her art to a mass audience. Not only did she develop and distribute a zine, she founded her own fashion label selling dresses and textiles – long before artists and fashion houses collaborating would become a regular thing.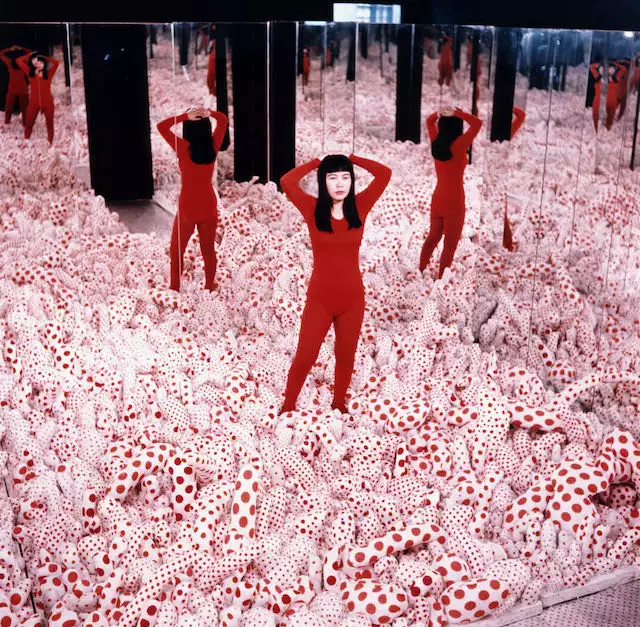 Disrupting the scene
In New York, Kusama also began experimenting with performance art and mirrored installations. In 1965, she showed her first mirror installation Infinity Mirror Room – Phalli's Field which combined her soft sculptures with mirrors to create a sense of endlessness.
In the late 1960s, Kusama began staging a series of body painting festivals, gathering her hippy friends and covering them in polka dots. In 1968, she staged a group nude dance performance in front of the Alice in Wonderland sculpture in Central Park, inviting people to join her 'world of fantasy and freedom'.[vi]
For Kusama, polka dots and nudity were a kind of protest – many performances were peaceful demonstrations against the Vietnam War. Today, she continues with her artistic mission of using polka dots to connect people and spread a message of cosmic interdependence, love and hope.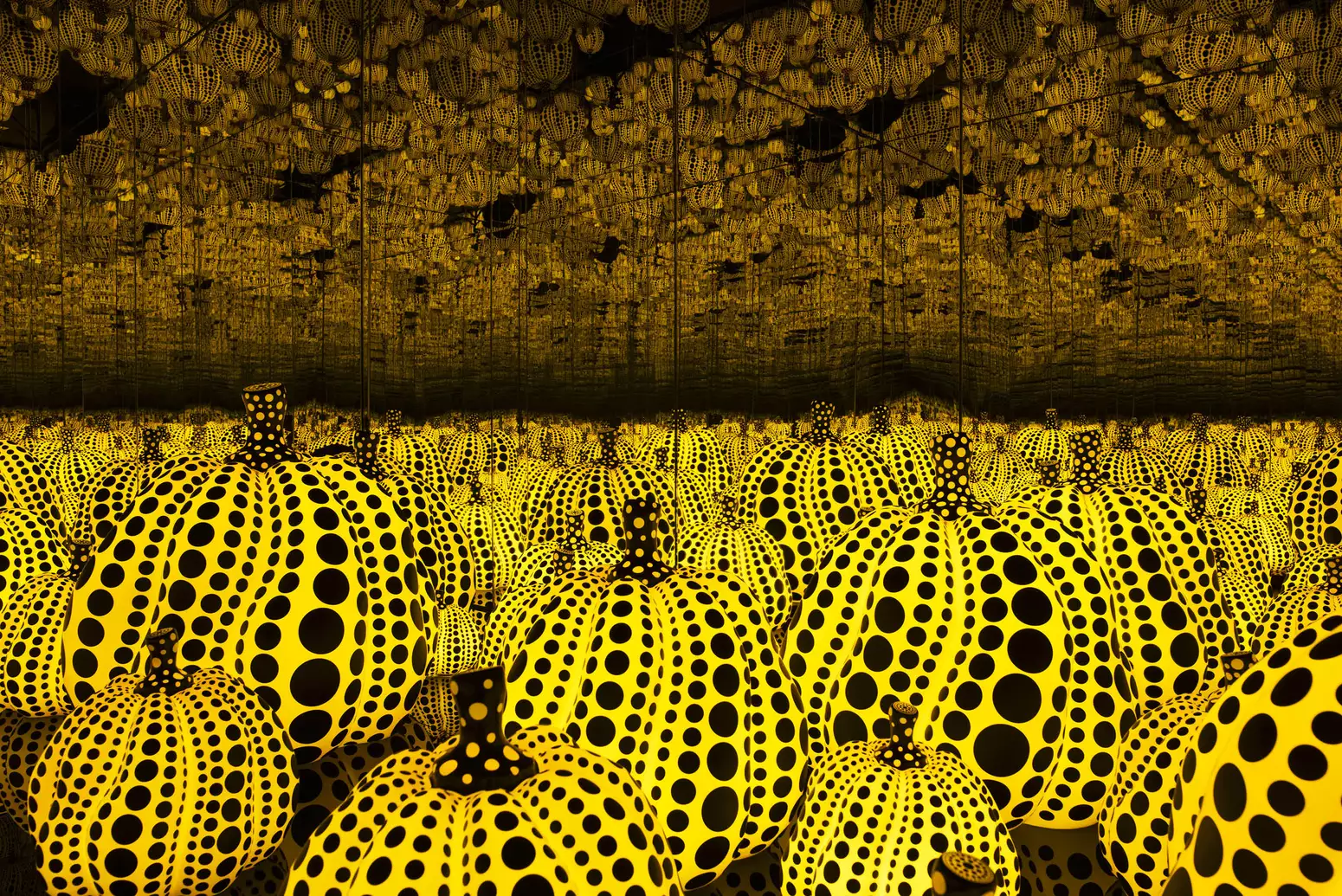 Why polka dots?
It's impossible to talk about Yayoi Kusama without talking polka dots. Kusama's work as an artist spans many different formats – paintings, drawings, collages, sculptures, performances, films, printmaking, installations and clothing. The common thread between them? Polka dots.
Her obsession with polka dots reminds us of our place in the universe and reflects her philosophical belief in the interconnectedness between humans, the natural world and the universe. 'Our earth is only one polka dot among a million stars in the cosmos,' she explains. 'Polka dots are a way to infinity'. [vii]
Kusama has talked about seeing dots appear before her as a little girl and feeling as though she was disappearing or dissolving. Repeating the polka dot over and over is a way to give yourself – or an artwork or item of clothing – over to the universe. She calls this 'self-obliteration'. [vii]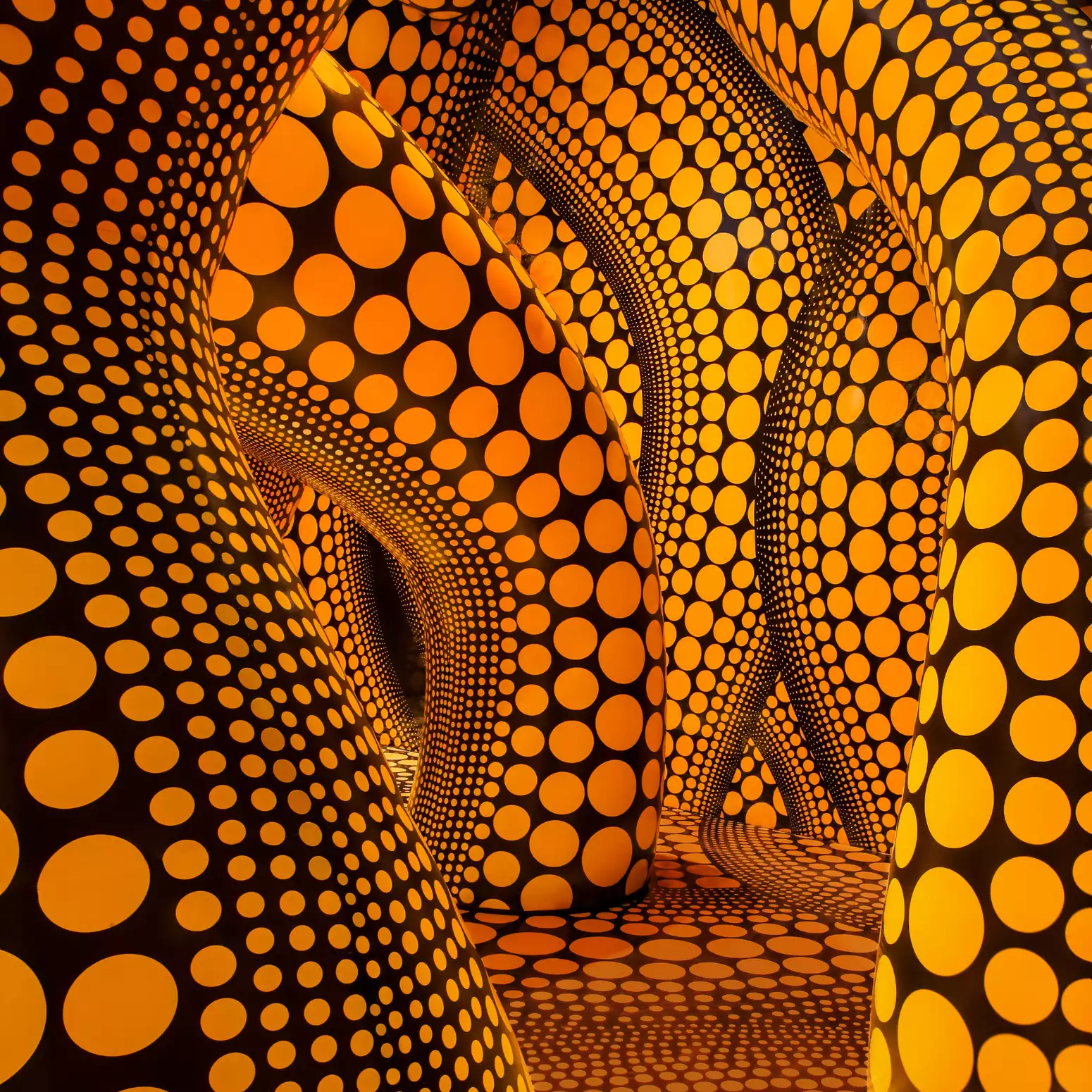 Endless creativity
In the 1970s, Kusama returned to Japan and voluntarily moved into a psychiatric hospital in Tokyo. In 1978, she published her debut novel Manhattan Suicide Addict – a fictionalised memoir of her time in New York. She continues to draw on her personal experiences of mental ill-health in her art.
Throughout the 1980s, Kusama held several solo exhibitions around the world – including a major critical survey in the US in 1989. But it was her Infinity Mirror Room (Pumpkin) for the Venice Biennale in 1993 that brought her international acclaim. Since then, her work has had a resurgence around the world – making her one of the most loved artists on the planet. Today, her pumpkins are just as iconic as her polka dots.
In the late 1990s, Kusama began creating large inflatable sculptures that she calls her 'balloons'. In 1996, she debuted her first balloon installation Dots Obsession at the Mattress Factory in Pittsburgh. You, Me and the Balloons celebrates three decades of these inflatable artworks.
Like the infinite spaces she makes, Kusama's creativity is apparently endless too. She has never stopped making art. Today, Yayoi Kusama continues to make new work and push her vision forward. You, Me and the Balloons is her largest immersive environment to date.
Yayoi Kusama brings her largest-ever immersive environment to Manchester. You, Me and the Balloons runs from 30 June to 28 August 2023. Find out more and book your ticket here.
References
[i] Solomon, A. (1997). 'Dot, Dot, Dot: The Lifework of Yayoi Kusama'. Art Forum. Available at: https://www.artforum.com/print/199702/dot-dot-dot-the-lifework-of-yayoi-kusama-32905
[ii] 'An Introduction to Yayoi Kusama'. (no date). Available at: https://www.tate.org.uk/art/artists/yayoi-kusama-8094/introduction-yayoi-kusama
[iii] Ibid.
[iv] Kusama, Y. (2014). 'Yayoi Kusama: when I wanted to commit suicide, my doctor encouraged me to paint more'. The Telegraph. Available at: https://www.telegraph.co.uk/culture/art/11180376/Yayoi-Kusama-when-I-wanted-to-commit-suicide-my-doctor-encouraged-me-to-paint.html?onwardjourney=584162_v2.
[v] Abrams, L. (2018). 'Pop Art Ripoffs: The 3 Yayoi Kusama Artworks That Warhol, Oldenburg, and Samaras Copied in the '60s'. Available at: https://www.artspace.com/magazine/art_101/close_look/pop-art-ripoffs-the-3-yayoi-kusama-artworks-that-warhol-oldenburg-and-samaras-copied-in-the-60s-55636
[vi] Kusama, Y. (2002). Infinity Net: The Autobiography of Yayoi Kusama. Tate Publishing.
[vii] Ibid.
[viii] Ibid.