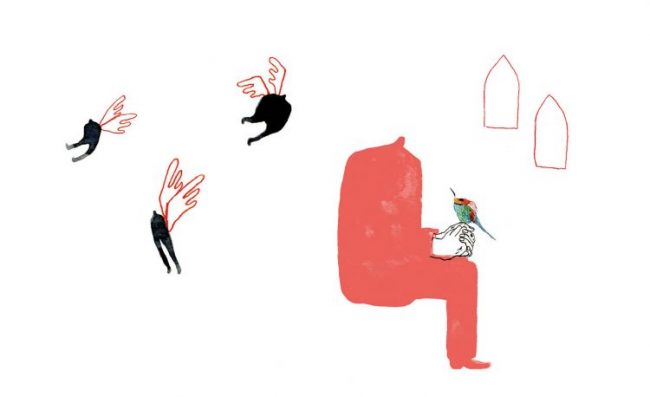 Tuesday
Studio ORKA
Wed 10 July, 2019
Sun 21 July, 2019
About the show
Touring
Reviews
Creative team
'I baptise you as Tuesday, he said, because I found you on a Tuesday – from now on, the most beautiful day of the week.'
Tuesday's an old man now, nearer the end than the beginning. As he looks back on his life, which began when he was abandoned in a church by his mother, we travel with him through time – into his memories, his dreams and the moments that shaped the person he became.
Tuesday was created by Studio ORKA, a hugely acclaimed collective who make captivating, poetic and site-specific theatre for children and adults. Beautifully staged in a Grade I listed Victorian church, Tuesday, a magical and moving show about the people, places and experiences that make our journey through life unique.
Commissioned by Manchester International Festival, hetpaleis, Antwerp and Theater Antigone, Kortrijk. Supported by The Flemish Authorities, the City of Ghent and Tax Shelter Belgium. Produced by Manchester International Festival and Studio ORKA.
Illustrations: Leonard Cools
Image Credit: Chris Payne
An unabashedly sentimental but crowd-pleasing show that takes full advantage of its location
The Stage
MIF #Studio Orka exquisite "do not miss" production of Tuesday that will have you laughing and crying in equal measure. The most special theatre experience of my life surpassing Marina Abramovich at the Lowry and King Lear (Robert Stephens)
@lostinworsley
Written & created by Studio ORKA
Martine Decroos, Philippe van de Velde,
Peter Monsaert, Titus de Voogdt, Ilse de Koe,
Robrecht Vanden Thoren, Dominique van
Malder, Janne Desmet, Tania van der Sanden
Cast
Titus de Voogdt Tuesday
Ilse de Koe Stella
Robrecht Vanden Thoren Renee
Dominique van Malder Nestor
Janne Desmet Hilda
Tania van der Sanden Benedicte
Milo Duffield/William Maher Young Tuesday
Josie McDonnell/Amelie Ross Young Stella
Riley Holland/Fenton Kelly Young Renee
Charlie Gravel/Sam Jones Younger Renee
Louis Bisson, Sallie Bridgen, Sharon Connor,
Jack D'Arcy, Nicky Darnborough, Vincent Dugdale,
Stefanie Edler-Wollstein, Cathie Eggett, Mark Eggett,
Nick Hardiker, Rachel Harland, Phil Hicks, Billy Morrison,
David Parkinson, Claire Platt, Gwen Pugh, Helen Saxton,
Barbara Stafford, Judy Sykes, Alan Sykes, Bukky Toba,
Eniola Toba, Judith Wilson, Jonathan Winter,
Naomi Yeboah Chorus
Creative team
Martine Decroos Artistic Director
Philippe van de Velde Artistic Director & Set Designer
Peter Monsaert Director
Hans Primusz, Rachel Harland Chorus Directors
Natascha Pire Choreographer