The Walk: When the Birds Land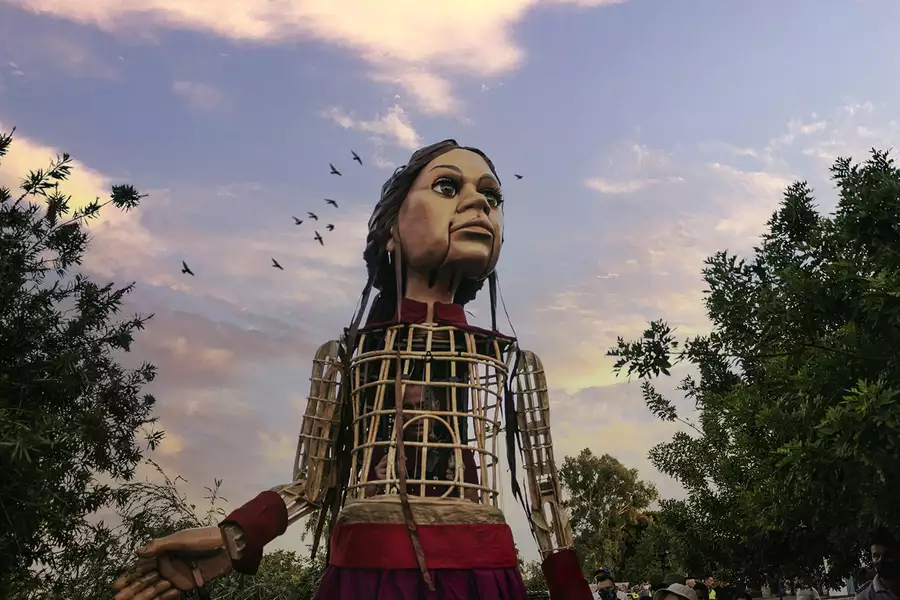 3 Nov 2021
Castlefield Bowl
Tickets
FREE - ticket required
Under 16s to be accompanied by an adult over 18.
Running time: 75 minutes

7pm
This event will have captioning and BSL interpretation.
Accessibility features available for this event: Captioning BSL Interpreting Wheelchair Access
Join us to welcome Little Amal for the finale of her extraordinary 8,000km journey – an epic voyage across borders to start a new life in Manchester.
Meet Little Amal. She is a 3.5-metre puppet of a nine-year-old refugee girl, who is walking from the Syria-Turkey border, through 65 cities, towns and villages, all the way to Manchester. Since July she has been welcomed by artists and communities at over 120 events in a remarkable journey across Europe that culminates with this powerful finale.
Little Amal's long search for a new place to call home has led her to Manchester, a city with a proud history of embracing migrants and refugees. Together with local communities and artists, join us in giving her the warmest of Manchester welcomes with a celebration of song, dance, live music and puppetry… And some special surprises along the way.
Directed by internationally acclaimed theatre and film director, Simon Stone (The Dig, Yerma) When the Birds Land concludes The Walk – the travelling festival of art and hope in support of refugees, created with renowned theatre company Good Chance (The Jungle) in collaboration with Handspring Puppet Company (War Horse), with artistic direction from award-winning Amir Nizar Zuabi.
Credits
When the Birds Land
Director Simon Stone
Designer Lizzie Clachan
Choreographer Yandass Ndlovu
Music Director Daniel McDwyer
Assistant Director Robin Ormond
Advisory Group Shamim Afshan, Marzia Babakarkail, Fidaa Bashir, Sophie Gardinner, Rahwa Beyene Gebretzhios, Nicky Iginla, Sofia Kalu, Summara Kanwal, Amina Khoulani, Kathy Lebadou, Tandrima Mazumdar, Philomene Ndaya Mujinga, Moaz El Sayed, Mariatu Sesay
The Walk
Artistic Director Amir Nizar Zuabi
Puppet Design & Build Handspring Puppet Company
Puppetry Directors Craig Leo and Enrico Dau Yang Wey
The Walk is produced by The Walk Productions, Good Chance, Stephen Daldry, David Lan and Tracey Seaward in association with Handspring Puppet Company, and is produced and presented in Manchester by Manchester International Festival
Where Else Can I See Little Amal?
Whilst in Manchester Little Amal will visit Wigan on Sunday 31 October, where she will be welcomed by performances from local communities and artists. Then on Tuesday 2 November, she will meet schools and community groups in Rochdale, and be welcomed with activities on Yorkshire Street and at Rochdale Memorial Gardens.
To find about more about the Wigan event, please follow @WiganCouncil Facebook and Twitter, and for details on the Rochdale event visit Rochdale Council's website.
Ahead of her arrival at Castlefield Bowl for The Walk: When The Birds Land on Wednesday 3 November, you'll be able to catch a glimpse of Little Amal outside the Great Northern Warehouse in Manchester city centre at approximately 7.15pm, as she makes her way to the finale event. If you missed out in tickets for the event then you can come along and see her, however a pre-booked ticket is required for admission to Castlefield Bowl.
Family and School activities
Little Amal represents the millions of displaced children who, just like her, have been separated from their families and are more vulnerable than ever during the pandemic. According to UNHCR, the UN Refugee Agency, around half of the 26 million refugees around the world are under 18. The Walk is an extraordinary artistic response: a cultural odyssey transcending borders, politics and language to tell a new story of shared humanity.
At its heart The Walk is an educational journey that promotes an understanding of the experiences of refugees. Families and schools can join in by downloading The Walk's Activity and Resource pack themed around Little Amal's journey, where you can make, explore and learn more about the refugee crisis.
If you're looking for things to do with the kids this half term, then why not take part in Make with Amal – a programme of art activities inspired by Amal's journey. To welcome her home, we are creating a flock of birds to symbolise freedom and Little Amal's potential to do anything. Join in with the Manchester celebrations by creating your own paper bird at home, and then share your creations online using #actsofwelcome