The Faggots and Their Friends Between Revolutions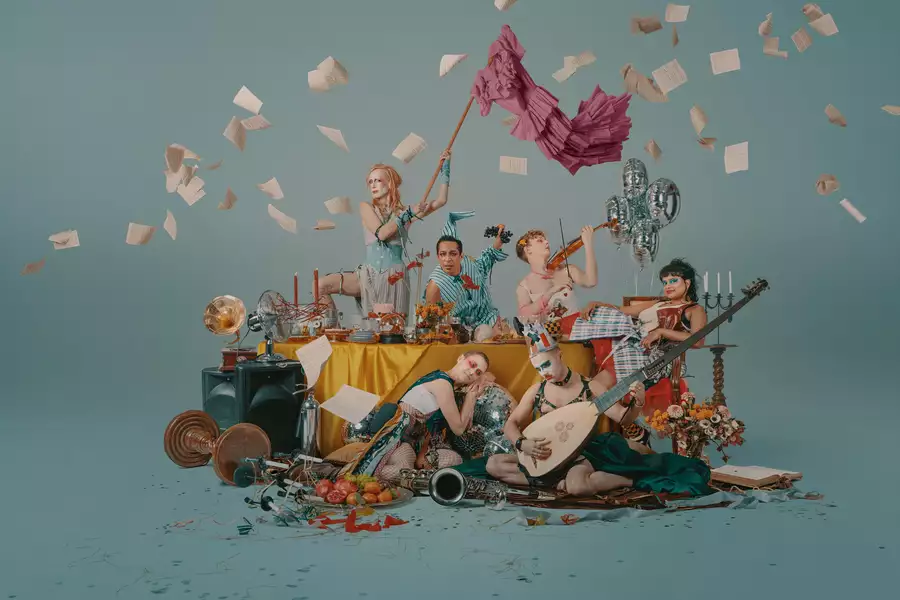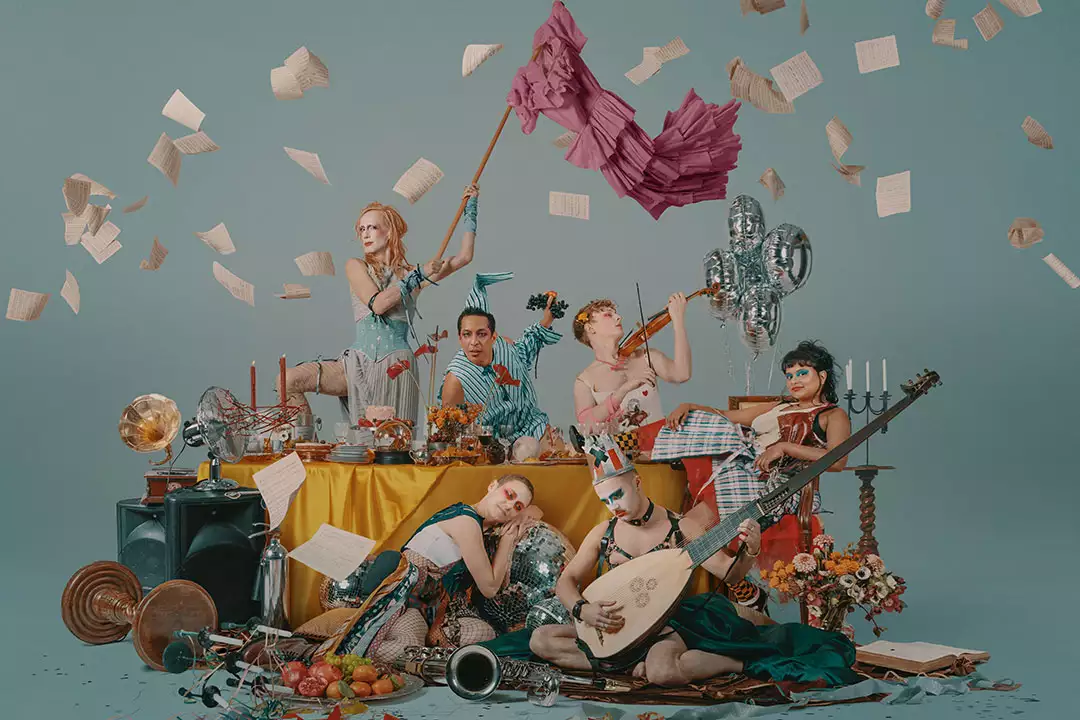 28 Jun - 2 Jul 2023
Theatre 1, HOME, 2 Tony Wilson Place, Manchester M15 4FN
Age Guidance: 16+
Running time: 90 minutes. No interval

The Faggots and Their Friends Between Revolutions deals with sexual liberation in an explicit way. The production also makes reference to discrimination and violence against the LGBTQIA+ community. For more information and resources, please see our advice on language and content below.
Accessibility features available for this event: Captioning Audio Description Relaxed Performance BSL Interpreting Wheelchair Access Assistive Hearing
Fantasy meets liberation in this queer retelling of world history from Philip Venables and Ted Huffman.
Step into a world where fables and myths celebrate queer community, friendship and pleasure: a manifesto for survival for the marginalised everywhere.
Based on the 1977 cult book by Larry Mitchell and Ned Asta, The Faggots and Their Friends Between Revolutions is a music theatre piece that reimagines the history of the world through a queer lens.
In this musical adaptation by composer Philip Venables and director Ted Huffman, the original text is taken on a kaleidoscopic journey by a cast of actors, singers and musicians.
Together they conjure up a world on the brink of revolution – imagine battle re-enactments crossed with cheerleading, all night raves mixed with lute songs and court dances.
The result is a joyful celebration of queer experience that's both vulnerable and provocative. A space where deeply personal stories are shared and soothed through community.
Radical and playful, The Faggots and Their Friends Between Revolutions brings together theatre, dance and song for the ultimate anarchic bedtime story.
Photography: Damien Frost
Images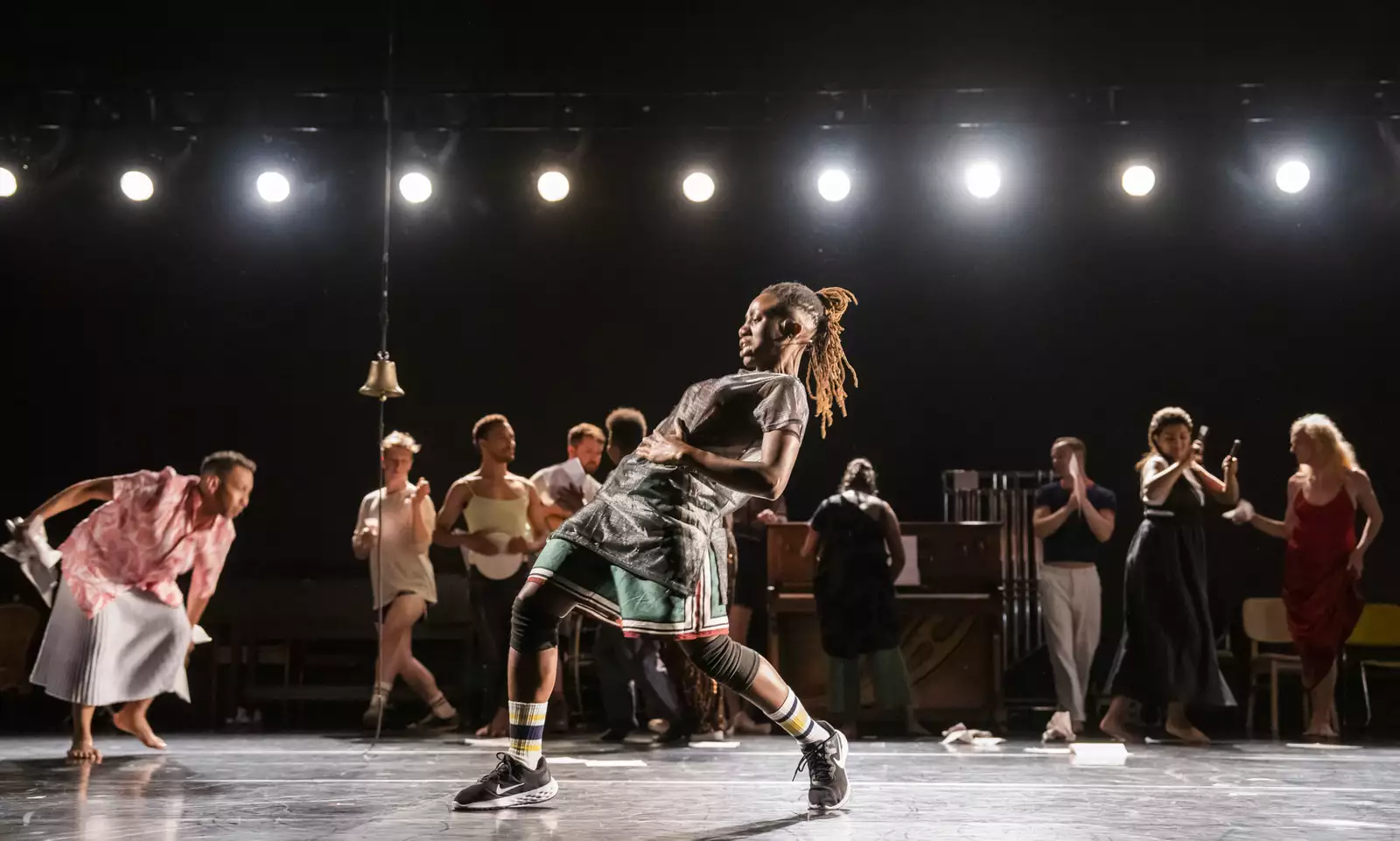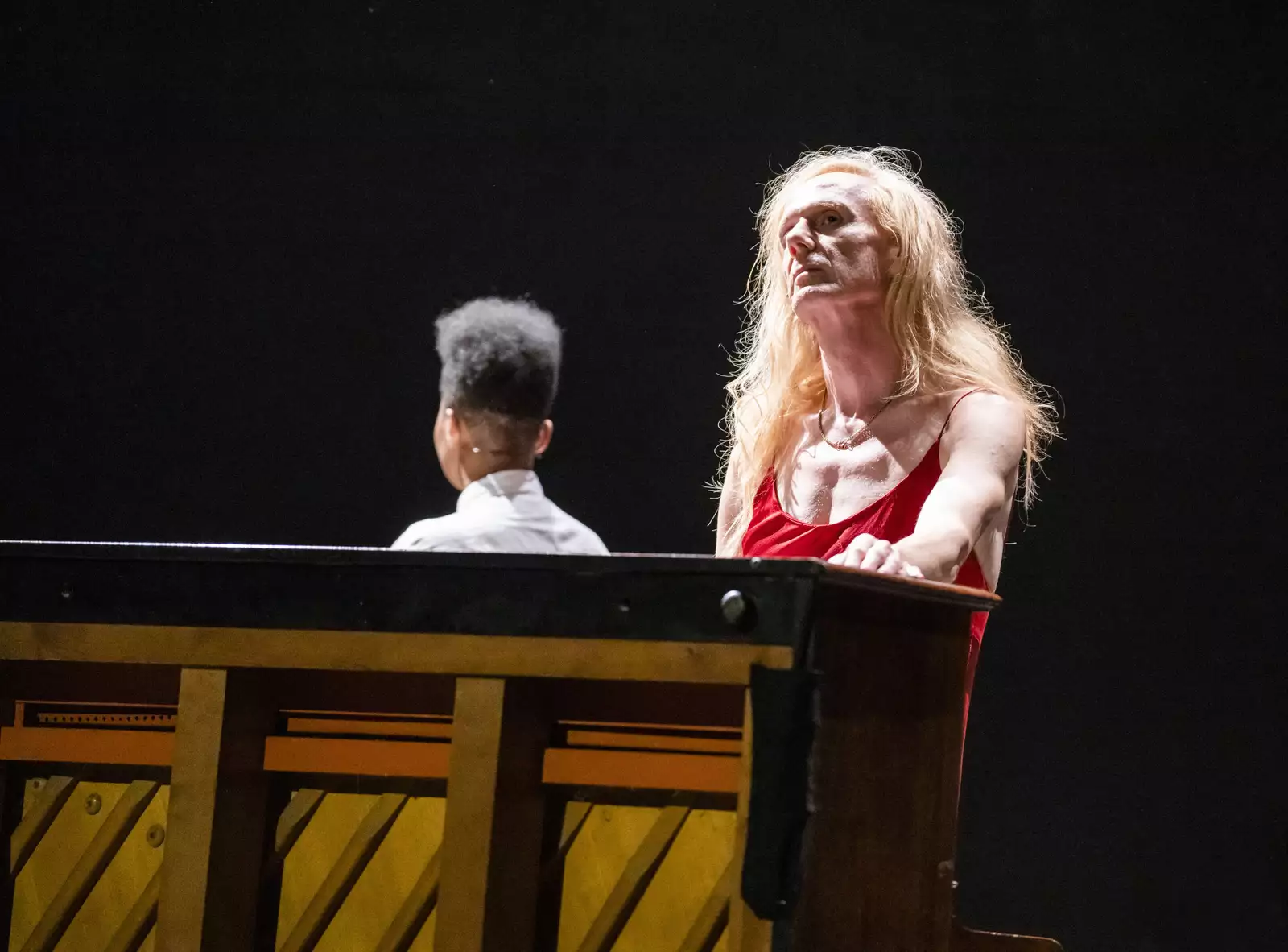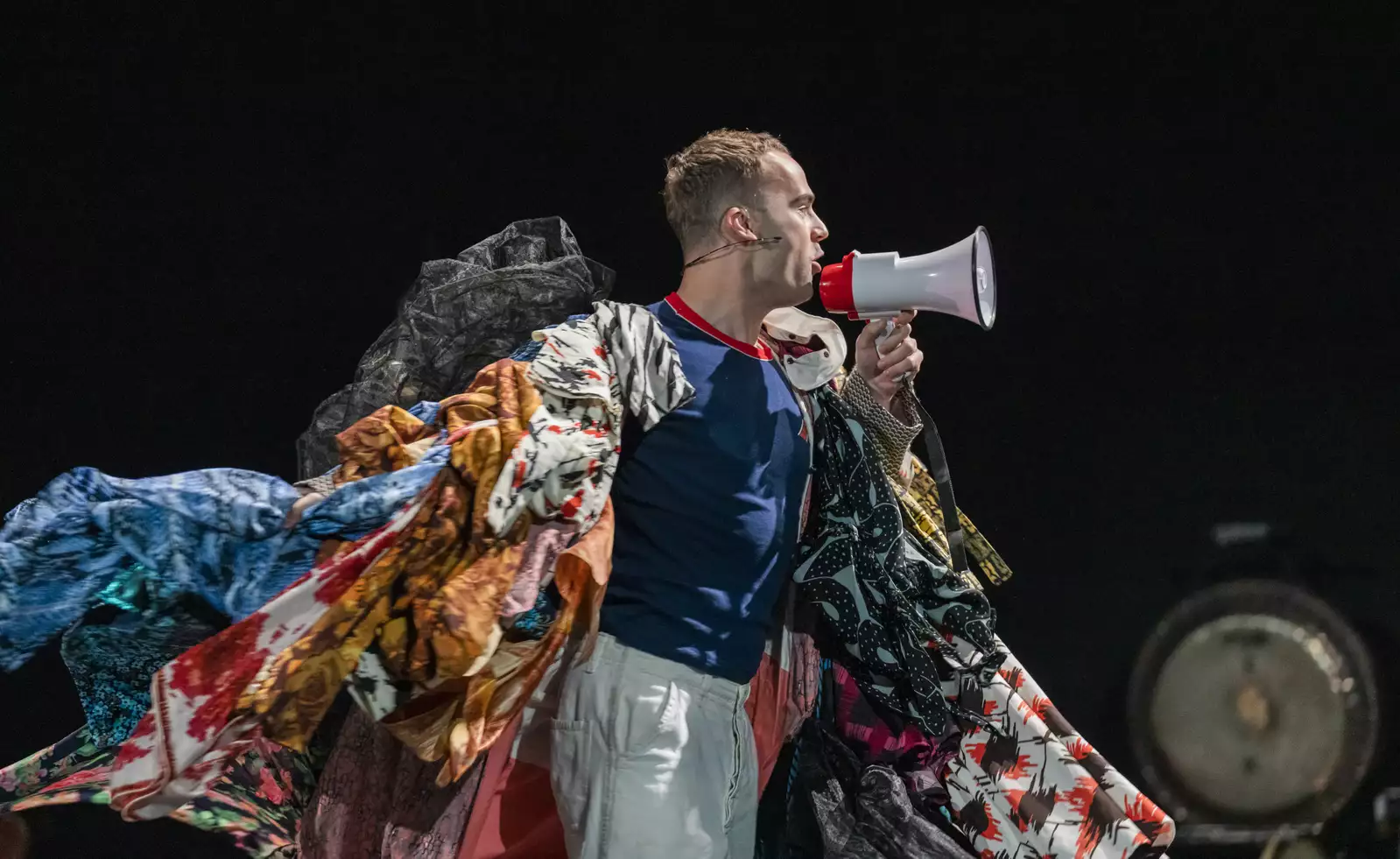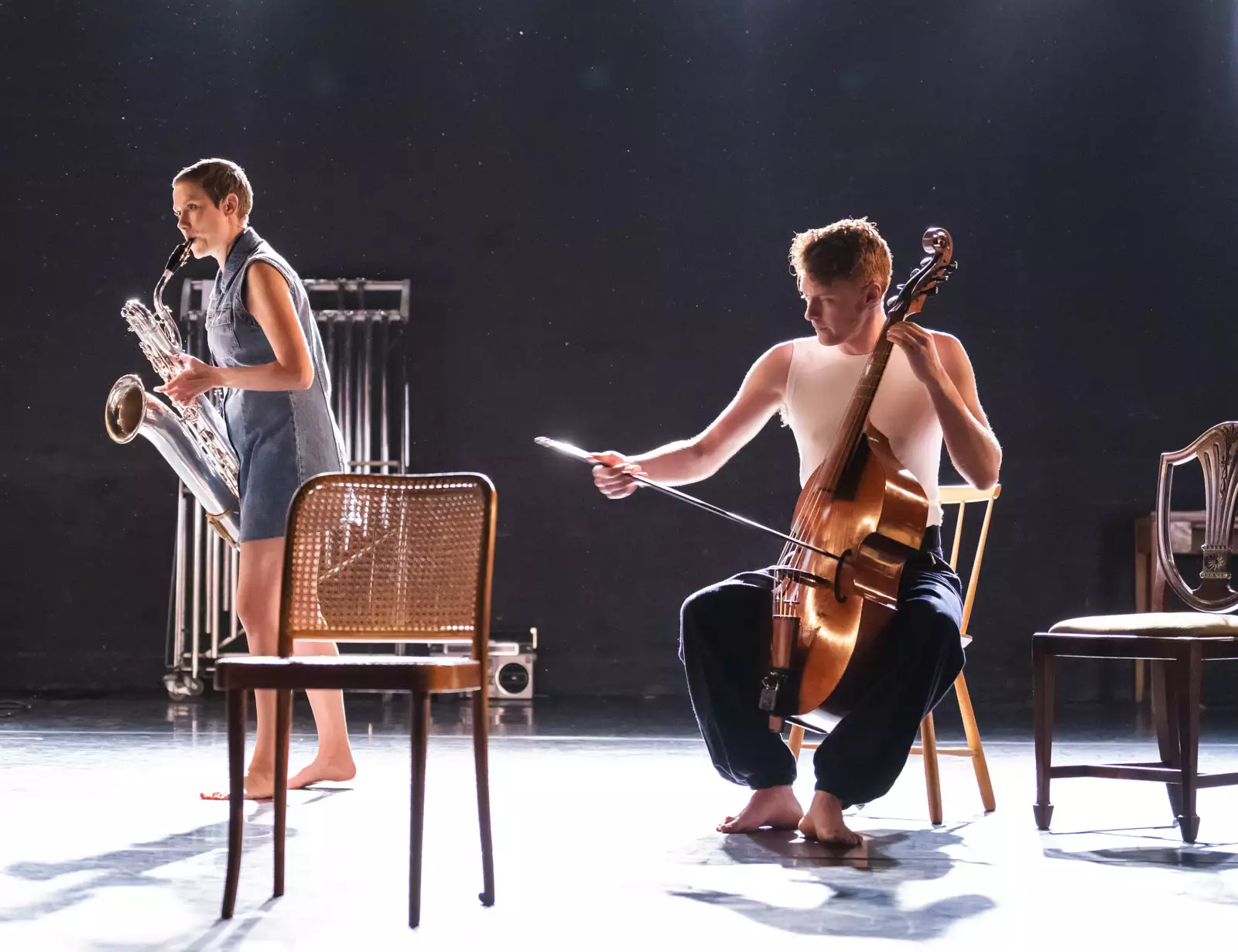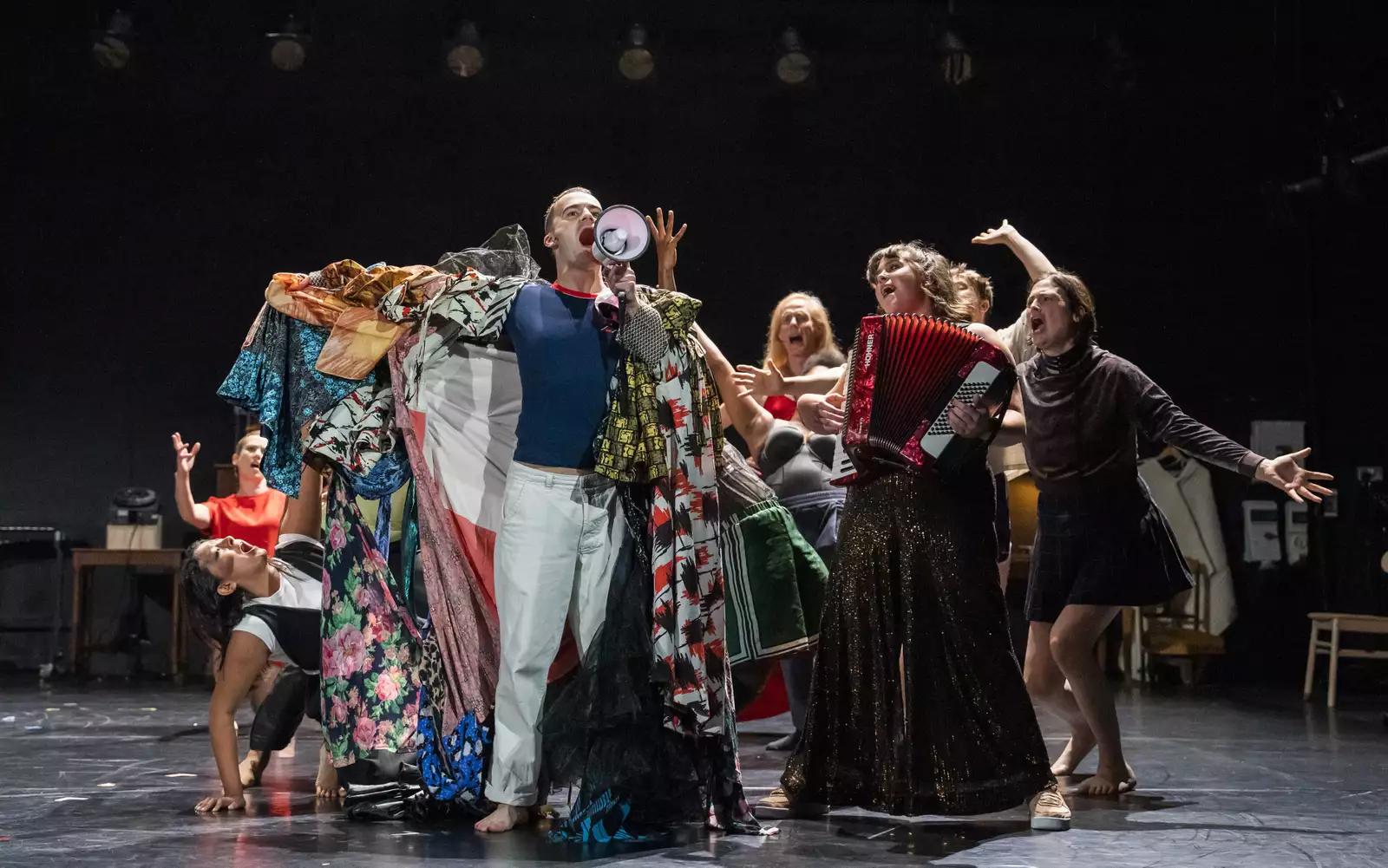 International Presentations
London
25 – 28 January 2024
Southbank Centre
Aix-en-Provence
7 – 9 July 2023
Told with the charm of a bedtime story, maintaining a lightness and sense of fun that counterpoints some of the heavy subject matter

Prepare for passion, poignancy and pithiness... The amount of talent on stage is remarkable... bursting with joy throughout

A cabaret-like spectacle that encompasses everything from knockabout humour and an audience singalong to explosions of rage and hymnlike choral laments
Credits
Creative team
Music, Philip Venables
Direction & Text, Ted Huffman
Music Direction, Yshani Perinpanayagam
Choreography & Costume Design, Theo Clinkard
Set Design, Rosie Elnile
Lighting Designer, Bertrand Couderc
Sound Design, Simon Hendry
Dramaturg, Scottee
Cast
Kerry Bursey, Jacob Garside, Katherine Goforth, Kit Green, Conor Gricmanis, Deepa Johnny, Mariamielle Lamagat, Eric Lamb, Themba Mvula, Yshani Perinpanayagam, Meriel Price, Collin Shay, Joy Smith, Sally Swanson and Yandass
Commissioning
Commissioned by Factory International, Festival d'Aix-en-Provence, Bregenzer Festspiele, the Southbank Centre and NYU Skirball in association with Holland Festival. Produced by Factory International for Manchester International Festival.
Under exclusive licence and courtesy by Nightboat Books, New York
Access Information
Both the creative team behind the project and Factory International recognise that faggot is a provocative word – one that for many isn't easy to read or hear.
When Larry Mitchell wrote and published the book in 1977, he sought to reclaim the word in a loving, supportive and positive way. This follows a long process of reclamation by parts of the LGBTQIA+ community of words that have previously been seen as only negative – including using the word queer as a collective term. The inclusion of the word faggot in this production marks that intention and is a deliberate choice by the creative team.
Factory International is also collaborating with a care consultant, who is a practitioner of care-focused devised work with expertise working within the queer community, to create safe rehearsal and performance space.
We'll build on the learnings gained from this process as a part of our organisational commitment to the care of the artists, crew and staff we work with.
For anyone who feels affected by any of the issues raised around discrimination towards the LGBTQIA+ community in this production, we would like to signpost to the LGBT Foundation, The Proud Trust and Stonewall for their expert resources, help and advice.
The event takes place at HOME, Theatre 1. The full address of the venue is HOME, Tony Wilson Place, First Street, Manchester M15 4FN.
What3words is:
each.shall.limbs.
All the spaces at HOME including the Gallery and Theatres are wheelchair accessible and have step free access. Theatre 1 has 3 wheelchair spaces, which are in the stalls on the ground floor.
An audio described performance of The Faggots and Their Friends Between Revolutions will take place on Sunday 2 July 2023 at 3pm with a touch tour beforehand at 1:30pm. There is no need to book for the touch tour, please come along and make yourselves known to the box office team who can guide you on where to go.
You can reserve an assistance dog space by contacting access@homemcr.org or by calling HOME's box office on 0161 200 1500, or by dropping into the venue.
All performances of The Faggots and Their Friends Between Revolutions will be subtitled for everyone.
Karl Llorca will perform a signed performance of The Faggots and Their Friends Between Revolutions on Saturday 1 July 2023 at 7:30pm.
A relaxed performance of The Faggots and Their Friends Between Revolutions will take place on Sunday 2 July 2023 at 3:00pm.
HOME has audio induction loop systems at the Box Office and in the cinemas and theatres. Sennheiser infra-red amplification is available in HOME's theatres. Visitors can request a headset or receiver for these services from the Box Office.
Further information about accessibility can be found on the HOME website.
Travel Information
The 256 bus from Piccadilly Gardens stops on Medlock Street. The bus stops are located 50m and 150m from HOME's entrance. Buses on the 256 route are wheelchair accessible and have low floor access.
You can also use the free bus services that stop at all city-centre stations. Route 3 stops near HOME on Whitworth Street West from 7:30pm except on Sundays. Buses on these free routes are wheelchair accessible. For full details of the free bus routes, please visit the TfGM website.
There are 40 bike parking spaces at the venue. Additional racks are installed in the area surrounding First Street.
The Q-Park First Street multistorey carpark also has 28 accessible parking spaces. This car park is located across from HOME on Tony Wilson Place at First Street. The car park entrance is approximately 30m from HOME's entrance, facing the pedestrian public square, Tony Wilson Place. HOME customers can scan their Q-Park ticket at the HOME box office to gain a 25% parking discount. Please note that Blue Badges are not valid for free parking in the Q-Park.
For a list of other parking bays available in the area, visit Manchester City Council website.
Blue Badge holders can park on Whitworth Street West close to the open railway arch labelled Jack Rosenthal Street (approximately 100m from HOME's entrance). Once parked, follow the pedestrian-only Jack Rosenthal Street to the right to find HOME's entrance.
The closest car drop-off point is approximately 100m from HOME's entrance – located on Whitworth St West at the open railway arch labelled Jack Rosenthal Street. This is next to Belvoir Lettings and leading through to Starbucks. Once dropped off, follow the pedestrian-only Jack Rosenthal Street to the right to find HOME's entrance.