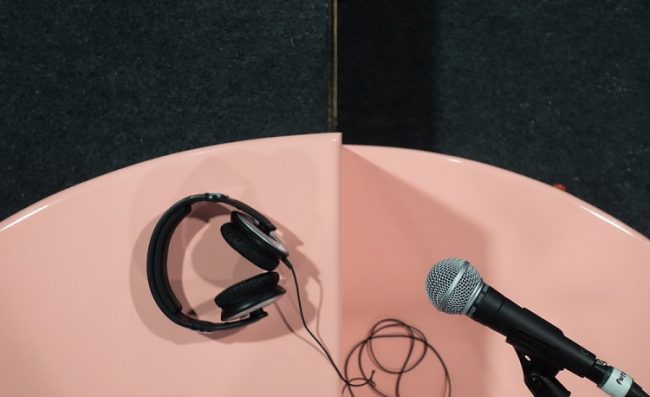 Studio Créole
7 writers, 7 stories, 7 languages
Fri 12 July, 2019
About the show
Reviews
Creative team
Podcasts
Seven leading writers from seven countries telling us seven new stories – in seven different languages.
Studio Créole, was an intimate laboratory for stories where we heard writers read in their original language and simultaneously listen to a live translation, channeled through a lone performer. And as we listened, these stories and languages thrillingly fragmented and fused.  Studio Créole, a compelling exploration of meaning and language in our tangled global world.
Who gets to tell which stories? Language today is fluid, mobile, creolised: constantly remade and remodelled by collisions between local dialects and global citizens. And literature in this era becomes a process of high-speed translation and identity swaps.
Studio Créole staged how and why this happens through the collection of seven stories, written for MIF19 and read live by their internationally acclaimed authors – through a spectacular custom-designed audio network. Simultaneously writing, theatre and art, Studio Créole is a living, breathing anthology that exists only in the moment of its happening.
Commissioned by Manchester International Festival and Carriageworks, in association with the Abu Dhabi Festival. Produced by Manchester International Festival.
Image Credit: Chris Payne
A bewildering experience, in the best possible way . . . Of all the lessons delivered by a Festival that brings visual art, performance, dance, literature, music and combinations of the above from around the world to Manchester this [Studio Creole] might be the most valuable of them all
Art Review
Like nothing I've seen, or heard, before
@matthewgeorgewh
Conceived & Curated by Adam Thirlwell
Co curated by Hans Ulrich Obrist
Designed by Rem Koolhaas & Cookies
Directed by John Collins
Featuring: Patrick Chamoiseau, Sayaka Murata, Adania Shibli, Sjón, Ngũgĩ wa Thiong'o, Dubravka Ugrešić, Alejandro Zambra.
Performed by Lisa Dwan
Sound Designer  Ben Williams
Lighting Designer Prema Mehta
Listening time: 35 minutes
As long as he's been a novelist, Adam Thirlwell has been thinking about translation. In Episode 1 of MIF Originals, a new podcast series from Manchester International Festival, Adam looks for answers to some of the questions that have troubled him. Is it possible for literature to be truly international? Who and where is your best reader? How much is endangered and risked when language is translated? What is the original, and what is the copy? And how could radio be made multilingual?
Find a link to your favourite streaming platform here.
We strongly recommend that you listen to this episode in headphones.
Contributors include writer Alejandro Zambra and international lawyer Philippe Sands. With music from Vicky Clarke and Mira Calix.
Hosted by Isaiah Hull. Produced by Jack Howson. A Reduced Listening and Manchester International Festival production.
Five Prophecies – © Adam Thirlwell