Sea Change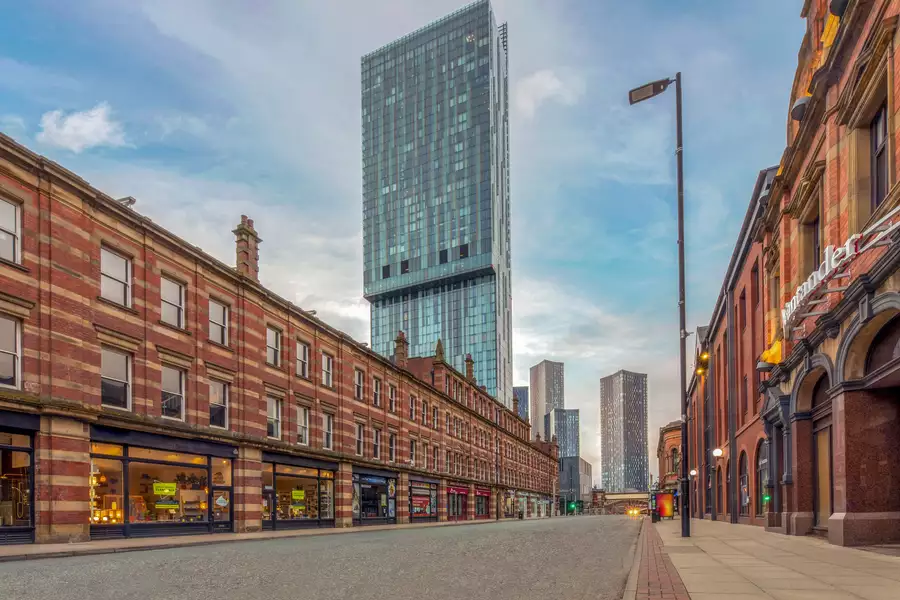 1 Jul 2021
Deansgate
Tickets
Free – ticket required
Accessibility features available for this event: Audio Description
Boris Charmatz and 150 dancers from Greater Manchester stopped the traffic on Deansgate with an extraordinary new dance piece on MIF21's opening night
The opening night of MIF21 saw 150 Greater Manchester residents join French choreographer Boris Charmatz and his dancers for a daring new dance work designed for Deansgate.
Sea Change filled the street with a chain of professional and non-professional dancers, each performing and repeating a section of choreography. Rather than the work moving on in front of the audience, it was up to audiences to 'move on' the work: walking or even running past waves of dancers to animate the action into their very own living flipbooks.
Created especially for the Festival, Sea Change made for a unique and captivating response to the pandemic – a celebration of togetherness in a post-lockdown world.
Credits
Boris Charmatz Choreographer
Magali Caillet-Gajan Choreographer's Assistant
Olivier Renouf Music Selection
Dan Steele Sound Designer
Florence Samain Costumes
Dancer-Assistants Neil Callaghan, Claire Godsmark, Thomasin Gülceç, Gemma Higginbotham, Estela Merlos, Djino Alolo Sabin, Ilario Santoro, Marion Zurbach
Lena Abu-Elfailat
Claire Aindow
Matt Aindow
Dennis Anin-Badu
Adris Asghar
Michael Anthony Austin
Carol Ann Barber
Rachel Beach
Rishabh Bhagat
Lucy Billington
Debra Bloor
Larry Bode
Gemma Boniface
Fab Bourgrassa
Mariah Brandon
Sallie Bridgen
Natalie Brock
Ilona Browne
Chloe Buckley
Kazia Cannon
David Cartwright
Christina Christophi
Katherine Clarke
Valerie Clarke
Patricia Clohessy
Joanna Coleshill
Claire Emma Coupe
David Peter Cunningham
Rebekah Davies
Ruth Mari Davies
John Delaney
Ceri Dornan
Vincent Dugdale
Stefanie Edler
Simon Elliott
Juraj Farnik (Faro)
Kate Forshaw
Molly-Mae France
Catherine Fyfe
Faye Georgiou
Mohamed Ghalaieny
Katarzyna Gladysz
Josephine Glass
Susan Glover
Paige Goulding
Katrina Groark
Charlotte Growcott
Martina Gumbs
Melissa Gumbs
Maggie Joan Haggas
Nicholas Hardiker
Selina Hare
Megan-Lea Haworth
Kim Haygarth
Claire Hedges
Emma Hickman
Phil Hicks
Helen Hill
Thao Hoang
Eve Holt
Emma Holtom
Adele Inglis
Sonia Izrar
Peter Timothy Jacobs
Nina Jarmakani
Anthony Jeffrey-Bates
Susannah Lee Jones
Aashi Khemka
Lesedi Khumalo
Nosipho Khumalo
Iain Martin Kingston
Reehana Kirkwood
Saloni Kriti
Joseph Lau
Kim Law
Francesca Lawson
Emma Lingard
Ethel Dorothy Lingard
Laura Linkomies
Wing Liu
Annabelle Lloyd-Hughes
Lori Ma
Maz Macys
Dzidzai Mafaka
Louise Mansell
Darren Matthews
Susan Elizabeth McGonnell
Elaine McLean
Anthony Mcloughlin
Siobhán McNicholas
Katrina Moore
Elaine Morrison
Ava Muccio
Roger Munoz
Joanne Murgatroyd
Yandass Ndlovu
Annie Newsham
Kathleen O'Loughlin
Laura Orton
Lily Orton
Kimberley Osivwemu
Emily Paris
Milan Patel
Chris Paul
Alan Paull
Yoana Petrova
Jane Philpott
Anton Phung (LB)
Susan Elizabeth Platt
Prakriti Popli
Nikki Powell
Nzara Price
Gwen Pugh
Miça Quartey
Martin Quinton
Robert Redfin
Luke Richards
Amie Richardson
Danielle Riding
Jake Robertson
Terry Robinson
Fay Robson
Edna Rodrigues Dos Santos
Salman Rukhsar
Angela Ryan
Machala Saleem
Trézel Sergeant
Uzma Shaikh
Ayshea Shames
Patricia Sheard
Ashleigh Shorrock
Simmran Singh
Lev Slack
Michelle Smith
Ayako Matsuo Somers
Elizabeth Southall
Ian Spedding
Emily Stefan
Alan Sykes
Helene Judith Sykes
Karenne Sylvester
Eliza Szupryczynska
Florence Talks
Lily Taylor
Monika Terefenko
Valentinos Thomos
Maralyn Tohill
Karen Tuatara
Marina Diaz Valenzuela
Benjamin Vickers
Victoria Walmsley
Zhu-Jinn Wan
Roanna Warren
Helen Watson
Naomi Weaver
Georgina Wells
Jean Whittaker
Janine Whyte-Weedon
Gail Winstanley
Commissioned by Manchester International Festival. Produced by Manchester International Festival and [terrain].
Image: Lee Baxter