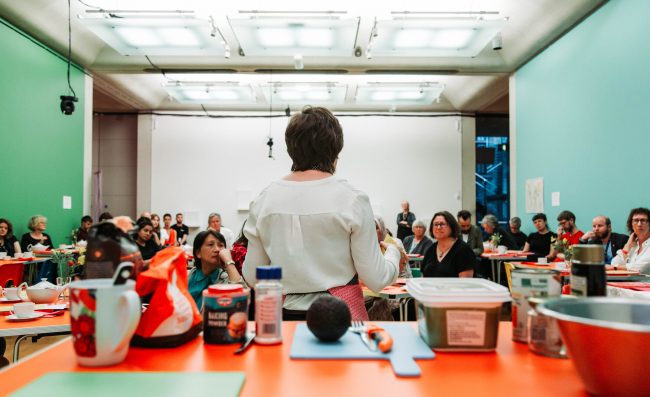 School of Integration
Fri 5 July, 2019
Sat 20 July, 2019
About the show
Touring
Reviews
Creative team
Podcasts
Tania Bruguera's powerful, provocative and inspiring new work draws us nearer to those who've made this city their home, inviting us to discover and embrace the diversity in our midst.
During MIF19, the school offered over 80 classes on a wide-ranging curriculum that includes food, customs, ethics, politics and many other forms of knowledge – classes given by local people originally from countries around the world, from Zimbabwe to Tibet. These were not only instructional lessons, but something more personal and vivid. Each teacher passed on their own experiences, sharing skills, knowledge and culture in a different kind of communal integration and learning experience in the heart of Manchester.
Open and free to all, School of Integration fostered cohesion and helped build bridges of cultural understanding – encouraging us to eliminate the idea of strangeness and cherish a plurality of voices, and integrating us with the world.
Commissioned and produced by Manchester International Festival and Manchester Art Gallery.
Image Credit: Michael Pollard
Tutors 
Abbas Qureshi, Raag of the Moment
Adriana Buonfontino, Find Your Character
Akhter Ali & Beena Nouri, Kurdish Kolours
Aklima Akhter & Taskina Jasmin, There's only one curry – Queen of Fish
Anya Mikolajczyk, Pottery  and Polish
Barley Koyangbwa & Evelyn Mbuluku, Barley's Puff Puffs
Beatriz Lazarus, From Tai Chi to Samba
Bukky Toba & Eniola Toba, Joy of Jollof
Carlos Vicente, Buckets, Fruit and Tiles – A crash course from Cape Verde
Circle Steele, Crossing Culture Crossing Time
Claudia Alonso, Screenprinting Spain
Denise Yuen Megson, Chinese Healthcare : Expectations and Reality
Denise Yuen Megson and Circle Steele, ABC of Dumplings
Dimitra Nitso, Tiropitakia
Emma Maragliano, Dante's Journey for Today
Evelyn Mbuluku with Imade Alueboh, Braiding your History
Farzana Butt & Shamim Ashfin, In the Eye of the Beholder
Fathima Saly, SSOL
Gaetana Tripetti, I am from Italy, ask me a question (No Football)
Gio Baglioni, A Crash Course in Real Latin Music
Gloria Saya, Rags and Dolls
Hanane El Hadioui, Show the Love
Helena Lee and Sara Davies, Fragments from Sweden
Humberto Velez, What do we mean by Mancunian?
Hwa Young, Games Café
Imade Rosemary Aluboe, Calm Palm
Irina Dubinska, Grassroots – Not your Ordinary Cuppa Tea
Ivona Torovin, Journey into the unknown
Juliet Davis, Healing Hands
Junko Popham, Harmony and Balance
Karolina Koścień, Polish Dumplings, A Fruit Dumpling is a Savoury main course
Kouame Kouakou, Coffee, Cotton and Chocolate
Lara Kazeem, If you can survive in Nigeria you can survive anywhere (& eggrolls)
Lena Munday, Augmenting – Wishful thinking
Leo Muhammed, Leonardo's Life Drawing
Lotte Karlsen, Art as Activism
Luma Alsaif, Glass Relief
Mais Afyouni, Shushbarek from a Syrian Kitchen
Manya Alkhmri, In my Image
Mei Yuk Wong, The Art of Protest
Moj Bakh, Bazaar Painting
Nayab Butt & Mahnoor Butt, Purpose of Paratha
Pat Mackela, Is Marriage for now?
Rachel De Ridder, Sourdough Starter Baking (with an Aussie)
Rasha Mafrachi and Sahar Kahalf, Crumbs! it's Fatta, Kubba Croquettes
Rawia Alwani, Get your Freek on
Renate Wendel, Music of the Rhine
Resham & Zeyneb, The Meaning of Mendhi
Rivca Rubin, Positive Language – Upwording Our world
Rizwana Hameed, Chicken Pulao the Prince of Rice
Rudo Mwoyoweshumba & Dudu Zella Mango, Sadza and Rugare
Saira Qureshi, Art of the Indus, Do you take Sugar In your Tea? There are no corners in Africa, The Point of Hello
Shazia Mufeez, Shami and Shakira
Shahireh Sharif, The Book of Kings
Shamim Akhtar & Shazia Mufeez, There's Only One Curry – Lassi di Karhi and Pakoras
Stephanie Heude, Madeline De Proust, My Napoleon
Tatyana Maurer, I'm Russian, Don't be Afraid
Tsering Lahmo & Ngawang Lahmo, Momo NOT Dumplings
Umer Rafiq, You don't like Cricket, you love it!
Vinetta, Tarot Cards for Brexit
Zeeshan Butt, Languages of the Indus
Listening time: 26 minutes
Welcome to your first day at the School of Integration. This episode is all about sharing knowledge across cultural divides. When people arrive in a new country they are usually expected to learn the customs and languages of the host culture, but what if the tables were turned?
Cuban artist Tania Bruguera acknowledges that integration is a two-way street and gives us the chance to learn from people who have moved to Manchester and made it their home.
On the curriculum are lessons by the Congolese drummer and community leader Pat Mackela, who asks is marriage a topic for the 21st Century? Mei Yuk Wong, an artist from Hong Kong discusses the art of protest, and Iranian writer Shahireh Sharif shares the forward thinking insights of Shahnameh, an epic Persian poem written over a thousand years ago.
Don't forget your homework!
Hosted by Isaiah Hull. Music by Vicky Clarke. Produced by Rebecca Gaskell.
A Reduced Listening and Manchester International Festival production.