Risham Syed: Each Tiny Drop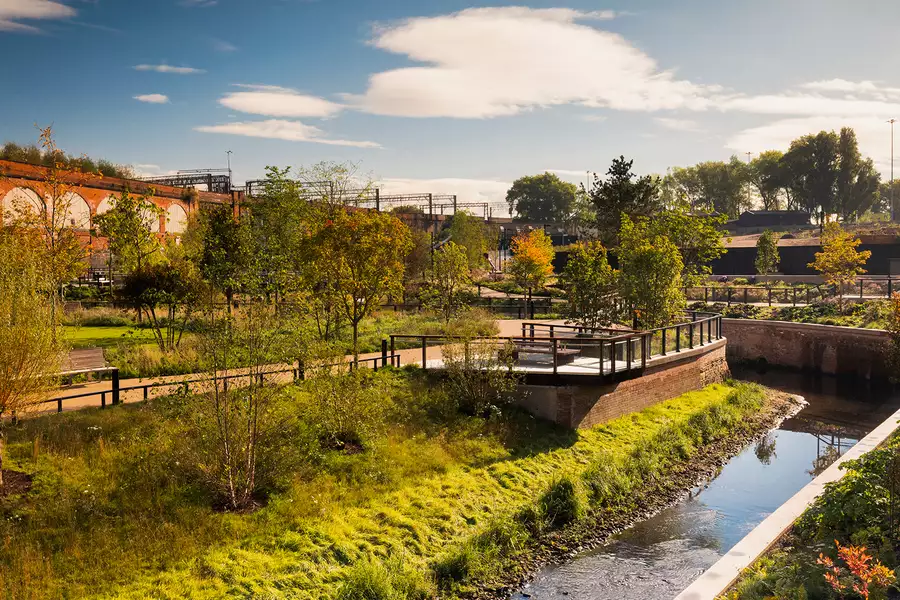 29 Jun 2023
Mayfield Park, Boardman Gate Entrance, Baring Street , Manchester M1 2PY
Running time: 30 minutes approx.

Accessibility features available for this event: Captioning Wheelchair Access
This joyful gathering at Mayfield Park honoured our connection to water – and to one another.
On the banks of the River Medlock, we celebrated the start of MIF23 with Each Tiny Drop.
Rivers from all over the world flow into our oceans, just like people from all walks of life come together to create a vibrant community. Each Tiny Drop celebrated this togetherness and the gift of water, drawing on ancient practices and river rituals from South Asian culture.
A restorative event that could be experienced at your own pace, Each Tiny Drop welcomed everyone to take part, or simply soak up the atmosphere among family and friends.
Audiences were invited to collect water specially transported from the Soan River in Pakistan and steward it into the River Medlock. They could also join in with singing led by a chorus, or just take a moment to relax, reflect and let the chorus's calming sounds wash over you.
A celebration of the life source we so often take for granted, Each Tiny Drop connected us through the cycles and wonders of nature. From artist Risham Syed, director Angie Bual (Trigger) and with water-driven kinetic sculptures by Savinder Bual, it was a gesture of renewal and hope – and a reminder that each of us can care for our rivers.
Based in Lahore, Risham's work often traces changes in our cities. For Each Tiny Drop, she turned her attention to Manchester, the Medlock and welcoming everyone to MIF23.
Image: Lee Baxter
Credits
Concept by Lead Artist Risham Syed
With Kinetic Art Works by Savinder Bual
Directed by Angie Bual (Trigger)
Sound Design by Dan Jones
Musical Direction by Beth Allen 
Original Composition by Najm Hosain Syed
Poetry by Baba Guru Nanak
Curated by Alnoor Mitha 
Featuring Mohrelle Hassan 
Each Tiny Drop was commissioned and produced by Factory International for Manchester International Festival.
Resources
Further information about the River Soan and River Medlock can be found here.
Access Information
The full address of the park is Boardman Gate Entrance, Baring St, Manchester M1 2PY
What3words is:
eating.smile.search.
Our access support team was available to help on the night. To let us know of any access requirements in advance, the contact was access@factoryinternational.org.
The event took place along the main pathway through the park. There were places to sit throughout the park, including a mix of benches with arms and without. Audiences could stop and rest at any point. The pathways are a mix of smooth concrete surfaces and metal slatted bridges. For this event, we also provided temporary accessible routes to the River Medlock using pathways over grassed areas.
An accessible toilet is available at Mayfield Park. It is located near the children's playground.
Mayfield Park is dog friendly.
There was one element of the show where some lyrics were sung in Punjabi – an English translation of these lyrics was displayed for everyone.
There was no BSL translation for this event – there was only one element of sung lyrics, which were on display for everyone.
Although there was a designated route through the event, you were free to go at your own pace, take breaks and move to quieter areas as you needed to.
Further Information about accessibility can be found on the Mayfield Park website.
Travel Information
The following bus lines have routes that pass near Mayfield Park: 101, 17, 192, 201, 231, 83, 86, X43, X50.
There are eight bike parking spaces on Baring Street, Manchester M1 2PY
There is a car park approximately 0.4 miles away from Mayfield Park at NCP Car Park Manchester Store Street, Store St, Manchester M1 2WD.
Accessible Parking:
Chorlton St. (7 bays) - 0.5 miles away from Mayfield Park
For a list of other parking bays available in the area, visit Manchester City Council website.
Good to know
Please note that Mayfield Park is a non-smoking area.