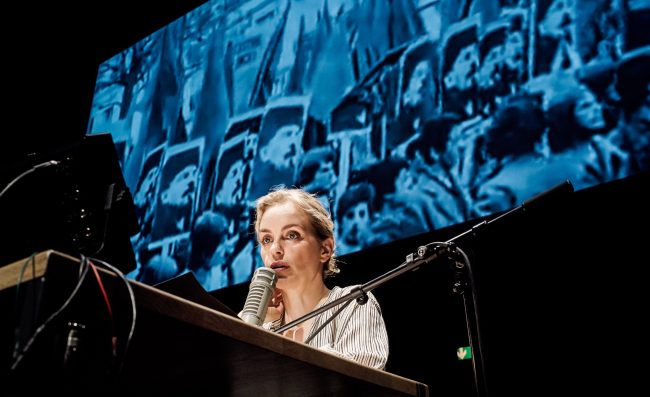 Returning to Reims
Based on the memoir by Didier Eribon, directed by Thomas Ostermeier
Wed 5 July, 2017
Fri 14 July, 2017
About the show
Touring
Reviews
Creative team
Adapted from Didier Eribon's bestselling memoir by Thomas Ostermeier, the Artistic Director of Berlin's revered Schaubühne and one of world theatre's most thrilling directors, Returning to Reims was an urgent reflection on the new world order.
When his father dies, Eribon returns to the working-class community he had long since left behind – and is forced to re-evaluate everything he thought he understood about his life, especially when he discovers his family have switched allegiance from Communism to the far-right Front National.
In Ostermeier's typically multilayered production, set in a recording studio, an actress (Homeland's Nina Hoss, a leading member of the Schaubühne ensemble) tapes a documentary voiceover based on Eribon's memoir, and begins to reflect on her own background as the daughter of a union leader and activist. How has her personal history affected her place in the world? And as populism marches around the globe, does political activism still have a role to play? This world premiere may help us find the answer.
Returning to Reims premiered at Manchester International Festival in July 2017 as a Trailblazer for The Factory, the flagship cultural centre in Manchester led by MIF in partnership with Manchester City Council. The Trailblazer series offers a glimpse of The Factory's programme, exemplifying the energy, ambition, and scale of the work to be made in this remarkable new space.
Commissioned by the Schaubühne Berlin and Manchester International Festival. Produced by the Schaubühne Berlin, Manchester International Festival, HOME, Manchester and Théâtre de la Ville.
Image Credit: Arno Declair
An understated and remarkable performance… Intelligent and politically pertinent
The Stage
Hoss is a magnetic figure: seriously professional in recording the commentary but also critical, questioning and confessional... Ostermeier extends the boundaries of political theatre by showing that, in adapting a book, you can turn the stage into a source of living debate
The Guardian
By Didier Eribon
Directed by Thomas Ostermeier
With Nina Hoss, Bush Moukarzel
Nina Wetzel Stage and Costume Design
Sébastien Dupoey Video Design
Nils Ostendorf Music
Maja Zade, Florian Borchmeyer Dramaturgy