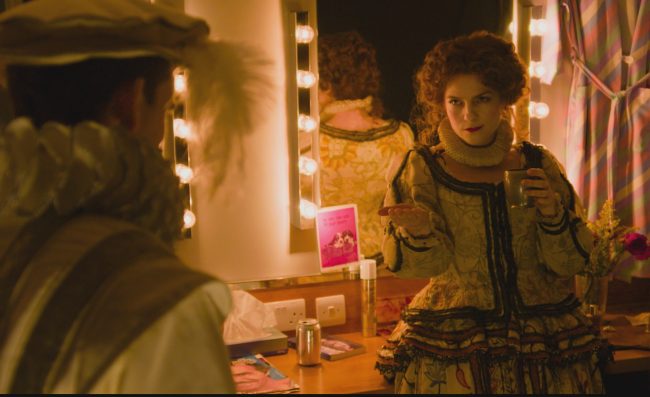 No End to Enderby
A work by Graham Eatough and Stephen Sutcliffe
Fri 30 June, 2017
Sun 16 July, 2017
About the show
Touring
Reviews
Creative team
Director Graham Eatough and artist Stephen Sutcliffe paid suitably ingenious tribute to one of Manchester's most original minds in this unique installation, which blended visual art and film drama in homage to the great Anthony Burgess.
No End to Enderby was centred on two new films inspired by Burgess's 'Enderby' series: Inside Mr Enderby, in which a school trip travels back in time to pay desultory homage to the title character, a dead poet; and The Muse, in which a young historian journeys to a parallel universe to investigate whether Shakespeare really wrote everything credited to him. Presented here with some of the original sets for the films, both shot this year in Manchester, No End to Enderby explores issues of artistry, authenticity and posterity in a playful fashion of which Burgess would surely have approved.
Presented by the Contemporary Art Society, 2015, through the Annual Award, funded by the Sfumato Foundation. Commissioned by Manchester International Festival, the Whitworth, The University of Manchester and Glasgow International 2018. Produced with the Royal Exchange Theatre. Supported by Creative Scotland and Outset Scotland. Developed in partnership with LUX/Artists' Moving Image.
Image credit: Richard Heslop
No End to Enderby is funny, absurd, serious and playful. Its tone somewhere between reverence and self-ridicule, it stays faithful to Burgess's flamboyantly expressive dialogue
Frieze
Graham Eatough & Stephen Sutcliffe Artists
Richard Heslop Director of Photography
Laura Hopkins Set & Costume Design