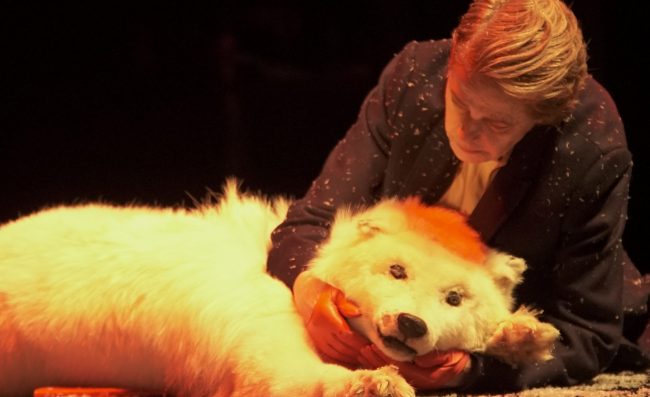 Neck of the Woods
Devised and directed by Turner Prize-winning artist Douglas Gordon, and starring eminent pianist Hélène Grimaud and the extraordinary Charlotte Rampling, Neck of the Woods sent audiences on a mesmerising journey into the darkness that shrouds the fairy tale of the wolf and Little Red Riding Hood. Gordon's staging and Grimaud's music combined to create an incomparably atmospheric piece of theatre, with Rampling a compelling presence at centre stage throughout. Also featuring the Sacred Sounds Women's Choir, founded by MIF Creative to perform at MIF13, Neck of the Woods was the first MIF event to be staged at HOME, Manchester's new centre for international contemporary art, theatre, film and books.
'Ms Grimaud and Ms Rampling were riveting on stage' The New York Times
'The soundscape is simply inspired, the human voices of the Sacred Sounds Women's Choir convincingly moulding themselves into the noise of rustling trees, woodland wildlife and howling wolves' Manchester Evening News
---
Commissioned by Manchester International Festival, HOME, FAENA ART and MIF Creative. Produced by Manchester International Festival. Supported by the Foyle Foundation and MIF Creative Circle.