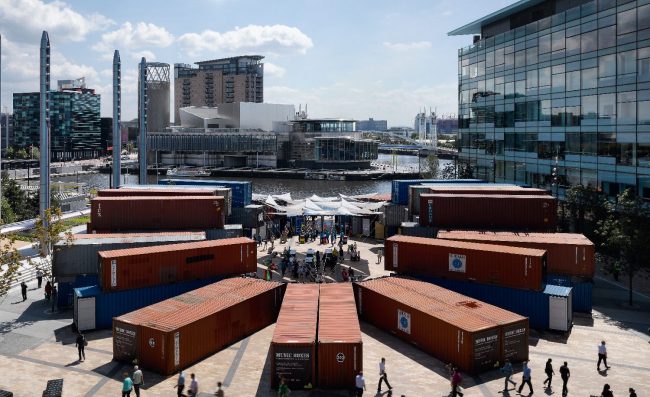 Music Boxes
MIF's approach to programming art for the very young has always been to make it every bit as ambitious and innovative as the rest of the programme. With Music Boxes, MIF joined forces with the BBC to commission a series of musical experiences for kids aged from six months to seven years within a mini-city of shipping containers. The piazza at MediaCityUK was transformed as children reacted in wonder to Nik Ramage's fantastical sound sculptures or the ethereal beauty of Inne Goris's Daydream. The events in Salford were just part of the story: many of the commissions were developed over a series of workshops in schools across Greater Manchester, giving kids, their teachers and other early years practitioners the chance to help shape this amazing event.
'The prospect of hanging out at a venue consisting of structures more readily associated with a major shipping terminal might sound terribly industrial. But Music Boxes' real success is to make such spaces – more accustomed to holding cardboard boxes than immersive theatre, after all – seem like the most magical places on earth' The National (Abu Dhabi)
---
Commissioned by MIF Creative, the BBC, Salford City Council and Abu Dhabi Festival. Produced by Manchester International Festival and CBeebies. With support from AGMA (Association of Greater Manchester Authorities).