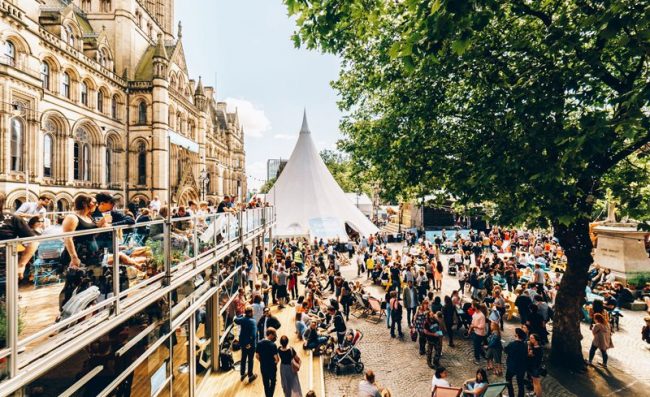 Festival Square
Albert Square once again became Festival Square this summer – with a brand new look. A range of new structures commissioned from Paloma Gormley of Practice Architecture and Nicolas Henninger from the Office for Crafted Architecture, were built for the Square where folk could eat, drink and take in the Festival buzz.
Students from Manchester School of Art, Manchester Metropolitan University, designed the Square's interiors, seating areas and furniture, working together with local design and making agencies OH OK LTD and Ferrious.
Throughout MIF17, Festival Square was the place to go for great food and drink, free live music, nightly DJs, the Festival Box Office and free copies of The Guardian's MIF17 Guide.
---
BBC – live in Festival Square
The BBC broadcast to the nation from Festival Square during MIF17, with special guests from the Festival and beyond.
---
Live music
Festival Square's outdoor stage showcased some of the best local acts every day during MIF17.
---
DJs
In the Festival Pavilion, our hand-picked selection of DJs served up tunes nightly from 10pm until late – all for free.
---
Food & drink
Four bars, four resident kitchens, four Supper Clubs and an ice cream wagon meant Festival Square didn't go hungry or thirsty. Sublime street food was dished up every day by:
Paul Heathcote & Co
Lancashire legend with a signature menu of reinvented British classics
Honest Crust
Terrific wood-fired pizzas plus salads from the Altrincham Market favourite
Hispi
A unique take on fast food from Gary Usher's new and hugely acclaimed Didsbury bistro
Manjit's Kitchen
Superb vegetarian Indian street food and snacks inspired by Manjit's grandma's home cooking
Ginger's Comfort Emporium
Inventive, exotic and irresistible ice cream for grown-ups