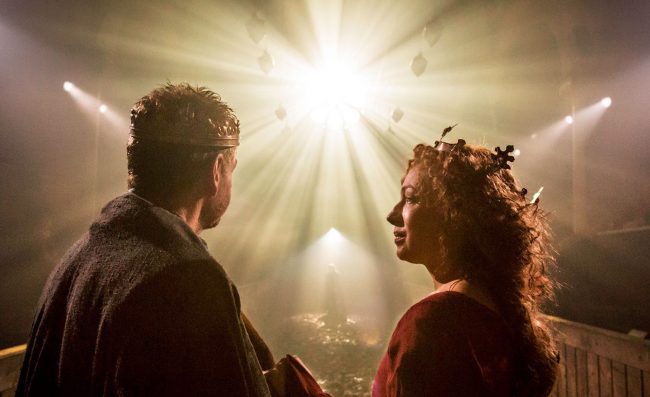 MACBETH
Fri 5 July, 2013
Sat 20 July, 2013
About the show
Touring
Reviews
Creative team
Directed by Kenneth Branagh and Rob Ashford
Kenneth Branagh's return to Shakespeare after more than a decade, featuring Alex Kingston as Lady Macbeth, was a knockout. His interpretation of Macbeth as a good man declining into desolation and despair was exhilarating. Audiences sat inches from the action as sparks actually flew in the heat of battle. Blood, mud, fire and rain filled the space – Hallé St Peter's, an intimate deconsecrated church in Ancoats. Never before used as a theatre, the space itself also took a starring role.
On the last Saturday of the Festival, more than 5,000 people brought chairs, cushions and picnics to enjoy a live outdoor relay of MACBETH, presented in a central Manchester car park kindly provided by NCP. Tens of thousands more watched in cinemas around the UK and beyond via National Theatre (NT) Live.
Commissioned by Manchester International Festival and Park Avenue Armory. Produced by Manchester International Festival.
Image Credit: Johan Pearson
Fast, furious and unstoppable, time keeps rushing forward in this Macbeth, knocking the breath out of everyone, audience included
The New York Times
Branagh and Ashford's [production] gets to the terrifying heart of Macbeth's mystery and bleakness. The large cast is superb and the pace never flags
Financial Times
Directors — Rob Ashford, Kenneth Branagh
Designer — Christopher Oram
Lighting — Neil Austin
Casting — Anne McNulty CDG