KAGAMI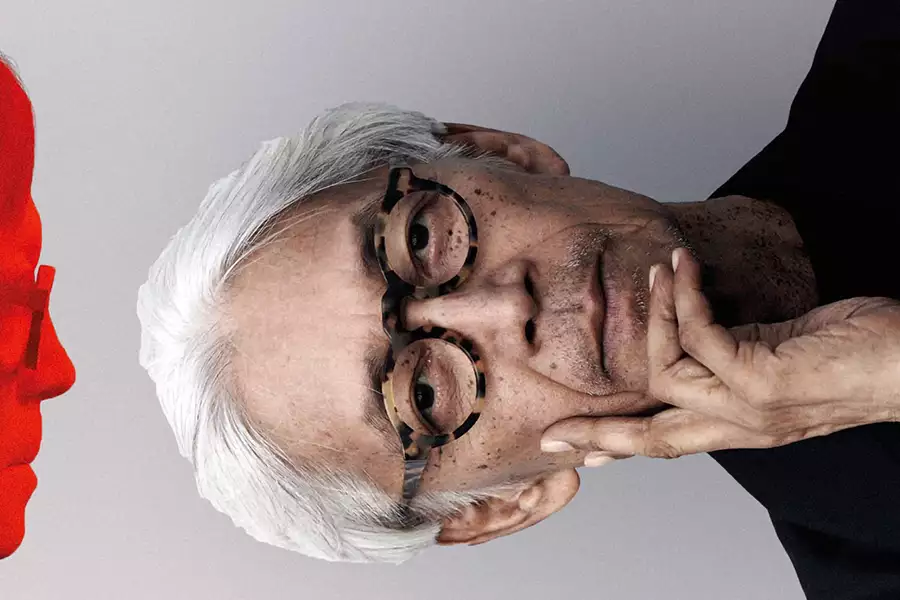 29 Jun - 9 Jul 2023
Versa Manchester Studios – accessed via Aviva Studios, Water Street, Manchester, M3 4JQ
Age Guidance: 14+, under 16s to be accompanied by an adult aged 18+
Running time: 80 minutes.

Accessibility features available for this event: Wheelchair Access
A groundbreaking mixed-reality concert event created by legendary composer and musician the late Ryuichi Sakamoto in collaboration with Tin Drum.
KAGAMI represented a new kind of concert, fusing dimensional moving photography with the real world to create a never-before-experienced mixed reality presentation.
Audiences were invited to wear optically transparent devices to view the virtual Sakamoto performing on piano alongside dimensional art aligned with the music. Presented in surround sound, the experience was both collective and individual, inviting observers to connect to the work – and each other – throughout.
While audiences could view the show in a seated format, they were also free to wander and explore during the hour-long event.
The late Sakamoto was an international sensation, with a body of work spanning from electronic to classical composition and performance, including original scores for Oscar-winning films such as The Last Emperor and The Revenant. KAGAMI brought Sakamoto into collaboration with Tin Drum – the world's premier studio producing content for mixed reality devices.
As part of the experience, there was a scent specially created for this production.
Image: Ryuichi Sakamoto by Luigi & Iango, 2023
There is, in reality, a virtual me.
This virtual me will not age, and will continue to play the piano for years, decades, centuries.
Will there be humans then?
Will the squids that will conquer the earth after humanity listen to me?
What will pianos be to them?
What about music?
Will there be empathy there?
Empathy that spans hundreds of thousands of years.
Ah, but the batteries won't last that long.
—Ryuichi Sakamoto, 2023
An immersive, emotional experience delivered with beautiful understatement

It is his exquisitely haunting music which really dazzles

Completely Astonishing
Credits
Creative Team
Ryuichi Sakamoto, Composer and Performer
Todd Eckert, Director and Producer
Mary Hickson, Creative Producer & Production Manager
Tomaso Cariboni, Technical Producer
Aurelien Simon, Executive Producer
Commissioning
Produced by Tin Drum, in association with The Shed and Factory International for Manchester International Festival.
Yoyo Munk, Scientist and Mesh Surgeon
Matt Hermans, Lead 3-D Designer
Laurentiu Fenes, Lead Developer and Ship's Captain
Martin Smith, Technical Lead
Ben Winstone, Server Developer
Quincy Campbell, Unity Developer
Koki Ibukuro, Tech Artist
Sophie Langohr, 3-D Artist
Alysha Naples, UX Director, Visual Design
Flave De Oliveira, Head of QA and UX
Seth Reiser, Lighting Designer
Angus Goodearl, Lighting Assistant
Kazuyuki 'zAK' Matsumura, Audio Designer
Ayumi Hanano, Audio System Designer
Satoshi Hama, Playback Engineer
Reese Donohue, Audio Prototyping
Bach for Airports mastered by Taylor Deupree
Miguel Quismodo, Juan Carlos Bragado & Gloria Saa Garcia for MQ Architects, Architecture and Spatial Design
Yoka KAGAMI Scent:
Developed with Ryuichi Sakamoto
Composed, Directed and Produced by Shinichiro Ogata, Designer/Founder of SIMPLICITY
Inez Westerhausen & Yuiko Yoshida, Coordination
Josh Faust, Technical consultant
William O'Donnell, IT Specialist
Roderick Carter, IT Specialist
Angela O'Donnel, IT Specialist
Pete Short, Producer
Simone Einfalt, Producer ZUBR
Chris Muybridge, Developer ZUBR
George Fuentes, Artistry
David 'Scooter' Naney, Prototyper
Julia Hendrickson, Video Editor
Sara Melvin, Video Editor
Peadar Gill, Video Editor
Lee Baxter, Photography
Taiji Matsue, Photography
Dagon James, Photo Editing
Mori Arany, Photo retouching
INDUCTION
Stephen Schible, Director and Editor of CODA
VISITING NY, 1987 
From All Star Video by Nam June Paik. 
Photo by Yukihiro Yoshihara. 
RECORDING SESSION, 1987 
Studio Miraval, France
Photo by Yuka Fujii
© Yuka Fujii
ALBUM OUT OF NOISE, 2008
Photo by Kazunali Tajima 
© Kab Inc
RECORDING SESSION, 1986
Using Fairlight CMI
Photo by Hideki Namai
Courtesy of Nippon Columbia Co., Ltd
ACADEMY AWARD, 1988 
Best Original Score for The Last Emperor.
© Kyodo/Kyodo News Images. 
Norika Sora, KAB America
Alex Fellman, KAB America
Maria Takeuchi, KAB America
Anastasia James, Director of Operations Pittsburgh
Eliza Ryan, Curatorial Advisor
Rebecca Roche, Social Media Manager
Ian Alden Russel, Operations Assistant Pittsburgh
Sam Riehl, Cultural Counsel
Joanna Urtsan, Cultural Counsel
James Singer, Tin Drum Counsel, Partner, Fox Rothschild
Terrence Kerwin, Counsel, Fox Rothschild
Louisa Michaels, Finance Manager
Tom Gentry, Systems Engineer, Gunpowder
Tom Taylor, Systems Engineer, Gunpowder
Hisashi Itoh, Production Coordination, Tin Drum
Yuki Tsuji, Production Coordination, Tin Drum
David Viecelli, KAGAMI booking agent, The Billions Corporation
Daito Manabe, Director
Hajime Kotani (Crescent), Studio Head
Studio Engineers:
Tadayuki Suzuki (Crescent)
Takayuki Ochiai (Crescent)
Fumiaki Kudo (Crescent)
Yoshitaka Homma (Crescent)
Rinta Ito (Crescent)
Kenju Amauchi (Crescent)
Takao Inoue (Rhizomatiks), Producer
Managers:
Naoki Ishizuka (Rhizomatiks)
Shintaro Kamijo (Rhizomatiks)
Muryo Homma (Rhizomatiks)
Daito Manabe, Director
MIKIKO (ELEVENPLAY), Choreographer
SARA (ELEVENPLAY), Dancer
Keisuke Kikuch, Motion Capture Engineer
Yoko Shiraiwa (ELEVENPLAY), Manager
Daito Manabe, Director
Takao Inoue (Rhizomatiks), Producer
Naoki Ishizuka (Rhizomatiks), Manager
Software Engineers:
Yuya Hanai (Rhizomatiks)
Tatsuya Ishii (Rhizomatiks)
Satoshi Horii (Rhizomatiks)
You Tanaka (Rhizomatiks)
Yuta Okuyama
Visual Artists:
Toshihiko Sakata (+Ring)
Kenta Katsuno (+Ring)
Takeshi Ozaki (+Ring)
Tsukasa Iwaki (+Ring)
Hiroki Miura (+Ring)
Go Takahashi (+Ring)
Toru Ehara
Mitobe Satoshi
Junichi Ebe
Iwaikawa Yuji (Cai)
Kyoko Koyama, MIDI Data Adjustment Specialist
Test Shoot Participants:
Tatsuki Hayashi, Pianist
Gen Terai (KAJIMOTO), Pianist Manager
Kenichi Togawa (Burri), Prototyping Studio Designer
MIKIKO (ELEVENPLAY), Motion Capture Choreographer
Motion Capture Dancers:
KOHMEN (ELEVENPLAY)
SAYA (ELEVENPLAY)
KAORI (ELEVENPLAY)
NANAKO (ELEVENPLAY)
emmy (ELEVENPLAY)
SARA (ELEVENPLAY)
KAi MiWA (ELEVENPLAY)
Keisuke Kikuch, Motion Capture Engineer
Yoko Shiraiwa (ELEVENPLAY), Motion Capture Manager
Ric Watts, Senior Producer
Mike Pony, Producer
Rebecca Burgess, Production Administrator
Chris Clay, Factory International Technical Lead
Rory Howson, Production Manager
Set list
Before Long
Aoneko no Torso
Andata
Energy Flow
MUJI2020
The Seed and The Sower
Merry Christmas Mr. Lawrence
Aqua
The Last Emperor
BB
Access Information
Please note that KAGAMI is experienced through optically-transparent mixed reality headsets which will not fit comfortably over worn prescription eyewear. Guests requiring vision correction should wear contact lenses if able to do so. In-device lens correction solutions are available for glasses wearers, but due to the limitations of the device, guests should be advised that these lenses may not offer perfect vision correction.
KAGAMI takes place at Versa Studios – accessed via Aviva Studios, Water Street Water St, Manchester M3 4JQ. Please note Versa Studios can be a little tricky to find so we recommend heading to Aviva Studios and it's then a short walk across and a member of staff will be able to guide you.
What3words for Versa Studios is:
What3words for Aviva Studios is:
chop.feeds.chase.
The space where the event will take place is Studio 12. There is step free access in Studio 12 and wheelchair movement will be possible in the space.
The event will be set up as unreserved seating, with a mix of freestanding seats with backs and some tall bar chairs without backs. Attendees will have the choice to move around the Studio as they please to experience the performance from different angles.
Assistance dogs are welcome at Versa Manchester Studios.
Due to the nature of the technology, this production is recommended for audiences aged 14+. Headsets are not approved by the manufacturer for use by children under the age of 14, and children under that age will not be permitted.
For further information about the Magic Leap 2 device please see the manufacturer's safety guidance here.
As part of the experience, there is a scent specially created for this production. Please note that scent will be diffused throughout the space.
Travel Information
Free bus services stop at all city-centre stations, and near to Versa Manchester Studios along Deansgate, Bridge St and Quay St. Buses on these free routes are wheelchair accessible. For full details of the free bus routes, please visit the TfGM website.
There is a car park approximately 0.3 miles from Versa Manchester Studios at Water Street Car Park, New Elm Rd, Manchester, M3 4JH.
There is also a NCP car park (Manchester Spinningfields) approximately 0.2 miles away from the venue at Spinningfields, New Quay Street, Manchester, M3 3BE. It has 35 accessible bays.
There are also a small number of Blue Badge spaces along Water St and Quay St. Otherwise head towards Liverpool Road, Great John St and Lower Byrom St – close the Science and Industry Museum where there are a small number of additional Blue Badge spaces.
For a list of other parking bays available in the area, visit Manchester City Council website.