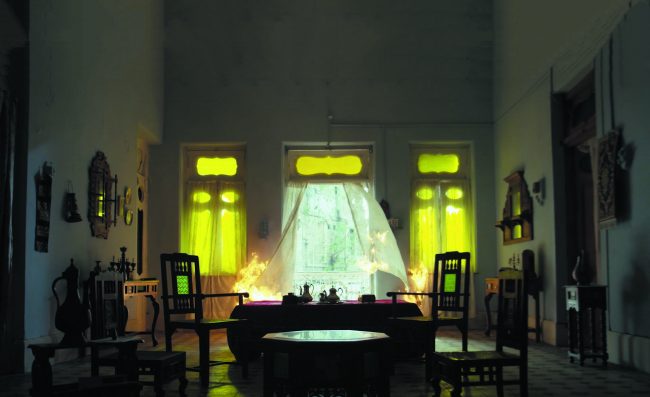 HOME1947
A new work by Sharmeen Obaid Chinoy
Sat 1 July, 2017
Sun 9 July, 2017
About the show
Touring
Creative team
In this unique and deeply beautiful immersive exhibition, two-time Academy Award-winning filmmaker Sharmeen Obaid-Chinoy reflected on the largest mass migration ever witnessed, which took place 70 years ago this year. HOME1947 put a human face on history and asked what it means to find and feel at home.
More than 10 million people were displaced in 1947 during the creation of two new independent states, India and Pakistan. HOME1947 brought a powerfully personal perspective to their collective story – through a series of short drama and documentary films, a gallery installation, and an elegiac reimagining of a century-old house, recreating the long-lost sights, sounds and smells of what millions once called home.
As the refugee crisis continues to affect millions across the world, HOME1947 showed us this world not through the words of historians and politicians, but through the eyes of those who lived through it.
Commissioned by Manchester International Festival, the British Council and Super Slow Way. Produced by Manchester International Festival and The Lowry. An Evening of Sublime Sufi Music produced by Manchester International Festival.
Sangam 2017: An Evening of Sublime Sufi Music
To celebrate the opening of Sharmeen Obaid-Chinoy's HOME1947, we were delighted to present a one-off concert with Harshdeep Kaur, a popular playback singer known for her soulful voice and Bollywood hits. Hosted by Noreen Khan of the BBC Asian Network, this evening of sublime music celebrated the extraordinarily rich musical culture of South Asia in a unique and inspiring style.
Artist talk
Sharmeen Obaid Chinoy was in conversation with historian David Olusoga on Saturday July 1 at Halle St Peters.
Imagined Homeland
A one-day symposium on the impact of Partition and today's refugee crisis, organised as part of Asia Triennial Manchester 2018 was held on Sunday 2 July at HOME.
Open Film & Photography Competition
A national open film and photography competition was held as part of HOME1947 with winners selected by Sharmeen Obaid-Chinoy and MIF Artistic Director John McGrath.  We are delighted to announce the winners as follows:
Open Film Competition Winner:
Natalie Lee
Open Photography Competition Winner:
Amber Khokhar
Student Film Competition Winner:
Karim Case
Student Photography Competition Winner:
Zineb Barrais
Image credits: Sharmeen Obaid-Chinoy, Nadir Siddiqui
Shameen Obaid-Chinnoy Artist
Maheen Sadiq & Aleeha Badat Producers
Ali Asghar Alavi Design Consultant
With contributions from Mobeen Ansari, Taha Malik & The Citizens Archive of Pakistan