Festival Square – Saturday 15 July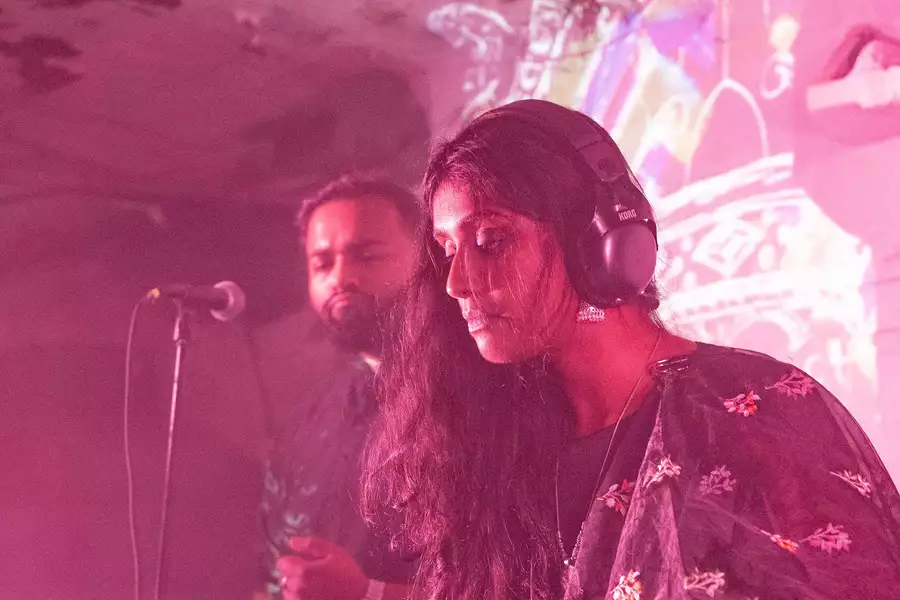 Accessibility features available for this event: Wheelchair Access
We embraced the avant-garde with our Kusama Fashion Show then partied till late with British South Asian collective Daytimers
Saturday brought youth, joy and an explosion of colour with Factory International's Kusama Fashion Show put together by fifty young people in Manchester. We wore our wildest clothes for a show curated by Darren Pritchard in homage to global sensation Yayoi Kusama. The perfect prelude to visiting her MIF23 exhibition You, Me and Balloons.
Kicking off the music for the day was NIA choir – a woman's soul, R&B and blues group. Marcus Hercules & The Ruff Neck Band jam to old-school reggae and Balmy Army mix things up with a talk on youth-led mental health, art and activism. Next up was smooth Afro and Latin beats from Shaq Rayes before Factory Sounds presented a DJ set from emerging drum and bass producer Rohaan.
As the sun went down, creative collective Daytimers took over with an energy-packed line-up of British South Asian talent. A debut performance from Samrai featured a whole host of live guests including SCAPA, Joey B, Fox, Pops Roberts, Rootz & PERiiSU, LINTD and Vindya. Next up was Vindya ft Mithushan fresh from their Samarbeta residency in April, with the second ever live performance of a brand new piece that fuses Sri Lankan Konnakol and techno.
We stayed on for a wild night reminiscent of the legendary daytime parties of the 80s and 90s featuring Taxi Cab Industries, Trayner, G33 and Chandé B2B with Rizmi.
Schedule
10am–1.30pm Kusama Fashion Show
2–2.30pm NIA Choir
3–3.30pm Marcus Hercules & The Ruff Neck Band
4–4.45pm Balmy Army: A Movement and Call to Action (BSL performance*)
5–5.30pm Shaq Rayes (BSL performance**)
5.45–6.45pm Rohaan (DJ)
7.30–8pm Daytimers & Samrai presents Joey B & Fox
8–8.10pm Daytimers & Samrai presents LINTD
8.10–8.25pm Daytimers & Samrai presents Rootz & PERiiSU
8.25–8.50pm Daytimers & Samrai presents Samrai LIVE w/ LINTD, Vindya, Pops Roberts, Joey B + Fox, SCAPA, Rootz & PERiiSU
8.50–9.20pm Daytimers & Samrai presents SCAPA
9.20–10pm Daytimers & Samarbeta presents Vindya ft Mithushan
10pm–2am Daytimers presents Taxi Cab Industries, Trayner, G33 & Chandé B2B Rizmi (DJs)Balmy Army: A Movement and Call to Action
*BSL interpretation by Lizzie Wharton and Leo Freeman
**BSL interpretation by Samantha Vanterpool