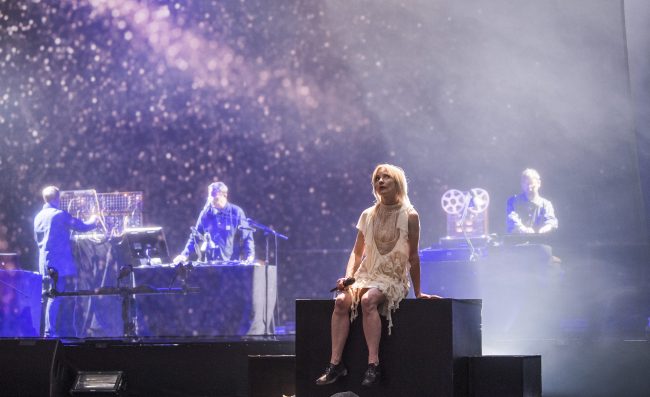 Cotton Panic!
Created by Jane Horrocks, Nick Vivian and Wrangler
Mon 10 July, 2017
Sat 15 July, 2017
About the show
Reviews
Creative team
Cotton was once as good as gold in Lancashire, the engine for a thriving economy built on the Industrial Revolution. And then in 1861, reality bit: the US Civil War took root, American ports fell silent, the supply of cotton dried up and the prosperous North was brought to its knees. This was the Cotton Famine, and England has never been the same since.
Cotton Panic! told the story of the catastrophe that befell the North and its people, all thanks to events that took place thousands of miles away. Created by Jane Horrocks, Nick Vivian and Wrangler, featuring Stephen Mallinder of the great Cabaret Voltaire, the show used a compelling collage of live music, drama, words and film to evoke an era lost to history: of hard work, of passion, and of the North of England's inspiring solidarity with the slaves of the American South.
Cotton Panic! was driven by a dynamic soundtrack, taking in original material, familiar songs, industrial noise and electronic soundscaping. Staged in the atmospheric Victorian grandeur of Upper Campfield Market Hall, the show took the audience through prosperity, panic and poverty, towards the peace of companionship with one's fellow man.
Commissioned and produced by Manchester International Festival.
Image Credit: Tristram Kenton
Trailer Visuals: Chris Turner
Additional Production on Trailer Music: Kipper
Musically, this 70-minute piece, delivered to a standing audience, is a pleasure as the folk songs of the Lancashire workers meld with the gospel tunes of the slaves
The Guardian
A stirring musical history lesson... meticulously staged, beautifully performed and salutary in its reminder of Manchester's 19th-century industrial past
The Daily Telegraph
Performer — Jane Horrocks
Writer — Nick Vivian 
Music — Wrangler
Visuals — Chris Turner
Director — Wils Wilson