Balmy Army: How do we create a movement for mental health?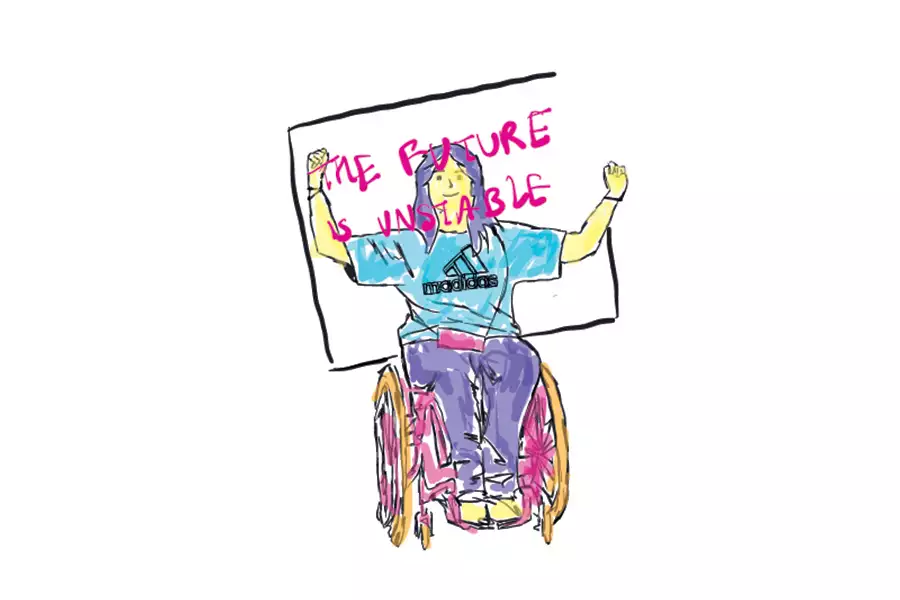 6 Jul 2023
HOME Gallery, 2 Tony Wilson Place, Manchester, M15 4FN
Age Guideline: 14+, under 16s to be accompanied by an adult aged 18+
Running time: 60 minutes

Accessibility features available for this event: Captioning BSL Interpreting Wheelchair Access
Inspired by the Balmy Army, Guardian Live brought together a host of names to explore how we shift the dial on young people's mental health
In an ever-growing mental health crisis, with waiting lists getting longer and shrinking services forced to cut support, young people are fed up. They're tired of the politicians, the policy-makers, the educators and the councillors – the people who claim they're enacting change, when the reality shows a yawning absence. So what is really happening for this generation at the moment? What does good mental health support look like? And how do young people make it happen?
Taking up residency at HOME in Manchester for the duration of MIF, the Balmy Army was a grassroots youth mental health movement that combined art, activism and mutual care. Young people from the project alongside other activists joined this live discussion, chaired by the Guardian Today in Focus presenter Hannah Moore, to challenge the structural injustice they face and explore how all generations have a role to play in creating positive change. Speakers included Patsy Stevenson, women's right activist detained at the vigil for Sarah Everard, and Lady Phyll, gender, racial and LGBTQ+ equality activist and co-founder of UK Black Pride.
In partnership with Guardian Live, the talk was livestreamed and the audience had the opportunity to put forward their own questions and comments.
MIF x Guardian Live
This event was one of a series of Guardian Live talks that took place at Manchester International Festival. Taking inspiration from key shows at the Festival, each talk brought together Guardian journalists alongside the brightest thinkers, changemakers, writers and artists to discuss the issues that matter.
Other events in this series:
Wednesday 5 July: Rethinking economics: It's not business as usual
Access information
Here you can find access information about the venue, our access performances and advice on content. For more information about the different types of access performances we offer, please visit our Access page. If you have specific access needs that aren't yet addressed, please email access@factoryinternational.org prior to the event and we'll do our best to help.
HOME has three floors, and there is step-free lift access to all levels. The two lifts are located in the main foyer, to the right of the front entrance. Both lifts have higher and lower buttons, one lift has a mirror.
All the spaces at HOME including the Gallery and Theatres are wheelchair accessible. Theatre 1 has 3 wheelchair spaces, which are in the stalls on the ground floor.
HOME has audio induction loop systems at the Box Office and in the cinemas and theatres. Sennheiser infra-red amplification is available in HOME's theatres. Visitors can request a headset or receiver for these services from the Box Office.
For full access information about this venue, including a virtual tours, visit HOME's access information website.
There are two accessible toilets on every floor, six in total.
You can reserve an assistance dog space by contacting access@homemcr.org or by calling HOME's box office on 0161 200 1500, or by dropping into the venue.
Livestream captioning was provided by Guardian Live for those joining online.
BSL interpretation was available for those attending the talk in person at HOME. BSL interpretation provided by Emma Jane Heap.
Travel information
Bike racks are situated between HOME and the INNSIDE by Meliá hotel. There are 20 Sheffield stands available and additional racks are installed in the area surrounding First Street.
The 256 bus from Piccadilly Gardens stops on Medlock Street. The bus stops are located 50m and 150m from HOME's entrance. Buses on the 256 route are wheelchair accessible and have low floor access.
You can also use the free bus services that stop at all city-centre stations. Route 3 stops near HOME on Whitworth Street West from 7:30pm except on Sundays. Buses on these free routes are wheelchair accessible. For full details of the free bus routes, please visit the TfGM website.
Accessible parking:
Blue Badge holders can park on Whitworth Street West close to the open ilway arch labelled Jack Rosenthal Street (approximately 100m from HOME's entrance). Once parked, follow the pedestrian-only Jack Rosenthal Street to the right to find HOME's entrance.
The Q-Park First Street multistorey carpark also has 28 accessible parking spaces. This car park is located across from HOME on Tony Wilson Place at First Street. The car park entrance is approximately 30m from HOME's entrance, facing the pedestrian public square, Tony Wilson Place. HOME customers can scan their Q-Park ticket at the HOME box office to gain a 25% parking discount. Please note that Blue Badges are not valid for free parking in the Q-Park.
For a list of other parking bays available in the area, visit the Manchester City Council website.
Car drop-off:
The closest car drop-off point is approximately 100m from HOME's entrance – located on Whitworth St West at the open railway arch labelled Jack Rosenthal Street. This is next to Belvoir Lettings and leading through to Starbucks. Once dropped off, follow the pedestrian-only Jack Rosenthal Street to the right to find HOME's entrance.