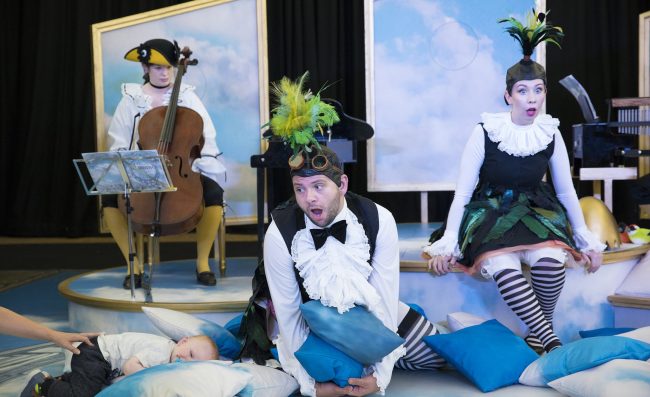 BambinO
An opera for babies
Tue 4 July, 2017
Sun 16 July, 2017
About the show
Touring
Reviews
Creative team
BambinO was a pioneering piece of music theatre aimed at an audience that doesn't often get a look in at the opera – babies.
This colourful work reinvented operatic language and traditions for children at an age when their minds are wide open to new sounds, images and experiences. Babies were free to crawl around during the performance, interacting with singers, musicians and each other. Even adults found new ways of hearing music through the ears of the young.
Written by Scottish Opera's acclaimed Composer in Residence Lliam Paterson and directed by Improbable's ever-imaginative Phelim McDermott, who has directed at opera houses around the world, BambinO was a twin celebration of the possibilities of music and the power of the infant imagination.
BambinO played at venues all over Greater Manchester during the Festival from Wigan, Hyde and Heywood to Oldham and Salford.
Commissioned and produced by Manchester International Festival, Scottish Opera and Improbable.
Image credits: James Glossop
Touring
Edinburgh, UK
Tue 8 August, 2017 -
Sun 20 August, 2017
Edinburgh Academy
Glasgow, UK
Sat 21 October, 2017 -
Sun 5 November, 2017
Scottish Opera Production Studios
Paris, France
Fri 13 April, 2018 -
Fri 20 April, 2018
Cent Quatre
New York, USA
Mon 30 April, 2018 -
Sat 5 May, 2018
List Hall, Metropolitan Opera House
Aberdeen, UK
Wed 5 September, 2018 -
Sun 9 September, 2018
Aberdeen Performing Arts
Inverness, UK
Mon 10 September, 2018 -
Tue 11 September, 2018

Perth, UK
Fri 14 September, 2018 -
Sat 15 September, 2018

Lerwick, UK
Fri 21 September, 2018 -
Sun 23 September, 2018
Mareel Centre
Muscat, Oman
Sun 31 March, 2019 -
Sat 6 April, 2019
Royal Opera House Muscat
For imagination and enchantment, this enterprise deserves every rosette going... Rarely has innocent pleasure felt so vital. BravO
The Observer
...it was genuinely moving to see a little girl of no more than nine months giggling with delight as the soprano, Charlotte Hoather, imitated bird sounds during a playful, beautiful aria. Another benefit of BambinO was that it put paid to that rather tired accusation against opera: namely, that it is inaccessible or elitist
The Times
Liliam Paterson Composer
Phelim McDermott Director
Giuseppe Belli & Emma Belli Designers