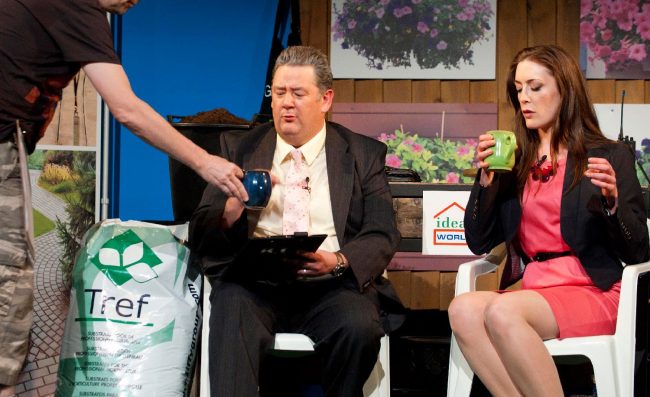 And Another Thing…
Johnny Vegas made theatrical history at MIF11 in a hugely ambitious show entitled And Another Thing… Exploring the world of the home shopping TV channel, Vegas, Kevin Eldon and Emma Fryer played three members of a shopping channel team with very different attitudes, aims and aspirations. In a unique experiment, the show was presented in 'Theatrivision': at each performance, Vegas and his cast were beamed into the homes of Ideal World's TV audience as actual shopping channel presenters selling products – live. Audiences in the theatre saw both sides of the characters, their off-air and their live personas, while audiences at home enjoyed Vegas and Fryer selling products to them while Eldon served as Ideal World's 'floor manager'.
'The live TV link-up is more than a gimmick. It adds hugely to the adrenalin as the two presenters row furiously as the floor manager counts down to cameras going live and the short-delay TV monitors flicker on… This is the fertile imagination of a comic who understands that "fecund" is not a four-letter word' The Independent
---
Produced by Manchester International Festival and Woolyback Productions.