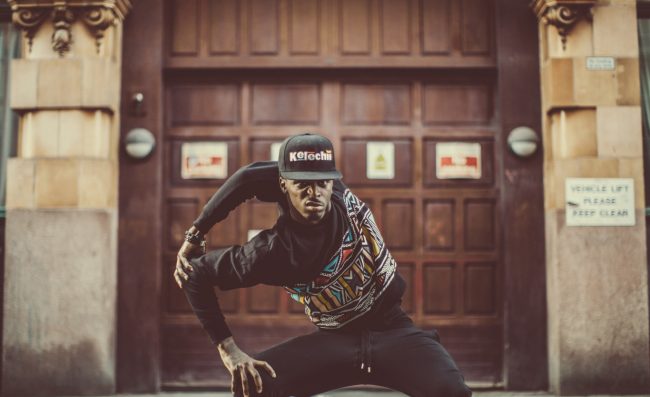 Alphabus
FlexN & Young Identity
Fri 5 July, 2019
Sun 7 July, 2019
About the show
Creative team
Podcasts
How much are you willing to sacrifice?
What have you got to lose?
Reggie 'Regg Roc' Gray, the New York dancer-choreographer behind FlexN Manchester (MIF15), joins spoken-word powerhouse Young Identity and dancers from New York and Manchester for a thrilling, intense exploration of power and weakness, triumph and tragedy, anti-heroes and fallen angels. Alphabus draws its story from global myths, faiths and traditions, but it's rooted in the here and now. A seamless synergy of transatlantic street dance and vital poetry from some of Britain's most exciting voices, it's both deeply personal and wholly universal – a dynamic and ambitious new show that captures the collaborative essence of MIF.
Commissioned and produced by Manchester International Festival.
Image Credit: Sodium, Joel Fildes
Director – Reggie 'Regg Roc' Gray
Dramaturg – Nicole May
Writers and Performers – Isaiah Hull, Billie Meredith, Jardel Rodrigues, Scarlett Rose
Designer – Abby Clarke
Lighting Designer – Stephen Page
Sound Designer and DJ – Epic
Video Designers – Illuminos
Dancer and Assistant Choreographer – Deidra Braz
Dancers – Slicc, Quamaine Daniels, Shameer Reyes, Dale Coleridge, Yandass Ndlovu 
Listening time: 18 minutes
The final episode of MIF Originals explores if (and how) poetry and dance can combine to create something original. Isaiah Hull, our host for this series, was one of four poets that co-wrote the production Alphabus. Working with three dancers from the New York company FlexN and three dancers from Manchester they created a new show for MIF19 that combined poetry and movement to tell the story of a child rebelling against his father, based on the myth of Icarus and Daedalus.
Enlisting the help of Billie Meredith, a fellow poet and Yandass Ndlovu, a dancer in the show, Isaiah breaks down some of the processes that they used and questions – were they successful at creating something original?
Hosted by Isaiah Hull
Music by Vicky Clarke and Epic B
Produced by Rebecca Gaskell
A Reduced Listening and Manchester International Festival production