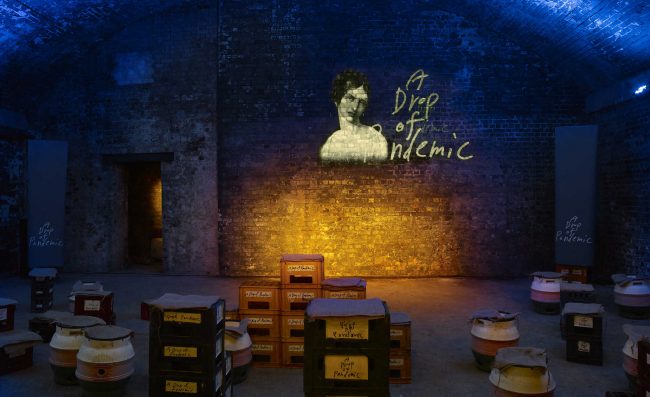 A Drunk Pandemic
Created by Chim↑Pom and Curated by Contact Young Curators
Fri 5 July, 2019
Sun 21 July, 2019
About the show
Reviews
Creative team
Fancy a pint?
The Manchester cholera epidemic of the 1830s was the unlikely inspiration for the first major UK project by one of the world's most playful and provocative art collectives. Here at the invitation of Contact Young Curators, five emerging local artists brought together by MIF and Contact, Tokyo's Chim↑Pom built a temporary brewery underneath Manchester Victoria Station.
Cholera swept through Manchester almost 200 years ago. Thousands of people were buried in cholera pits around modern-day Victoria Station and Angel Meadow – and thousands more only survived because they drank beer instead of water.
Commissioned and produced by Manchester International Festival and Contact.
Image Credit: Michael Pollard
Created by Chim↑Pom – Ryuta Ushiro, Yasutaka Hayashi, Ellie, Masataka Okada, Motomu Inaoka
Curated by Contact Young Curators – Adam Ali, Elmi Ali, Gráinne Flynn, Ayesha Gwilt, Wez Thistlethwaite
Production Manager – Chris Booth
Deputy Production Manager – Jon Calvert 
Venue Manager – Georgie Edwards 
Front of House Managers – Charlie Greenwood, Cloe Gregson 
Artist Liason – Anna Fowler 
Brewers – David Porter (Outstanding Brewing Co), Simon Knox 
Brewery Tour Facilitator – Jonathan McGrath
Gallery Guides – Phil Catling, John Donegan, Gráinne Flynn, Gemma Parker, John Ryan, Wez Thistlethwaite, Bianca Williams
Academic Research Consultant – Michala Hulme