Mac Collins infuses Venice Architecture Biennale with his memories of community
Factory+ Editor in Residence Kemi Alemoru chats about Dancing Before the Moon – the exhibition exploring the built environment at the British Pavilion at the 2023 Venice Architecture Biennale – with a standout rising designer.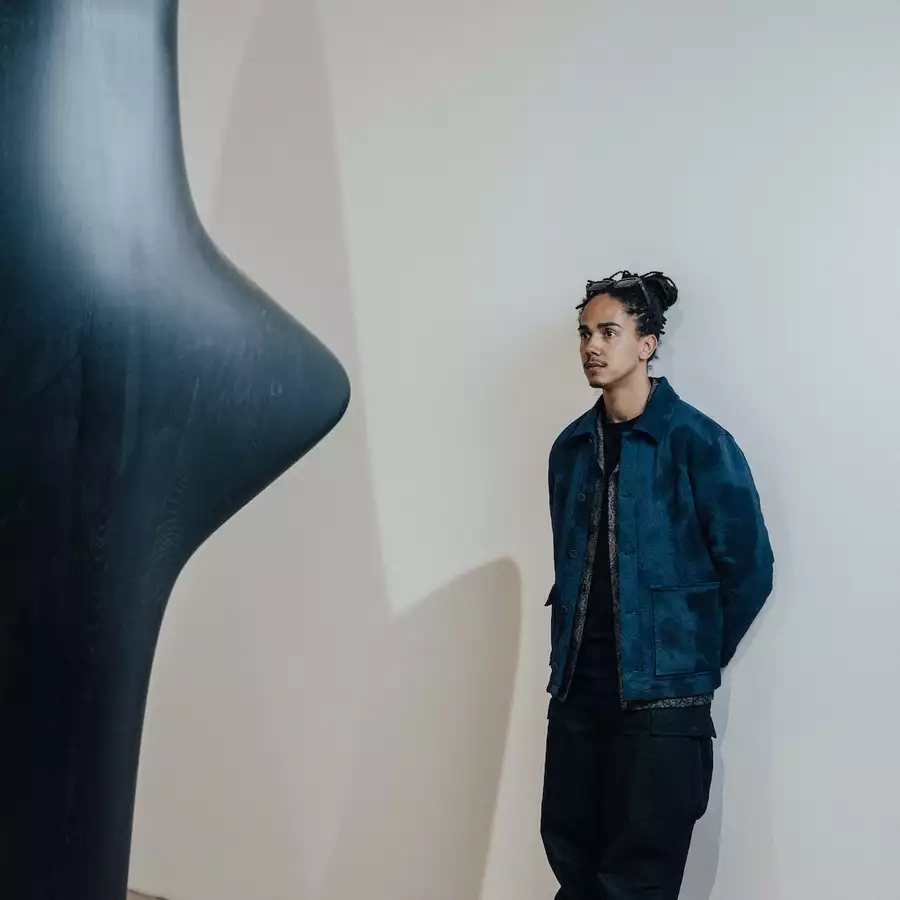 Views expressed are that of the writer. Lead photograph by Taran Wilkhu © British Council.
"Everyone who has been involved in this process has their own relationship with it and they have their own nickname for it. I have been calling him Blacktrick," laughs Mac Collins. We're stood marvelling at the structure the British-Caribbean designer, 27, created which towers over us, stretching and contorting as if being pulled in different directions – looking like an ash wood 750kg starfish that could be Spongebob's sidekick. 
Walking through the British Pavillion at this year's Venice Architecture Biennale, "Runout" (the official name for Collins' creation) is one of the standout pieces on display. The room is vibrating with the bass from the film at the entrance, soundtracked by Oscar #Worldpeace and Fredwave, which contextualises the theme for the Dancing Before the Moon exhibit. It shows Black ballroom dances, steel pan classes, street carnivals and more examples of how immigrant communities stake claim to British public spaces.
The British-born curators Jayden Ali, Joseph Henry, Meneesha Kellay and Sumitra Upham each have heritage elsewhere and wanted to bring Britain's space at the event into dialogue with the range of cultures who share this country together. Their vision afforded artists of colour across different disciplines the opportunity to create architectural-scale artworks that highlight how built space can facilitate a range of communities, rituals, and play. It included pieces by Shawanda Corbett, Yussef Agbo-Ola, Sandra Poulson, and Madhav Kidao. 
Collins, 28, is thought of primarily as a furniture designer. He got his start by studying 3D Design at Northumbria University then went on to mix the functionality of household objects and interior design with art. Since then he's carved out an impressive career. He was recently entered into the Dazed 100 as one to watch, and counts A-Cold-Wall* founder Samuel Ross as one of his fans. He told GQ that "Mac fills the void" in a landscape where few furniture designers are Black and even fewer use their furniture designs to critique heritage, social norms, and shared cultural practice. It's as evident in Open Code, a project where he created a black lacquered table topped with an aluminium set of dominoes as a nod to the Jamaican penchant for the game, as it is in this looming figure in "Runout", which is a warped and gargantuan domino piece. It's a nod to the places where he's been able to connect with practices that give him a sense of identity.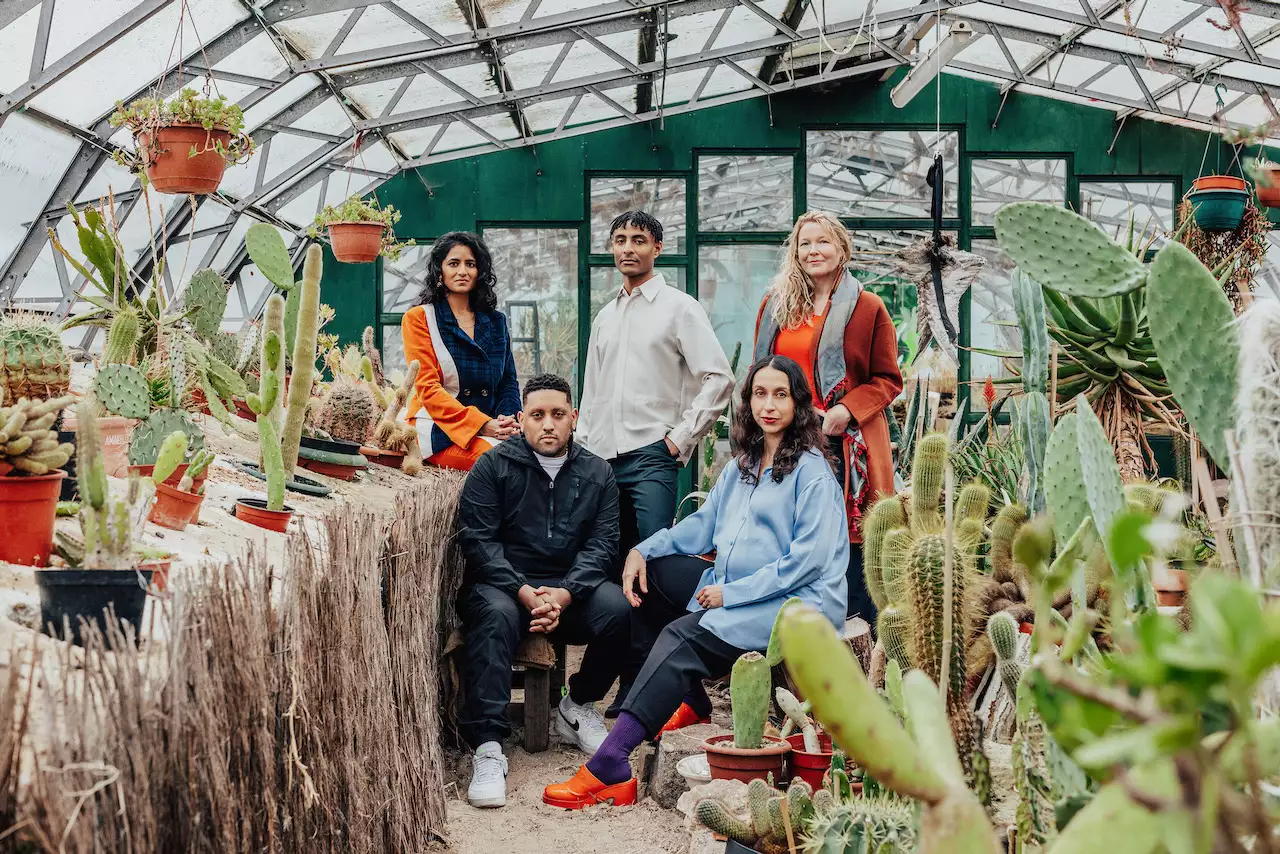 "It started with me going to play with the guys at the pub in Nottingham which was a really important link back to a culture that I don't have that many tangible links to," Mac explains. "I'm a third generation migrant that hasn't been able to visit the Caribbean. There are people like me who have this part of themselves that defines them that they want to connect to. This activity has grounded me."
Originally he was planning to balance the sculpture on 70s patterned red carpets but he settled on soft green button tufted pub chairs for the object's base as an ode to the traditional English pub in Nottingham called the Limekiln which is "run by a Jamaican man called Dave". "It has white demographics mixing with Black cultures. The space was the perfect amalgamation of all the things I am proud to be. So the work embodies how that tiny object of a domino becomes way bigger than how it started," he adds.
It's pertinent to use a prestigious festival looking at the future of architecture to draw attention to examples of how built spaces can house activities that bond and ground communities. Just last year there were headlines when Ernest Theophile, 74, won his court case against Westminster city council who were trying to ban him and his friends from "loudly" playing dominoes in Maida Hill market. The group of West Indian men could have faced jail time for playing music, drinking, and playing publicly, but they fought back telling The Guardian that this practice had "helped people avoid social isolation". 
It highlights how public space is slowly being built to be hostile and push people inside, rather than to be brought to life by the residents it should serve. The refreshing exhibit at Venice Biennale was a different take on architecture. It drew the focus away from prestige, technical questions, demonstrations of structure, and talking about buildings in the abstract and instead brought architects into dialogue with purpose. It caused them to think about those who actually will inhabit the space and what they may need. How could architects in the UK facilitate joy and social traditions? How could the built environment provide appropriate space for different cultures to collide and evolve?
This was highlighted by a Bell Hooks quote on the wall before visitors explored the building to view the artists' works on display. It read: "Irrespective of our location. Irrespective of class, race, and gender. We were all capable of inventing, transforming, making space." 
To link the art back to the environment that inspired it, Mac says the film from the exhibit will be screened in the pub for the community to enjoy.