What if Women Ruled the World?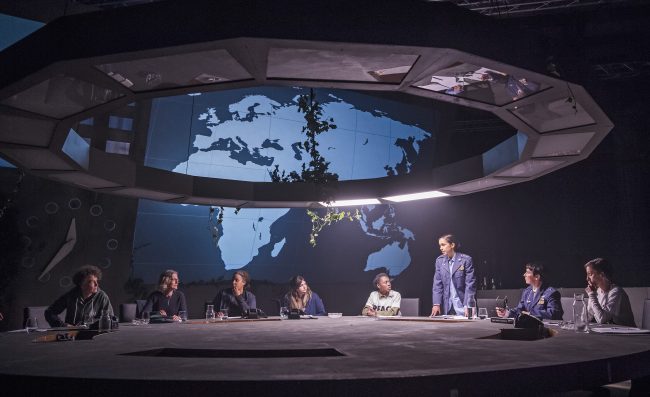 What if Women Ruled the World?
Created by Yael Bartana
Wed 5 July, 2017
Sat 8 July, 2017
About the show
Touring
Reviews
Creative team
Arriving at a moment of unprecedented worldwide flux, this timely, vital and dramatic new art work considered one of modern life's great questions – what if women ruled the world?
At the end of his remarkable film Dr Strangelove, Stanley Kubrick foresaw a post-apocalyptic future in which dominant male leaders would repopulate the Earth, with ten women allocated to every man. Yael Bartana's groundbreaking film and performance project, created with a team including performance director Vicky Featherstone and writer Abi Morgan, presented the opposite scenario, placing women in charge of a world in desperate need of a new vision.
In a war room, a group of 11 women were confronted by some of the urgent crises of our time. Each night, a professional cast were joined on stage by a different group of female experts: scientists, politicians, activists and thinkers of global reputation. Together they spent the evening attempting to solve the global emergency as the clock ticked.
Commissioned and produced by Manchester International Festival, European Capital of Culture Aarhus 2017 and Volksbühne Berlin.
Each woman is brilliant and it was a pleasure to be in their company for the evening
Manchester Confidential
Terrifying and wonderfully relevant
Northern Soul
Created by Yael Bartana
Vicky Featherstone Performance Director
Abi Morgan Writer
Saygel & Schreiber Set Design
Jackie Shemesh Lighting Design
Daniel Meir Sound Design
Chloe Lamford Costume Design
Milli Bhatia Associate Director
With rotating participants; full list can be found here