We Cut Through Dust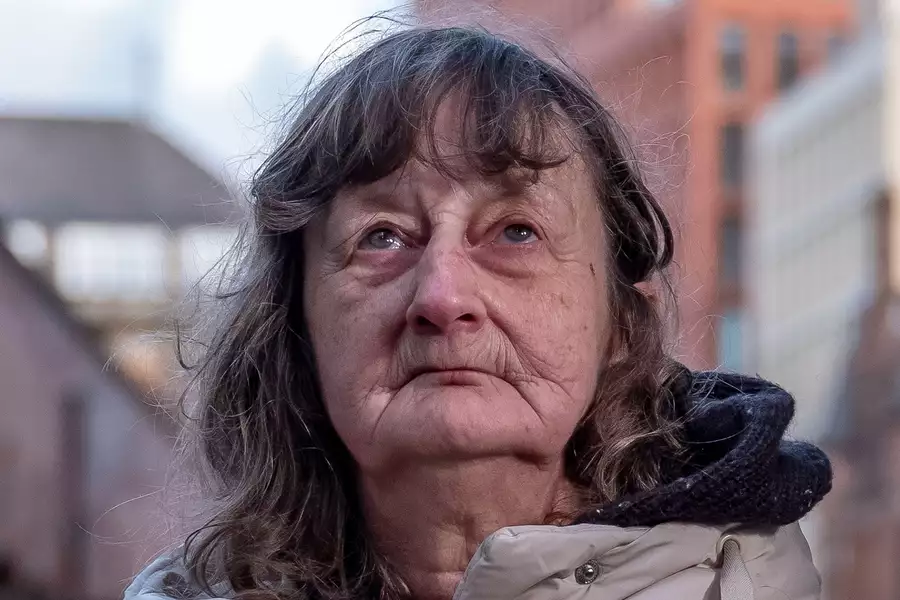 29 Jun - 16 Jul 2023
Age Guidance: 16+
Running time: 60 mins approx.

Accessibility features available for this event: BSL Interpreting Wheelchair Access
Venture through the streets of Manchester in this interactive work, and be confronted with a version of the future told by those that remain, in this world premiere from Blast Theory and Manchester Street Poem.
We Cut Through Dust was a walk into the future, guided by a series of phone calls. Over the course of an hour, visitors were taken on a journey through the city.
Set in a world not too far from now, you arrived at a location where your phone triggers a giant mechanical sign to open… and so your story began.
At a time when everyone has experienced their own kind of science fiction, We Cut Through Dust hovered somewhere between the real and the fantastical, where something is not quite right. In fact, it might not be how you imagined things were going to be at all.
We Cut Through Dust was a collaboration between Blast Theory, an artist group who make interactive work exploring social and political questions, and Manchester Street Poem, a co-produced art collective whose works reflect the personal experiences of Manchester's marginalised communities. No strangers to the Festival, Manchester Street Poem first featured in MIF17 and have worked closely alongside MIF ever since, making space for the stories of those who find themselves homeless in the city.
Images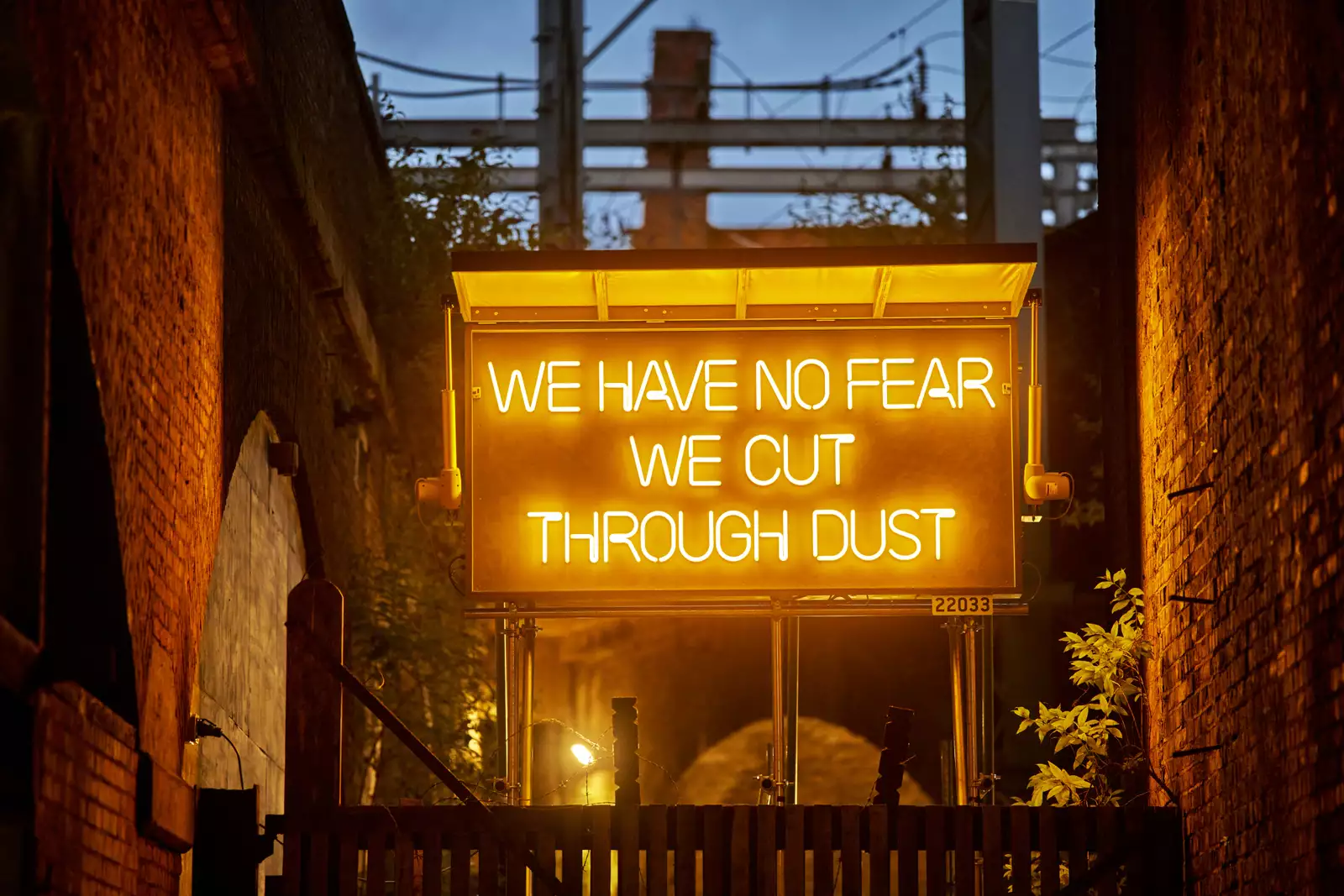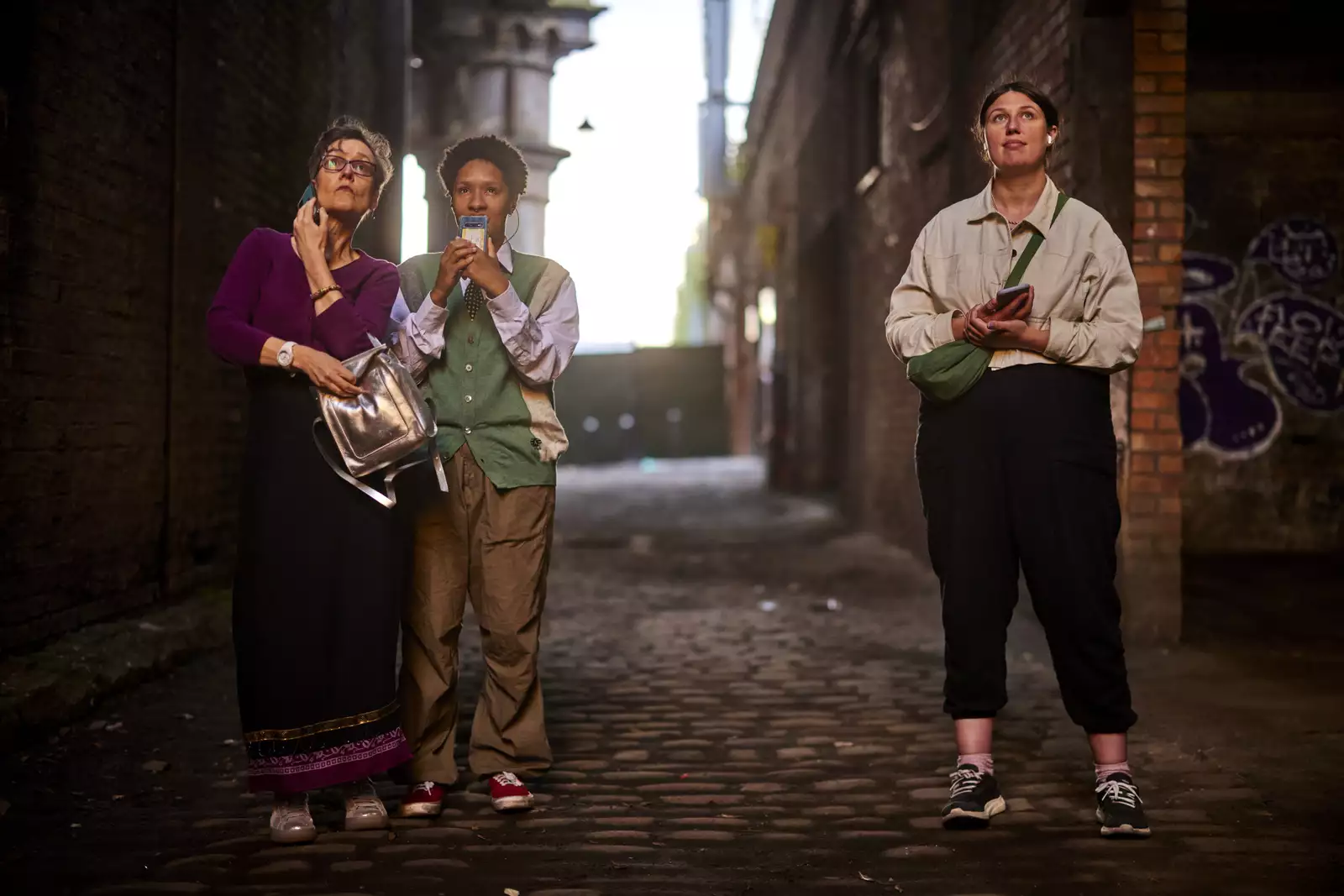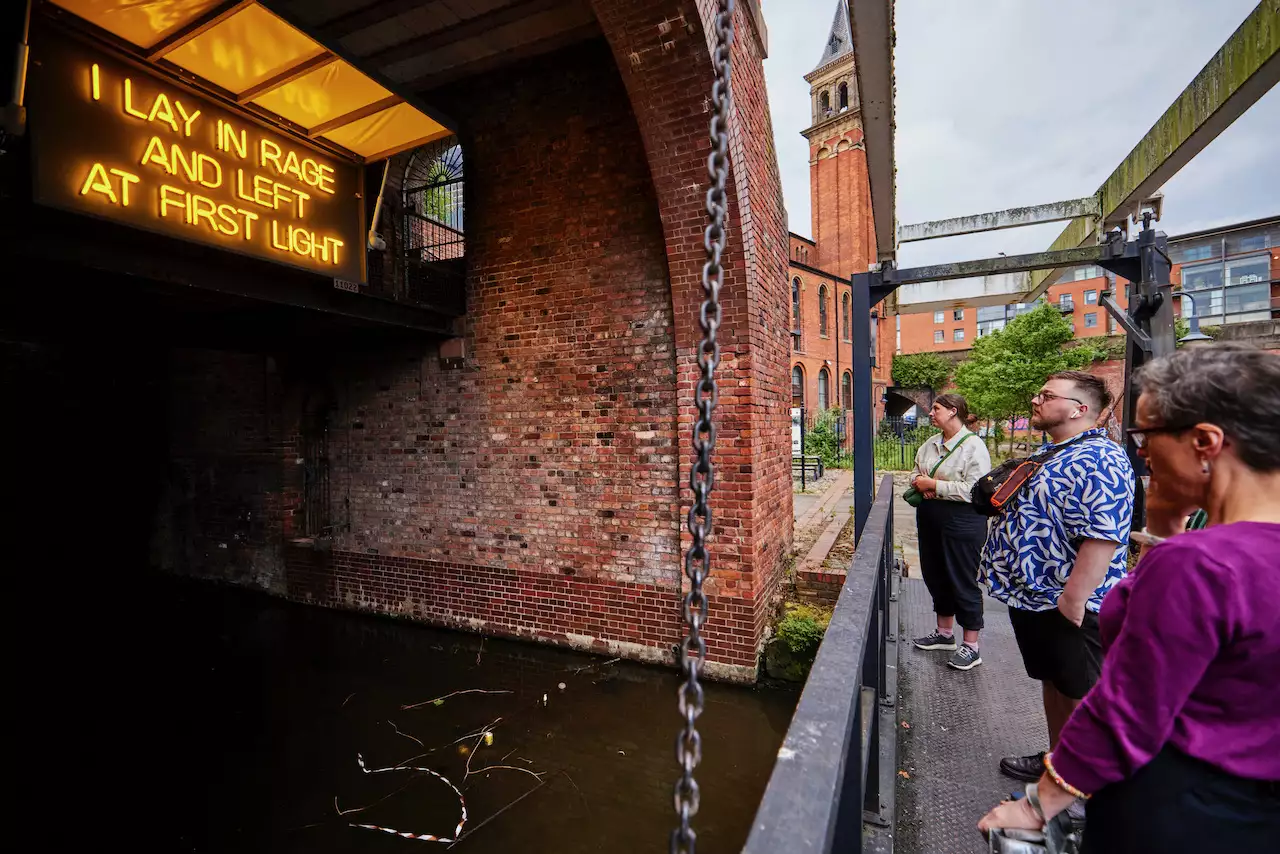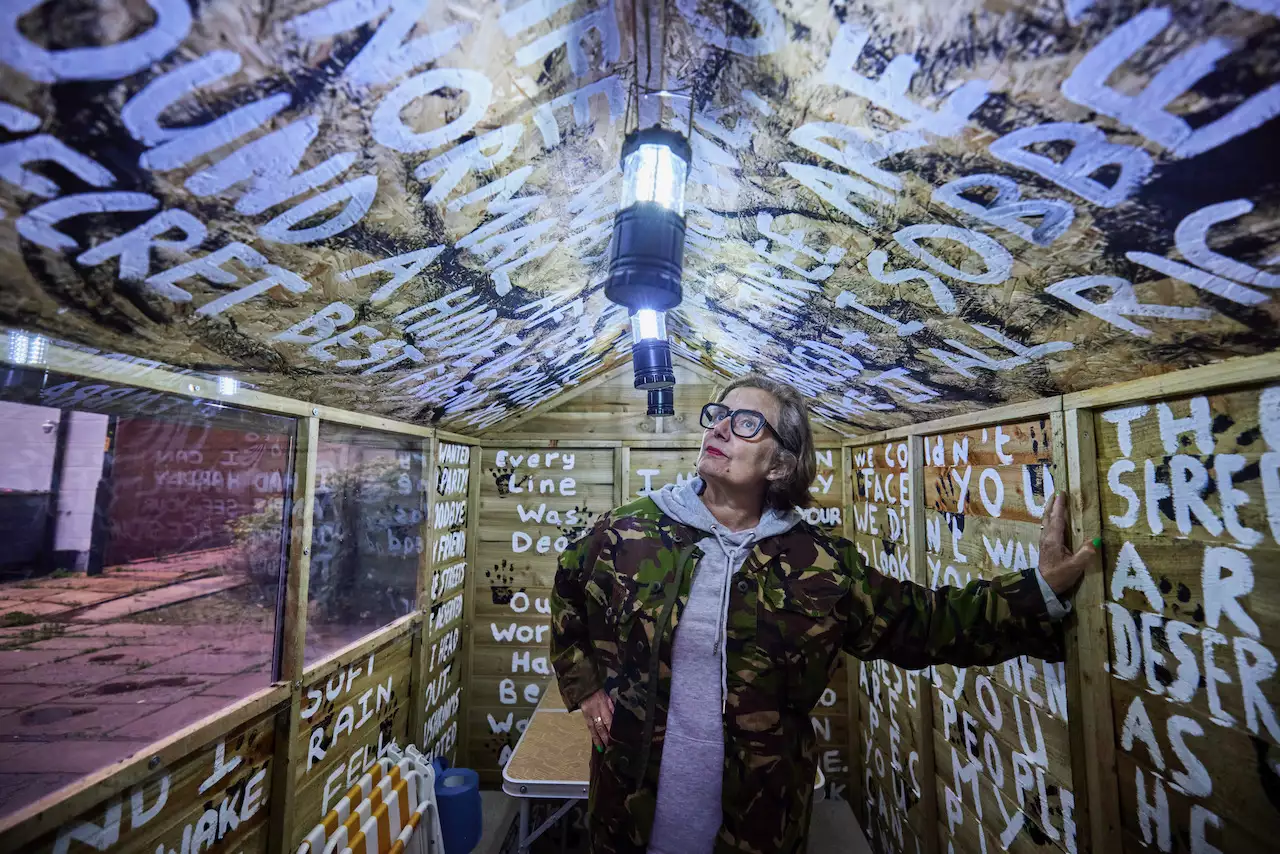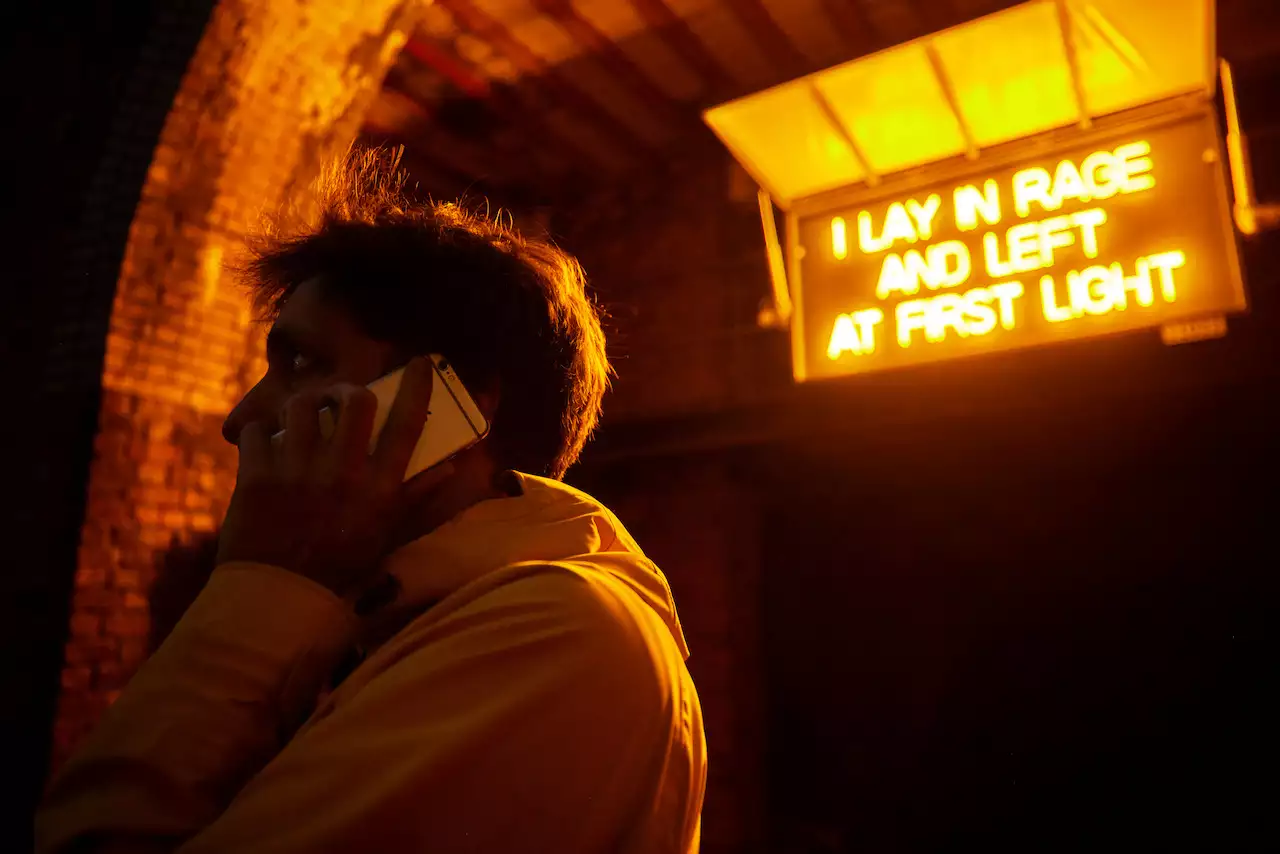 Credits
We Cut Through Dust was made in collaboration between Blast Theory and Manchester Street Poem.
Commissioned by Factory International for Manchester International Festival.
Produced by Blast Theory.
Access information
We Cut Through Dust takes place as an audio-led walk through Manchester city centre using your mobile phone. You will be sent a starting location before the event day. It's useful to bring earphones that work with your phone, if you have them, as you'll be listening to audio throughout the experience.
We Cut Through Dust is a walking event through Manchester city centre. Along the route, you will encounter urban streets that are cobbled, unpaved and narrow – some sections may be challenging for wheelchair users to navigate without assistance. There is also a set of steps at one point.
Prior to taking part, you will be sent an email containing a map of the route, including a short, step-free diversion to avoid the flight of stairs. The map will also show the locations of the cobbled, unpaved and narrow sections, and of nearby accessible toilets along the route.
You will be stopping at various points to listen to audio, read the transcription or follow the BSL interpretation. There are places to sit at some (but not all) of the stopping points along the way.
There is an accessible booking slot each day for We Cut Through Dust which offers:
Phones available to borrow
Written transcriptions of the audio
A member of our team to accompany you, if for any reason you're not confident taking part alone
A printed version of the route map which highlights the step-free diversion, cobbled and unpaved terrain, and nearby accessible toilets
A free Personal Assistant ticket at any time
BSL interpreter (only available on certain dates*)
Accessible Slots are offered on the following dates:
29 June at 9pm
30 June at 5.30pm
1, 4, 6, 8, 11, 13 and 15 July at 9pm
2, 5, 7, 9, 12, 14, 16 July at 5.30pm
*Please note a BSL interpreter will be available for the following Accessible Slots only:
Saturday 1 July at 9pm
Sunday 9 July at 5.30pm
Wednesday 12 July at 5.30pm
Accessible Slots are booked directly through the Factory International team, and not online. To request an Accessible Slot, please drop us a line at access@factoryinternational.org and let us know what you need.
This event does not have captioning, but transcriptions of all the audio material will be available at the accessible sessions.
There will be BSL interpreted slots on the following dates:
Saturday 1 July at 9pm
Sunday 9 July at 5.30pm
Wednesday 12 July at 5.30pm
Interpretation will be provided by Emma Andrews.
There is no relaxed performance of this work, however, at the accessible sessions you will be welcome to move at your own pace and take breaks if needed
Please note We Cut Through Dust may include strong language, references to abuse, substance misuse and mental illness.