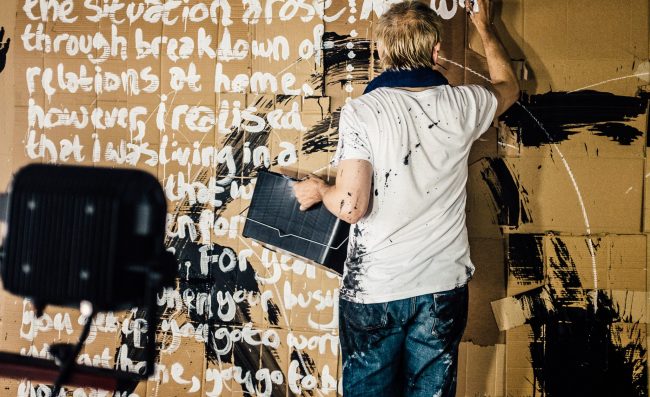 Manchester Street Poem
Co-created by Underworld
Conceived by Karl Hyde and Rick Smith from Underworld, Manchester Street Poem threw a spotlight onto the stories of those who find themselves homeless in the city – in a work where the catch-all term 'homeless' gave way to individuality, identity and integrity.
Manchester Street Poem brought to life the stories of people who are homeless in Manchester in a work that was both fleeting performance and compelling installation. As Hyde covered the walls of the venue with words and phrases drawn from the streets, the space was filled with a powerful soundtrack built on snatches and fragments recorded by Smith all over the city.
Co-created by Underworld and individuals with personal experience of homelessness, Manchester Street Poem proudly broadcast the voices of those who so often go unheard and ignored.
Visit the Manchester Street Poem website to view the live feed and hear the stories of Manchester's homeless in their own voice.
Image credit: Tarnish Vision
A moving visual art and audio soundscape that gave dignity to their predicament
The Tribune
A beautiful effort to help us understand the downtrodden and forgotten others
Voice Magazine