Balmy Army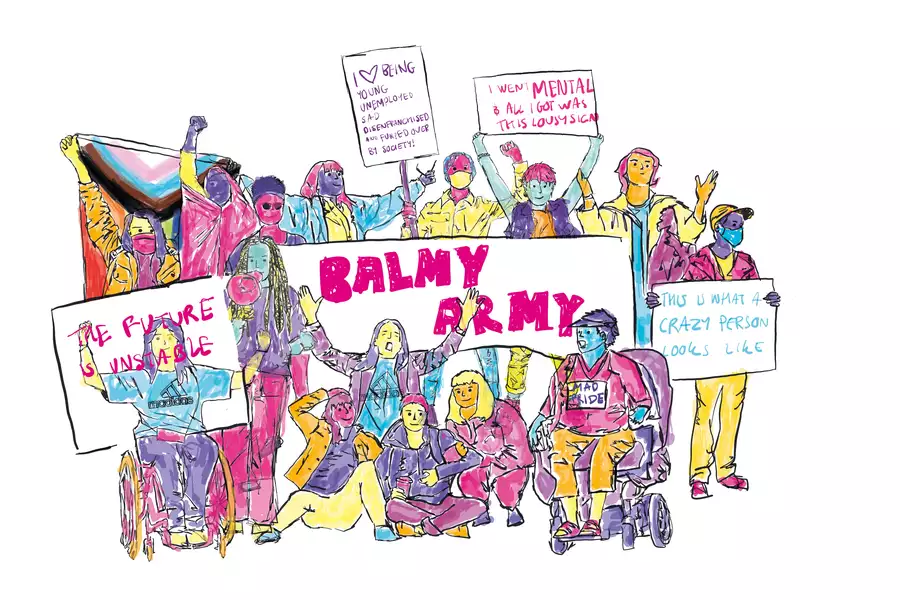 1 Jul - 17 Sep 2023
The Balmy Army are based at HOME.
Balmy Army's space at HOME remains open to the public from 21 July until 17 September.
Book now
Accessibility features available for this event: Captioning Relaxed Performance BSL Interpreting Wheelchair Access Assistive Hearing
A movement for youth-led mental health. This is art and activism rolled into one.
'Ever been told to ask for help? Then asked for help. Only to be told help wasn't available? (Maybe in six months, a few hundred miles away...). 
Ever been told you've got a problem, but something inside you says: "Hmmm am not quite sure it's JUST me?".
Ever get the feeling young people's mental healthcare could be so much better?'
Enter the Balmy Army. Over the past year young people, artists, madpride organisers, radical dreamers, disability justice doers and everyone else trying to cope have come together. What do they want? Mental health support that works. When do they want it? About 15 years ago...
From sharing poetry to making placards, to social media takeovers and mass acts of civil disobedience, this is the Balmy Army's lab where anything (safe) can happen. It's a space for the Balmy Army to play, plan protests, give performances and even print 'madidas' t-shirts.
Whether you're struggling with your mental health, supporting someone who is, work in mental health or you're just curious, Balmy Army reminds us that mental health isn't just about individuals – and that community, care and creativity are some of our greatest ways to heal.
Credits
Balmy Army is made by 40 young people from Greater Manchester, with the vacuum cleaner, Kevin Edward Turner, Lizzie Chapman, Toni-Dee, Caz Hughes, Evyn Seaton-Mooney, Rory Aaron, Rosalyne Norford, Gráinne Flynn, Cara Looij, Sascha Gilmour, Charlie Clark, HOME, Factory International, Contact, 42nd Street, Gorse Hill Studios and the Hope and Horizon Wards at Fairfield Hospital.
Tickets
The gallery will close for a few days to add any new work that has been made throughout MIF23. Following this, the gallery will reopen to the public again from 21 July until 17 September.
Access Information
The event takes place at HOME, Gallery. The full address of the venue is HOME, Tony Wilson Place, First Street, Manchester M15 4FN.
What3words is:
each.shall.limbs.
HOME has three floors, and there is step-free lift access to all levels. The two lifts are located in the main foyer, to the right of the front entrance. Both lifts have higher and lower buttons, one lift has a mirror. All the spaces at HOME including the Gallery are wheelchair accessible.
There is no audio-described performance for Balmy Army
You can reserve an assistance dog space by contacting access@homemcr.org or by calling HOME's box office on 0161 200 1500, or by dropping into the venue.
All Balmy Army events will be informal chill vibes. You are welcome to come and go in the space, move around or check in with those around you – but please be aware of how this may impact others.
HOME has audio induction loop systems at the Box Office and in the cinemas and theatres. Sennheiser infra-red amplification is available in HOME's theatres. Visitors can request a headset or receiver for these services from the Box Office.
Balmy Army is a project made by people with lived experience of mental health struggles. You can expect content including all kinds of mental health and intersecting experiences. During each event, there will be lots of people to talk to if you find yourself with big feels.
Further Information about accessibility can be found on the HOME website.
Travel Information
The 256 bus from Piccadilly Gardens stops on Medlock Street. The bus stops are located 50m and 150m from HOME's entrance. Buses on the 256 route are wheelchair accessible and have low floor access.
You can also use the free bus services that stop at all city-centre stations. Route 3 stops near HOME on Whitworth Street West from 7:30pm except on Sundays. Buses on these free routes are wheelchair accessible. For full details of the free bus routes, please visit the TfGM website.
There are 40 bike parking spaces at the venue. Additional racks are installed in the area surrounding First Street.
Accessible parking:
Blue Badge holders can park on Whitworth Street West close to the open ilway arch labelled Jack Rosenthal Street (approximately 100m from HOME's entrance). Once parked, follow the pedestrian-only Jack Rosenthal Street to the right to find HOME's entrance.

The Q-Park First Street multistorey carpark also has 28 accessible parking spaces. This car park is located across from HOME on Tony Wilson Place at First Street. The car park entrance is approximately 30m from HOME's entrance, facing the pedestrian public square, Tony Wilson Place. HOME customers can scan their Q-Park ticket at the HOME box office to gain a 25% parking discount. Please note that Blue Badges are not valid for free parking in the Q-Park.
For a list of other parking bays available in the area, visit Manchester City Council website.
Car drop-off:
The closest car drop-off point is approximately 100m from HOME's entrance – located on Whitworth St West at the open railway arch labelled Jack Rosenthal Street. This is next to Belvoir Lettings and leading through to Starbucks. Once dropped off, follow the pedestrian-only Jack Rosenthal Street to the right to find HOME's entrance.