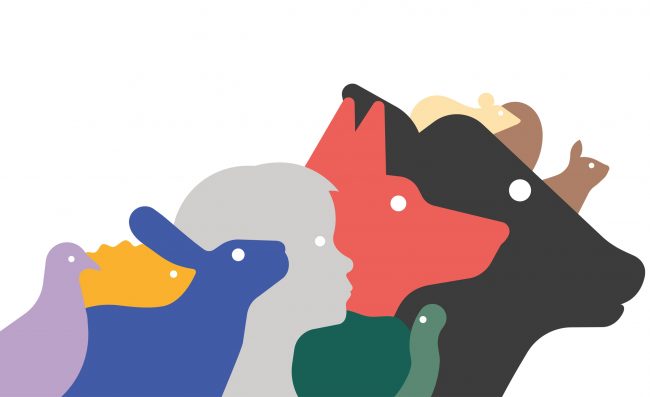 Animals of Manchester
(INCLUDING HUMANZ)
Sat 20 July, 2019
Sun 21 July, 2019
About the show
Creative team
Podcasts
Imagine a city where animals of all kinds, including humanz, live together as equals.
Animals of Manchester (including HUMANZ) is a Live Art experience that explores what life might be like if dogs, cows, pigeons, squirrels and other creatures lived alongside us as our peers – our companions.
On the Festival's final weekend, we hosted absorbing activities, workshops and encounters in the Whitworth's galleries and Whitworth Park.
There was a palace for mice and for humans, a film studio run by beetles, a hedgehog hospital, a conference of animals led by a cow, living memorials for extinct species, a Bestiary Beauty Parlour and a Life Art Library honouring animals as artists and performers.
Commissioned and produced by Manchester International Festival with support from the Whitworth, The University of Manchester.
Presented in collaboration with the Withington Hedgehog Care Trust, Dogs4Rescue, students from Claremont Primary School and Holy Trinity CE Primary School, and children from Greater Manchester Home Educators.
Illustration: Rob Bailey
Image Credit: Chris Payne
Sibylle Peters – Lead Artist & Curator
Lois Keidan – Curator
A project by Theatre of Research & Live Art Development Agency
Featuring specially commissioned artworks by Angela Bartram, Ansuman Biswas, David Caines, Rebecca Chesney, Marcus Coates, Katharina Duve, Andy Field & Beckie Darlington, Krõõt Juurak & Alex Bailey, Bruce Gilchrist & Jo Joelson (London Fieldworks), Martin O'Brien, Esther Pilkington & Daniel Ladnar (random people), Benji Reid, Joshua Sofaer, Tim Spooner & Dmitri Logunov (Manchester Museum), and lectures by Jack Ashby, Laura Cull Ó Maoilearca, Antony Hall, Kerry Morrison, Kira O'Reilly, and David Weber-Krebs & Maximillian Haas.
Read the responsive text bt Mary Paterson and Maddy Costa and find out more on the project at This is Live Art
Listening time: 35 minutes
Can you imagine a world in which animals of all kinds, including humans, live together as equals?
For the final weekend of Manchester International Festival, a team of artists worked together with local children to create a zone of interspecies equality in Whitworth Park. Led by the child ambassadors, this podcast explores how we can live better alongside other animals and asks – what can we learn from them?
This is a podcast for ALL animals.
Featuring lead artist Sibylle Peters of Hamburg's Theatre of Research and curator Lois Keidan from the Live Art Development Agency, plus contributions from artists Angela Bartram and Katharina Duve.
This podcast could not have been made without the children and animals of Manchester – a big thank you to Jonas, Amar, Abdullah, Kitty, Willem, Tabrez, Awais, Mustafa, Grace, Emmett, Martha and Dexter, Dolly, George and Diane, Archie and Sami, Carly and Tricia, Petal the cow and Cheeseburger the budgie.
Music by Martin Rach and Vicky Clarke.
Hosted by Isaiah Hull. Produced by Katie Callin.
Reduced Listening and Manchester International Festival production.